How To Use Terapeak For eBay To Research Hot Items To Sell: Ultimate Guide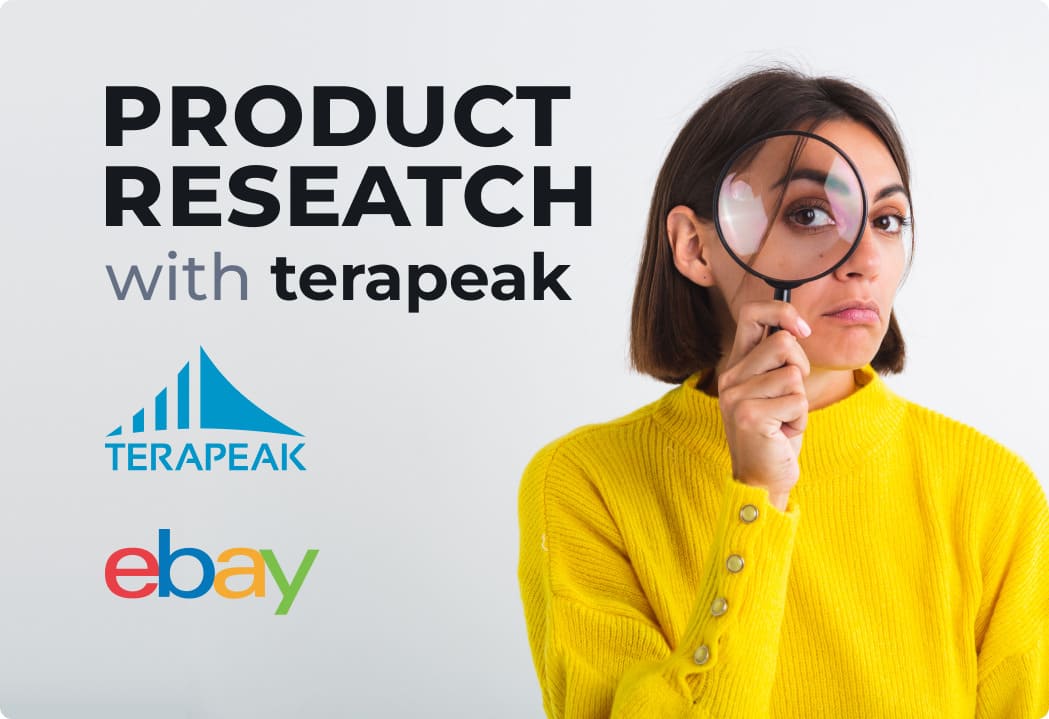 Do you want to learn how to use Tearpeak for eBay dropshipping? If yes, you might want to stick around. In this beginner's guide, find everything you need to know about Terapeak. In the end, you will learn the following;
Why eBay dropshipping is still profitable
Product research and why it is critical to the success of your business
eBay product research tools and why they are a must-have
What is Terapeak
Terapeak Product Research and Terapeak Sourcing Insights
How to use Terapeak to find the best products to sell on eBay
The advantages and disadvantages of Terapeak
How to scale your business with Terapeak
Undoubtedly, eBay is a lucrative marketplace to launch your dropshipping business. While many claim that dropshipping is dead, the truth is that dropshipping, especially eBay dropshipping, is still profitable.
Below are some of the statistics that affirm that dropshipping is not dead.
25% of eBay dropshippers make more than $1,000 in monthly profit.
eBay dropshipping transactions saw a 146% jump between 2016 and 2018.
eBay dropshippers rake in an average of $693 in cashback profit every month
The top 10% of dropshippers on eBay make an average of $7,731 in profit every month
eBay sellers say their business grew by 54% in 2020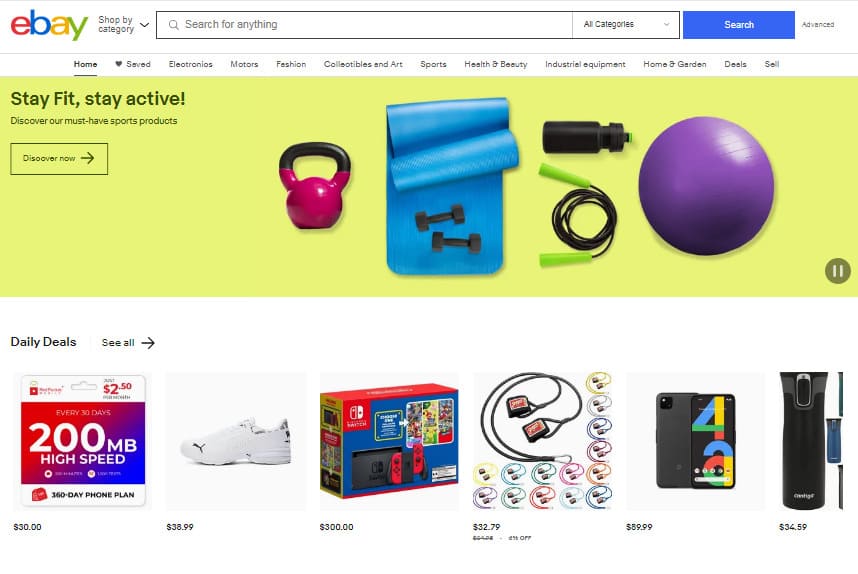 Product Research; The Deal Maker or Breaker
Succeeding in eBay dropshipping is not an easy path. There are critical stages in the process, with product research at the core of the strategy. Finding and selling winning products is what will fuel your journey to success. Unfortunately, many dropshippers fail to do proper product research and sell what nobody wants.
While there are several methods of finding products to list on eBay, product research tools have proven to be invaluable. They enable dropshippers to find the best-selling products on eBay and offer in-depth insights so you can make data-driven decisions. There are over a dozen eBay product research tools, but one stands out; Terapeak.
What is Terapeak?
Terapeak is an innovative market analysis tool that leverages eBay supply, demand, and pricing data to help you make data-driven decisions on what to sell, when, and at what price. It is the go-to product research tool for many eBay dropshippers. According to eBay, over 32% of successful sellers use Terapeak often.
How Does Terapeak Work?
Terapeak is just like a search engine that enables eBay dropshippers to find crucial market data on niches and products. You simply find a product by its name or other unique product identifiers, such as the Universal Product Code (UPC) or eBay Product ID (EPID).
Terapeak has several features, including;
Category Selector that lets you narrow your search and view your desired data
Type-ahead Component that gives you suggestions based on the keyword you enter and the frequent searches corresponding to your keywords
Data Visualization, which helps you quickly understand data and analyze trends
Relevant Active Listings Analysis for comparison with top-performing competitors
Multi-User Account Access for shared access
Terapeak Product Research vs. Sourcing Insights
Terapeak has two main products; Product Research and Sourcing Insights. Both are eBay tools, but they have different functionalities.
Terapeak Product Research
This platform enables dropshippers to gauge how different eBay products and categories perform on eBay platforms. The tool has features that enable users to customize and target insights in interested markets.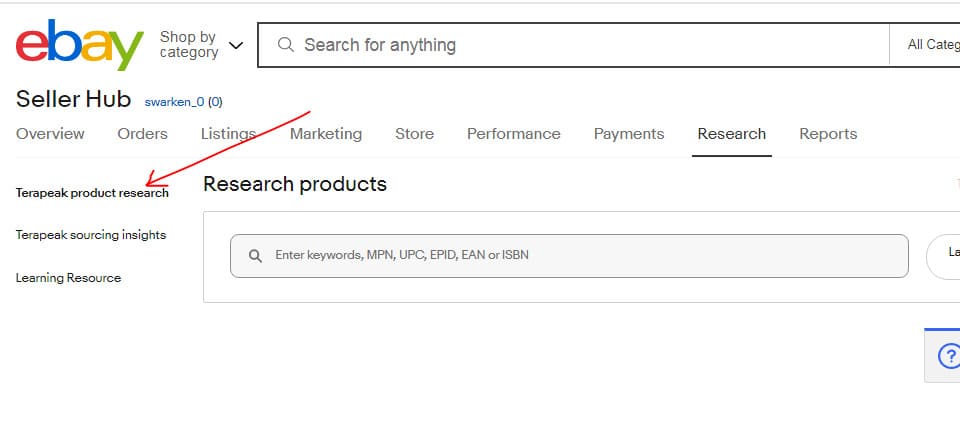 Product Research gives you access to crucial data such as;
The number of listings and items sold for particular items
Average sales prices
Condition of sold items
Sell-through rates
Sales trends over time
Average shipping costs and free shipping
Seller and buyer geolocations
Unsold inventory
Listing formats
Terapeak Sourcing Insights
As the name suggests, Terapeak Sourcing Insights enables sellers to access real-time eBay sales data that is requisite in formulating a sourcing strategy. With Sourcing Insights, you can seize opportunities such as selling products with less stock. Sourcing Insights can also give insights into low-inventory and high-demand categories.

Some of the metrics Sourcing Insights generates include;
Search volume
Active listings

Search-to-listing ratio
Click-through rate over 12 months
Total number of listings
Total number of items sold
Top listings
Top opportunities
How to Access Terapeak on eBay
Terapeak, where is it? Right now, Terapeak is not a standalone platform as it used to be before the eBay acquisition in 2017. Instead, it has been incorporated within the eBay platform and can be accessed from the eBay Seller Hub under the "Research" tab.

Is Terapeak Free?
Terapeak is indeed a must-have for any savvy eBay dropshipper. But the big question is, how much is Terapeak?
Terapeak Product Research is free for all eBay sellers' store levels, including Starter. However, Terapeak Sourcing Insights is not free. You must have a Basic, Premium, Anchor, or Enterprise eBay store to get access.
If you don't have any of the above stores, consider getting a Basic store. The table below shows the cost for each store subscription.
| | | |
| --- | --- | --- |
| Store Type | Subscription Cost (Monthly, Billed Monthly) | Subscription Cost (Monthly, Billed Once Yearly) |
| Starter | $7.95 | $4.95 |
| Basic | $27.95 | $21.95 |
| Premium | $74.95 | $59.95 |
| Anchor | $349.95 | $299.95 |
| Enterprise | N/A | $2,999.95 |
Terapeak Use Cases
Market research – Analyze pricing, sales, and product availability trends
Single stock items sourcing – Use filters to find low stock and used items
Optimizing listings – Find top-performing listings and adjust yours to promote sales
Retail standard optimization – Analyze your competition and find any opportunities you can capitalize on
Sell internationally – Terapeak can help you find the trending products in any country
How To Use Terapeak eBay Research For Dropshipping
Now, to the main business of the day, how do you use Terapeak? What can you do with it? To ensure you get the most out of this guide, we have discussed in detail how to use Terapeak in;
Product Search
Filtering Search
Analyzing Results
Terapeak Metrics Explained
But before going into the details on how to use Terapeak, it is essential to understand the key Terapeak insights, otherwise known as metrics. This is data that gives an all-round picture of the product at hand.
Below is a list of the key Terapeak metrics. We will discuss each metric in detail and its significance in the quest to find the best products for eBay dropshipping.
Sourcing Insights
Number Of Listings & Items Sold
Average Sales Prices
Sell-through Rates
Average Shipping Costs
Seller & Buyer Locations
Sales Trends
Unsold Inventory
Listing Formats Of Other Sellers (Auction or Buy it Now)
1. Sourcing Insights
Sourcing insights is an important metric that gives users exclusive access to real-time sales data on any eBay platform's category. With sourcing insights, dropshippers can develop a working data-driven sourcing strategy.
Sourcing insights is vital when making decisions based on inventory and stock. For example, it can help you zero down on single-stock listings. These are products that can rake in sales when you list them, as there is no stiff competition. Sourcing insights can also help you identify products with high demand and low inventory. Such products attract less competition and are highly profitable.
2. Number Of Listings & Items Sold
The next important metric is the number of listings and, importantly, the number of sold items from the listing. The number of listings tells you how the competition is, while the number of items sold from the listings indicates whether or not the product is profitable.
With these two insights, dropshippers can then build a profitable catalog.
3. Average Sales Prices
As the name suggests, this is all about the average price of a product. The average sales price lets users understand how much other sellers sell the same product. Consequently, you can make the right decision on how much to list your product for.
You don't want to sell way below the average. In the same token, you don't want to overprice it. This balance is critical to the success of your business; pricing strategy.
4. Sell-Through Rates
The sell-through rate is one of the critical insights you should consider as a dropshipper. Sell-through rates refer to the rate at which a product is sold compared to the amount of available stock. It is calculated by dividing the number of units sold by number of units received.
The sell-through rate is crucial as it informs dropshippers whether or not a product is worth selling. Together with the Number Of Listings & Items Sold, it helps you create that healthy and profitable catalog.
5. Average Shipping Costs
Understanding the average shipping costs is also an important metric that Terapeak offers. The shipping cost is a key determinant in setting the final selling price. Considering many buyers make purchase decisions based on shipping costs, users need data on the average shipping costs.
With the average shipping cost, you can go shipping options with favorable shipping costs to bring down the final product cost. With a lower final cost, you have the edge over your competition. You won't lose a customer because of higher shipping charges that are lower with another seller.
6. Seller & Buyer Locations
To make informed decisions, you will need to know where most of the sellers are and where the buyers are concentrated. Terapeak gives users detailed ad accurate information on the geolocation of sellers and buyers.
Seller and buyer location data is critical as it enables dropshippers to create targeted audiences.
7. Sales Trends
Sales trends refer to the historical data on the revenue and sales of a particular product. With sales trends, you can predict a pattern that will come in handy when setting up your winning strategy.
With sales trends data, dropshippers can decide what to sell and the best or worst time to sell that product.
8. Unsold Inventory
As the name suggests, this filter gives you raw data on products that have been listed but have not been sold.
Unsold inventory data is crucial as it explicitly advises what you shouldn't consider selling. Anything in the Unsold Inventory list should be avoided!
9. Listing Formats Of Other Sellers
Listing format is important data that should be at your fingertips if you are an eBay dropshipper. As you may be aware, there are 3 listing formats: Auction, Best Offer Accepted, and Fixed Pricing.
Terapeak gives you data on the listing formats of other sellers who you are competing with. With this data, you know which listing format works best so you can adjust your listings accordingly.
Using Terapeak for eBay: Step By Step Guide
Terapeak for eBay is a solid product research tool that can be used in 3 easy steps, as listed below.
1. Product Research: How to Find Winning Products on eBay Using Terapeak
Product Research is a tool that enables dropshippers to find winning products on eBay. You can search for a product using different attributes, including;
Product Name
eBay Product ID (EPID)
Manufacturer Part Number (MPN)
Universal Product Code (UPC)
International Standard Book Numbers (ISBN)
European Article Number (EAN)

The product name is the best option as it's the easiest way to get accurate insights; besides, you can have better control of your search quality. However, searching for a product with the name is not as precise as the other options.
2. Filtering Search: How to Use Terapeak Filters to Narrow Down Your Search
If you use the keyword search option, you will definitely get more than a dozen products. Most of the products that will pop up are products you have no interest in, so you need to refine the search.
Terapeak has several filters, with each separating the wheat from the chaff. With refined filters, you can easily pinpoint the exact product you want, thus saving you a lot of time.
Below are some of the filters you will encounter during the product search.
(i) Time range – This filter is handy when you only want to get data from a certain period. For example, 7 days, 30 days, 90 days, or custom range.

(ii) Listing site – As you may be are, there are over a dozen eBay marketplaces. We have ebay.com, ebay.co.uk, ebay.de, ebay.it, and so on. The listing site filter will take the search to the specific eBay marketplace.

(iii) Category selected – In which category do you want to search for a product? You can choose to search from all categories or a specific category. The latter is the better option.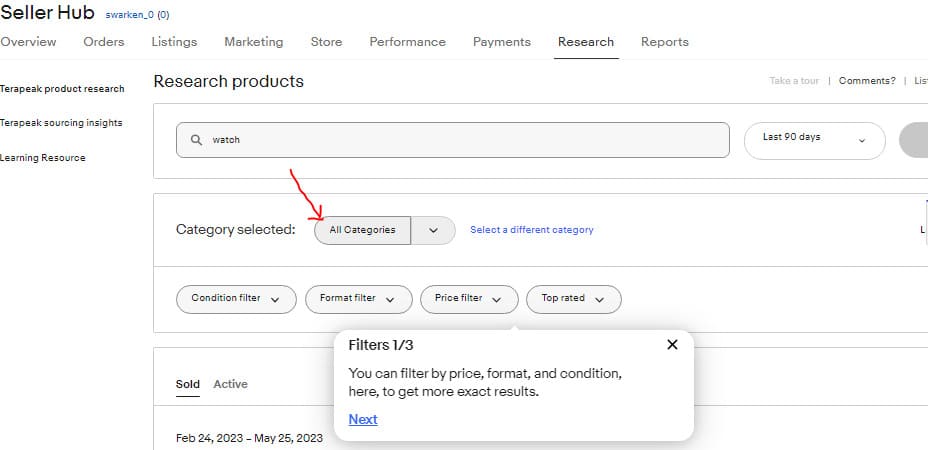 (iv) Condition filter – You want to select the item's condition. The available options include New, New (other), New with defects, Seller refurbished, Use, and For parts not working.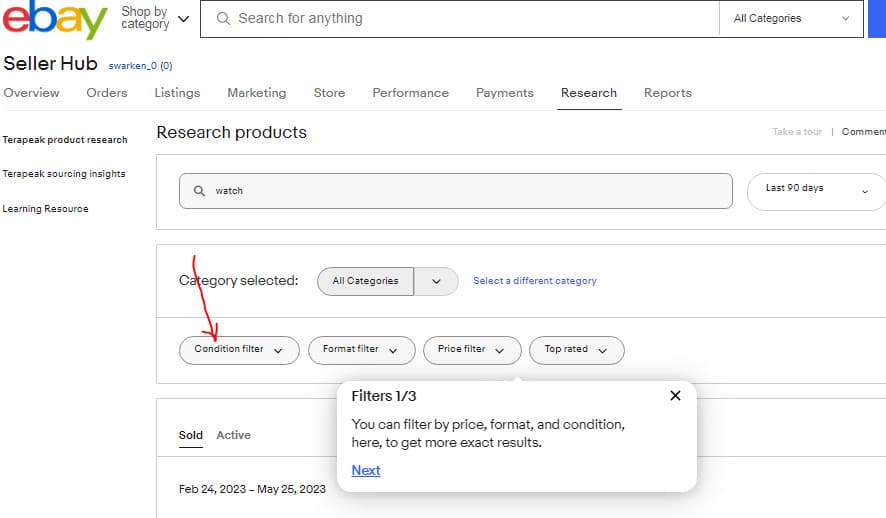 (v) Format filter – eBay has 3 format filters: Auction, Best offer accepted, and Fixed price. Select the most appropriate format.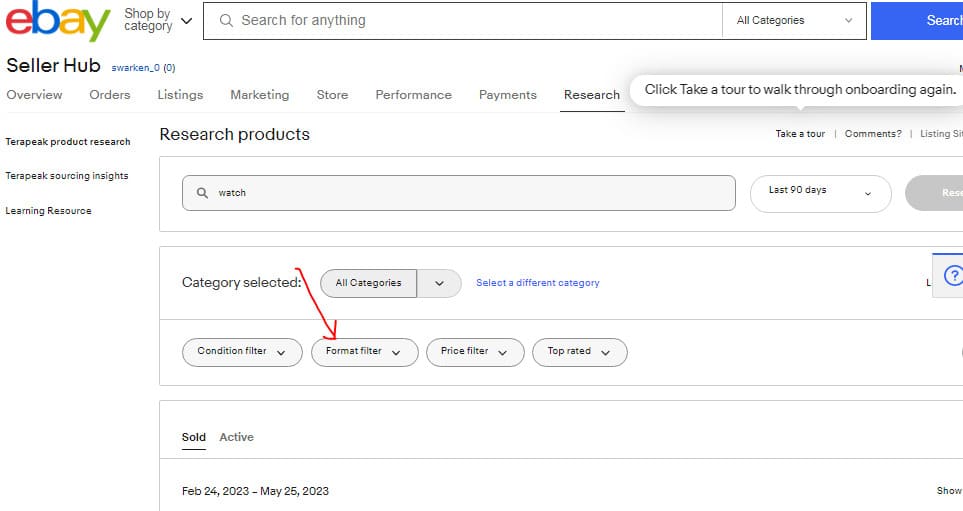 (vi) Price filter – As the name suggests, this filter allows you to search products within a specified price range.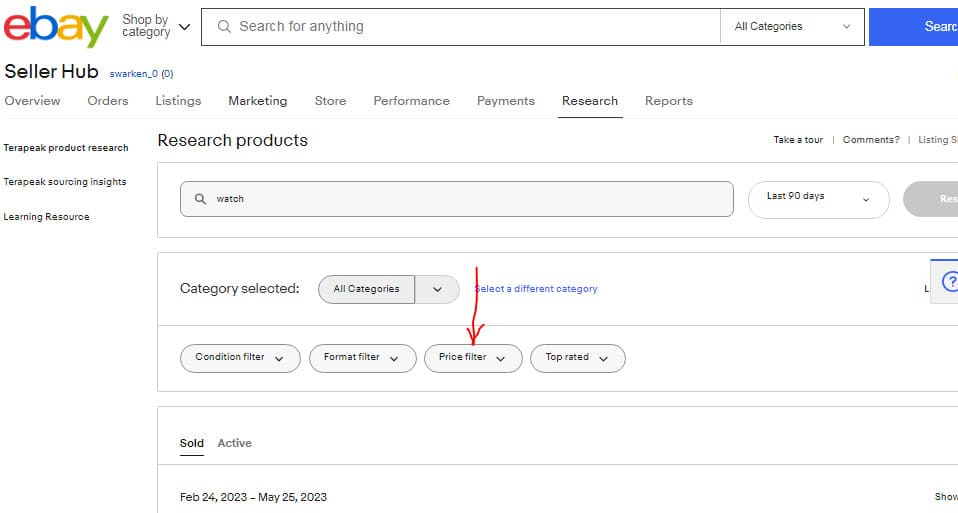 (vii) Top rated – Do you want the search to exclude top-rated products or include top-rated listings only?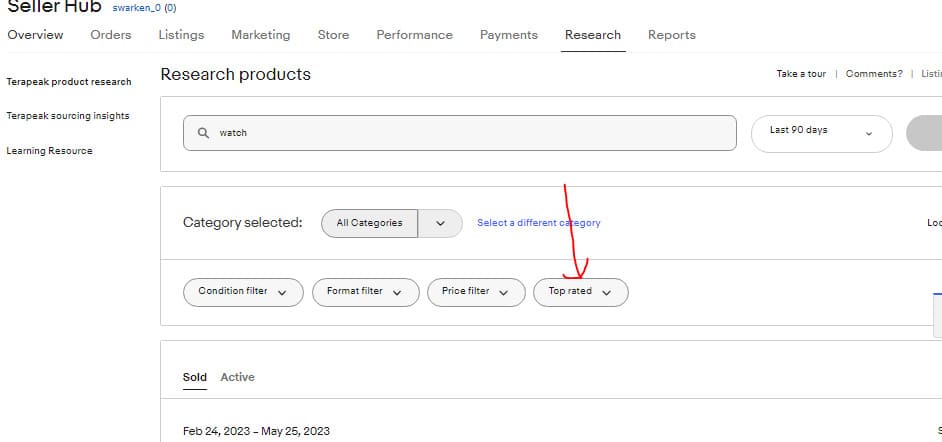 (viii) Buyer and seller locations – Under the 'More Filters,' choose the location of the buyer or seller.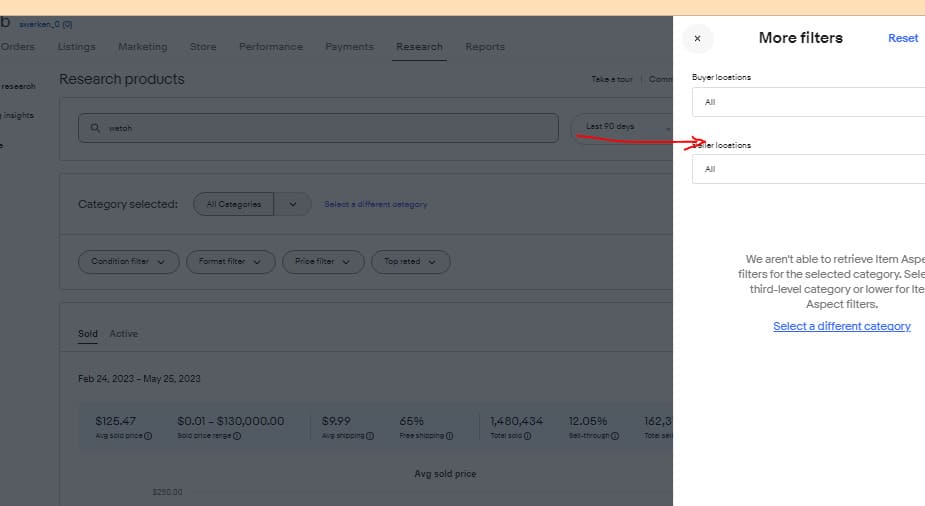 3. Data Analysis: How to Analyze Terapeak Results
The last step is analyzing the results you have gotten from the filters to find the best products to sell on eBay. This critical stage needs to be addressed carefully, lest all your efforts end up in vain.
You will realize that Terapeak results are grouped into two; Sold and Active. You will definitely be interested in data on the Sold tab and not Active.
Under the Sold tab, there are several metrics as listed below;
Average sold price – This is the mean sold price, excluding shipping fees.
Sold price range – Refers to the lowest and highest sale price.
Average shipping – Lowest and highest fees paid for shipping. This metric should inform your decision on how much to charge for shipping.
Free shipping – Percentage of products sold with free shipping. This data set should tell you whether you need to consider free shipping or not.
Total sold – Number of products sold within the set period.
Sell-through – Rate a product was sold at sold compared to available stock. This metric tells you whether or not it's worth abseiling a particular product. The higher the sell-through rate, the better.
Total sellers – Number of eBay sellers who listed similar items. This data shows the competition to expect when selling a similar product.
Total sales – Revenue from all of the products sold
Advantages and Disadvantages of Terapeak
Terapeak is a reliable eBay product research tool. But just like any other dropshipping software, it has advantages and disadvantages.
The first advantage of Terapeak is that it is free, so you don't have to spend more money as long as you have an eBay seller account. Terapeak is also a robust tool that enables eBay dropshippers to find best-selling products, optimize listings, refresh underperforming listings, and match the competition through competitor analysis. The tool also provides sellers with data for product sourcing by identifying categories with high demand and low supply.
The main shortcoming of Terapeak is skewed data. Data such as sell-through rates may be inaccurate for one reason or another. For example, an item might end up as unsold because the seller might have made a mistake, such as poor listings, high shipping fees, no returns, etc. A seller may also have high sell-through rates because they sold an item at a very cheap price. Terapeak doesn't account for these factors.
Scaling Your Business: Terapeak Complementary Tools
Terapeak is a great tool for dropshipping on eBay, but it is not enough to scale your business to greater heights. You may need other tools to complement it.
One of the best tools that complement Terapeak is Easync.io, an automated dropshipping solution. While Easync has several features, the best tool you can leverage is Fulfillment by Easync. If you are dropshipping from eBay, you can take advantage of Fulfillment by Easync to fulfill Amazon orders, not with your Amazon account, but with Easync's.
Another tool is AutoDS which is designed to automate and optimize your eBay store. AutoDS can help you find and import products, monitor and adjust pricing and inventorycomp0lete order fulfillment, and so on.
Frequently Asked Questions
1. Is Terapeak worth it?
Yes. Terapeak is a resourceful eBay dropshipping product search tool that enables dropshippers to find the best products to sell.
2. Is Terapeak Sourcing Insights free?
No. Terapeak Sourcing Insights is not free. To access this tool, you need to have a Basic store subscription or higher. Terapeak Product Search is, however, free for all store levels, including Starter.
3. What is a good Terapeak sell-through rate on eBay?
It's hard to put a number as there are a lot of dynamics. But generally, a 40% sell-through rate is acceptable. But now that you are in it for money aim at 80%, which is very achievable.
4. Where do I find Terapeak on eBay?
Terapeak can be accessed from the Seller Hub under the Research tab. It is no longer a standalone platform.
5. Is there a better product research tool for eBay than Terapeak?
Terapeak is a great deal as it offers accurate data considering it is a product developed by eBay itself. But there are several other Terapeak alternatives, including ShelfTrend, SellerChamp, and so on.
6. Does Terapeak work with Amazon?
No. Terapeak doesn't work with Amazon. It is solely designed for eBay. However, note that before its acquisition, it used to work with eBay, Amazon, and Shopify.
7. Who owns Terapeak?
eBay owns Terapeak after it acquired the analytics platform in December 2017.
Wrapping Up
That's the end of this guide on how to use Terapeak for eBay dropshipping. Indeed, Terapeak is an essential tool that can be the deal maker or breaker. With Terapeak, you can gauge how products and categories are performing, get detailed visual reports, search and filter products, get a glimpse of popular categories and products, and implement successful strategies for the success of your business.
If you are an eBay seller or want to venture into eBay dropshipping, take advantage of Terapeak Product Research and Sourcing Insights.