How to start Amazon to eBay Dropshipping – The Ultimate Guide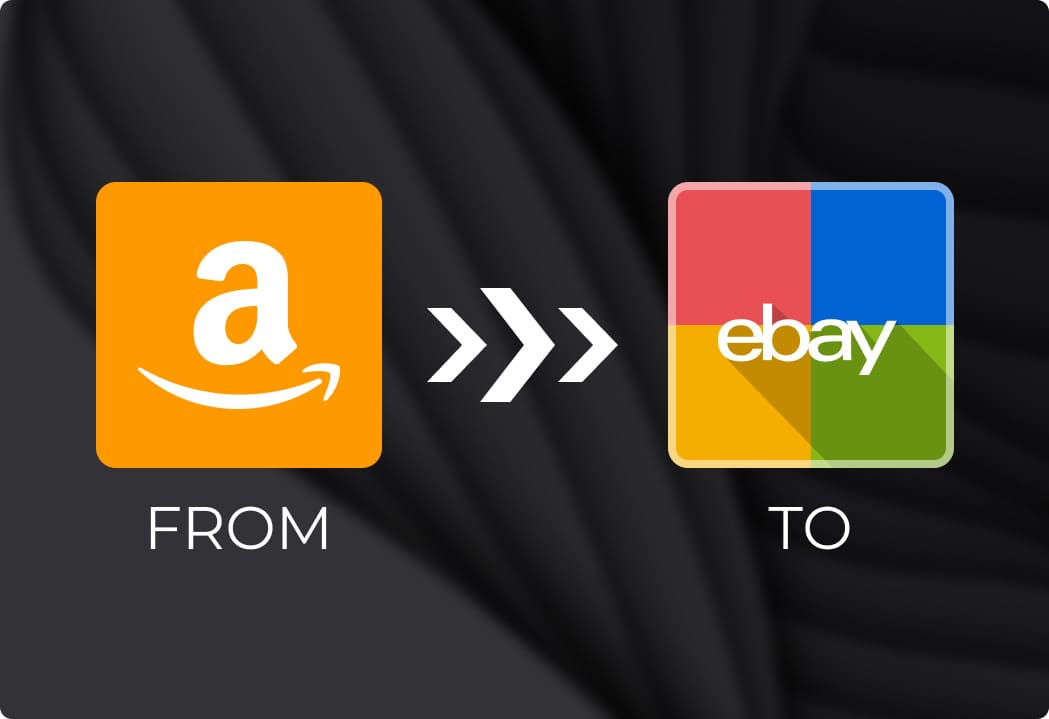 A lot of individuals seeking to make money online businesses have discovered that the combination of large marketplaces like Amazon and eBay, adjoined with the dropshipping business model can yield tons of profit.
Just take a look at the graph below which shows searches for the term drop shipping, it has literally exploded in the last couple of years.

Your only job is to accept an order while your supplier fulfills it, and if you've been thinking about venturing into dropshipping, you might want to try out Amazon to eBay dropshipping.
What is Amazon to eBay Dropshipping, Arbitrage?
In this model, you sell Amazon products to eBay buyers. You only list your items without handling any physical items. The buyer places an order, and you redirect it to the supplier who ships it directly to the buyer.
You buy an item for $10 on Amazon and sell it for $15 on eBay, so you make $5 arbitrage profit (before eBay and paypal fees).
Amazon to eBay dropshipping saves you inventory and shipping costs, and you worry less about having a physical product that never sells.
For your business, this is a win-win situation. So, all you need to do is to list your products on eBay, and when the buyer makes a purchase, you order the item from Amazon, and the supplier ships it directly to the buyer. Yes, Is that simple.
Is dropshipping from Amazon to eBay legal?
Orders placed on eBay will instantly load on the Orders Page of Easync and the software will add the product to your shopping cart, insert the customer supplied shipping address, and choose the fastest free shipping. The tool will also ensure to make the order a gift order so the buyer will not receive an invoice with the prices on it.
Amazon never includes addresses on any order whether it is a gift or not so your personal information and identity will always be safe. Orders from Shopify on your personal website. Any orders placed on your retail Shopify store will work the same way. The orders will be sent to Easync instantly and be sourced from the market you specified when you created the listing using the ASIN grabber tool.
How to do Amazon to eBay arbitrage ? step-by-step guide
Later in the article, we'll show many reasons why using amazon ebay arbitrage software to drop ship items will allow you to automate the entire process and make everything far quicker and easier.
Here is a concise step-by-step guide:
Go to Easync Finder and search for items that are currently in demand. by browsing different categories and seeing which items are getting a lot of Sells in the last 2 weeks (check out our videos at Academy). Or you can do this also by going to eBay's 'trending' page and seeing which items are getting a lot of bids.
Once you have chosen a product, determine the item's value based on the average price you see on eBay (try to avoid the extremes of any category ie the extremely expensive and extremely cheap – focus on the middle ground) and then simply upload it to your store.
Search eBay or Amazon using all the misspelling of your item and category as well as different word combinations or try using the correct spelling but search for items with low quality pictures.
When you find a good potential candidate – determine if the price listed will allow you to make a profit. For example if you found an iphone cover on Amazon for $5 and you saw that people are selling that same item on eBay for $10 then your profit margin is $5 minus paypal fees, eBay fees and shipping so maybe you are pocketing $3. I would refrain from doing this with low cost items though unless you get them in bulk.
How to choose Best items to drop shipping from amazon to eBay?
Dropshipping from Amazon to eBay is actually much simpler than one would think.You can pick a niche that interests you; it could be related to something you're passionate about.
Start by going to Amazon, typing in "best seller" on any category and clicking on any non-branded item.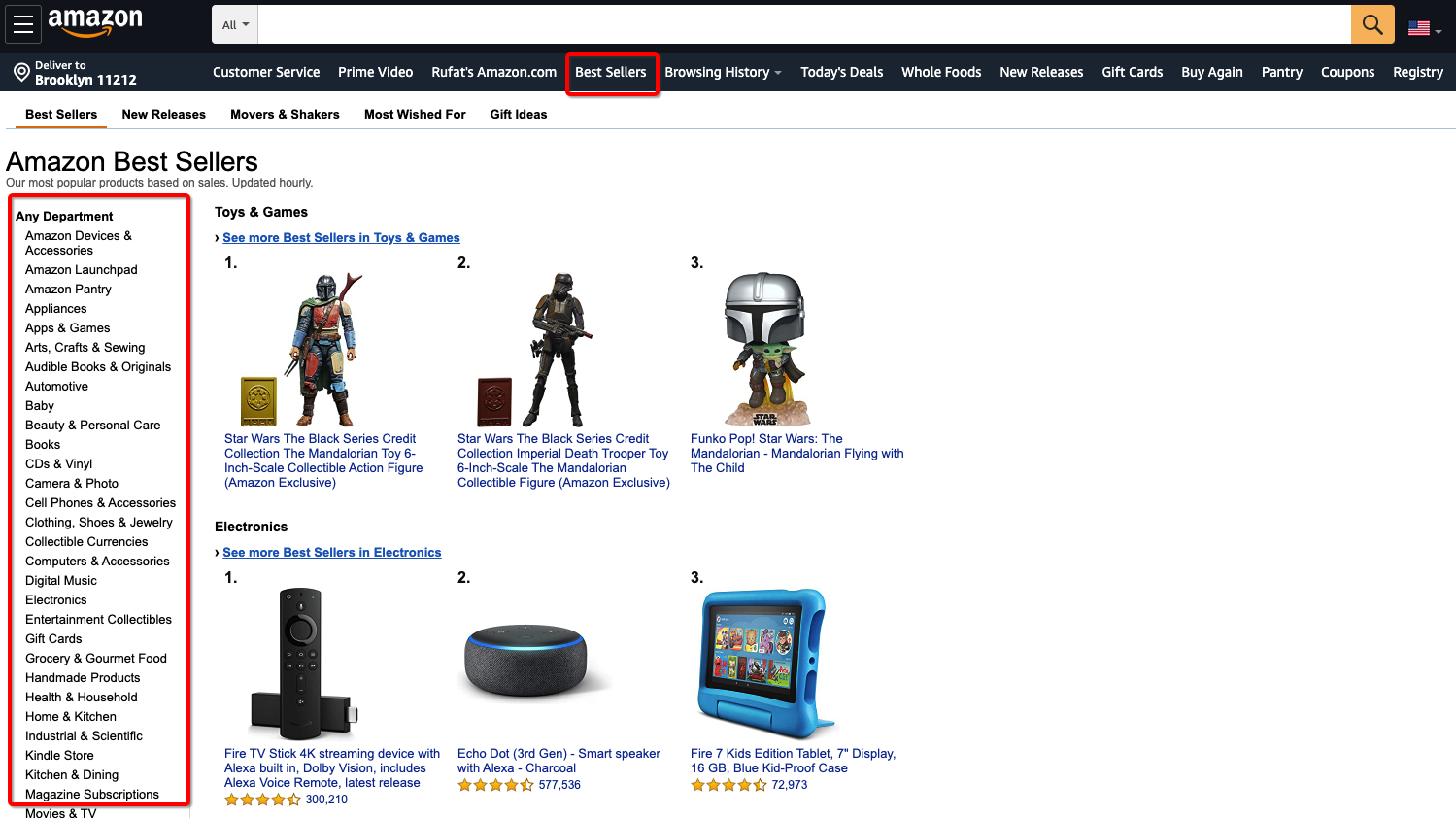 Find an item which is underpriced on Amazon (in comparison with eBay) and make sure they offer free shipping!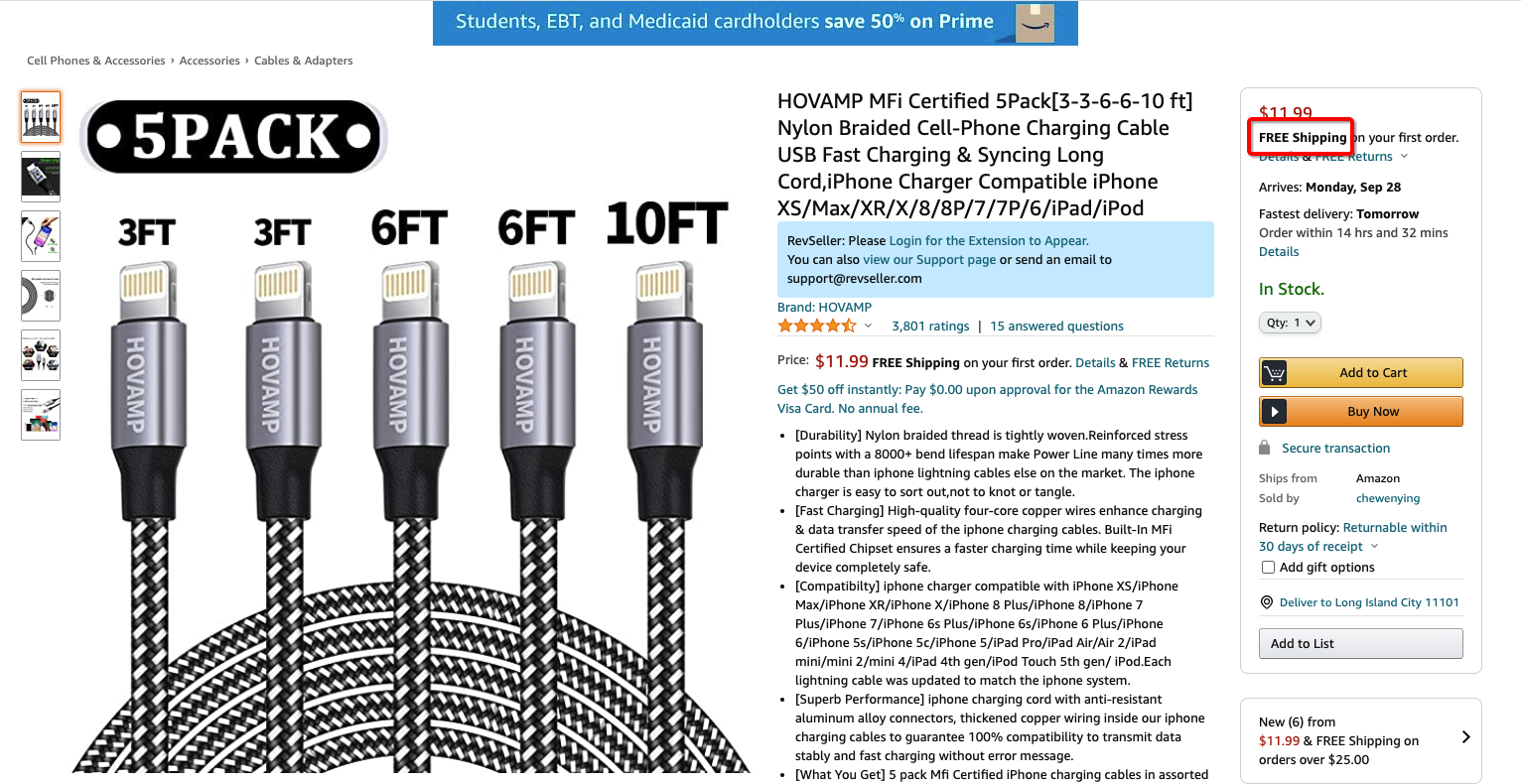 Create a new eBay listing for the item (you can use Easync template to make it look professional and increase the chances of selling). If the pictures are good you can use them and if not you should find better ones on Google. As far as the text you can copy and paste it but again I would spend a few minutes editing and changing it – make it more convincing
Sell the item on eBay and purchase the item on Amazon. Be sure to check the box specifying that the product is a 'gift' so that your buyer does not find out how much you really paid.
That's it ! You made a few dollars profit. Now repeat this process with the same item or multiple items and you could be supplementing your income or generating enough money for this to be your primary source of income.
Look for non-branded items on Amazon, that are selling for a higher price on eBay.
For example, look at this item: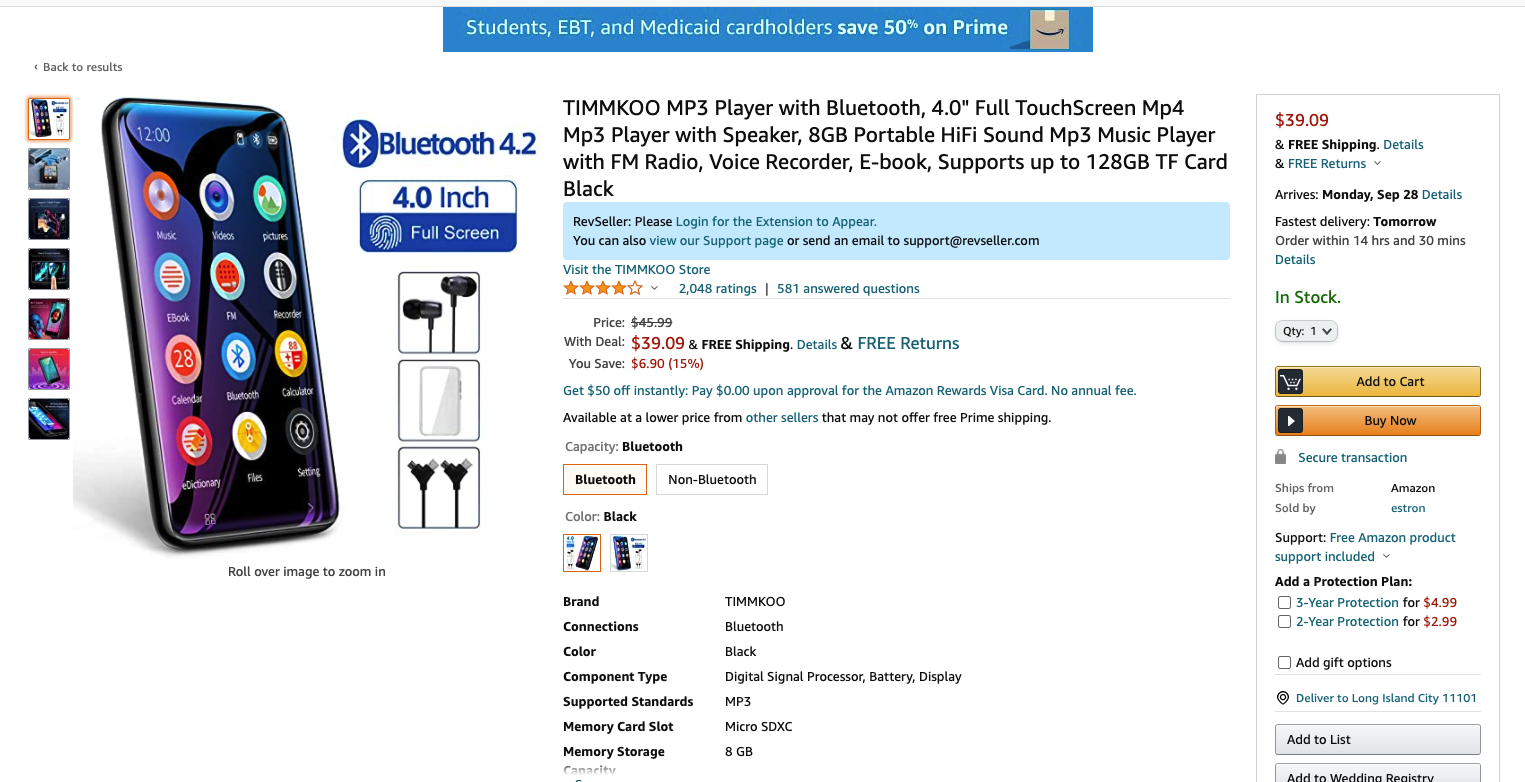 Price on Amazon $39.09
Now put the item into eBay and see what people are selling it for on eBay.
What you want to find is a situation like where the lowest priced eBay seller is still selling the item successfully for more than the Amazon price.
eBay seller 1 price: $42.99 – 25 sales
eBay seller 2 price: $45.50 – 10 sales
eBay seller 3 price: $49.42 – 2 sales
eBay seller 4 price: $55.35 – 0 sales
From these figures, you can see that if you charged below $24.99, but above $21.99, you'd have a good chance of gaining sales.
How Amazon eBay Arbitrage Software helps to speed up the process?
Don't worry – if you decide to start an Amazon to eBay dropshipping business, you won't need to manually list items individually in future.
Software can make all the difference to the success of an arbitrage seller. Prices on Amazon fluctuate continuously, and if an arbitrageur does not track them, they may sell products on eBay at a loss. When that happens, the options are either to take a hit and place the order anyway, or cancel the order and damage their eBay performance metrics. Not a great choice.
Profit margins using Amazon to eBay arbitrage can be paper thin, so bulk listings are where the real money is often made. Manually checking prices and adjusting listings for more than a few products is not practical, let alone for the number of listings required to make it worthwhile – which can be up to hundreds of thousands.
Here are 9 ways that using software helps to make the dropshipping process quicker and easier:
1. Reprice eBay listings when Amazon prices change
If you manually list items from Amazon to eBay, you run the risk that the price on Amazon rises and you sell items at a loss. But by using an eBay repricer like Easync, you can let the software automatically change your prices according to the price on Amazon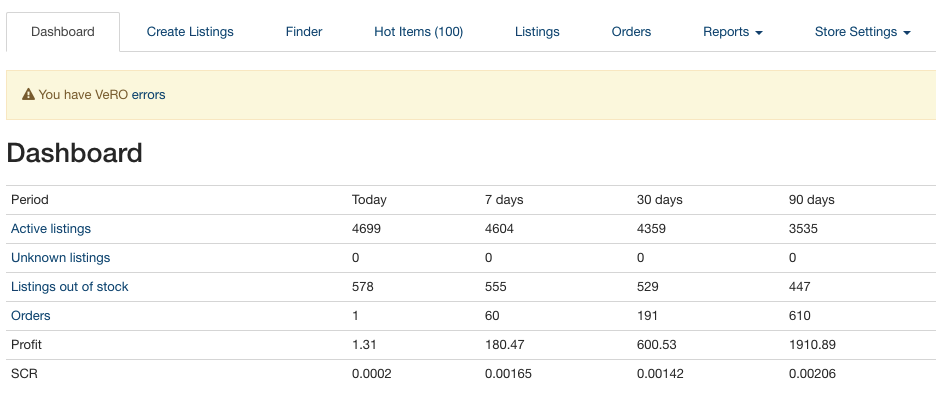 2. Listing items
If you managed to find a thousand hot Amazon items manually, you'd easily listing them all just by one click. If you've found items using market research software, you can normally import the items via a CSV file and then mass-list them to eBay. Alternatively, you can use Easync Finder or Easync Hot items that can automatically create listings in your store.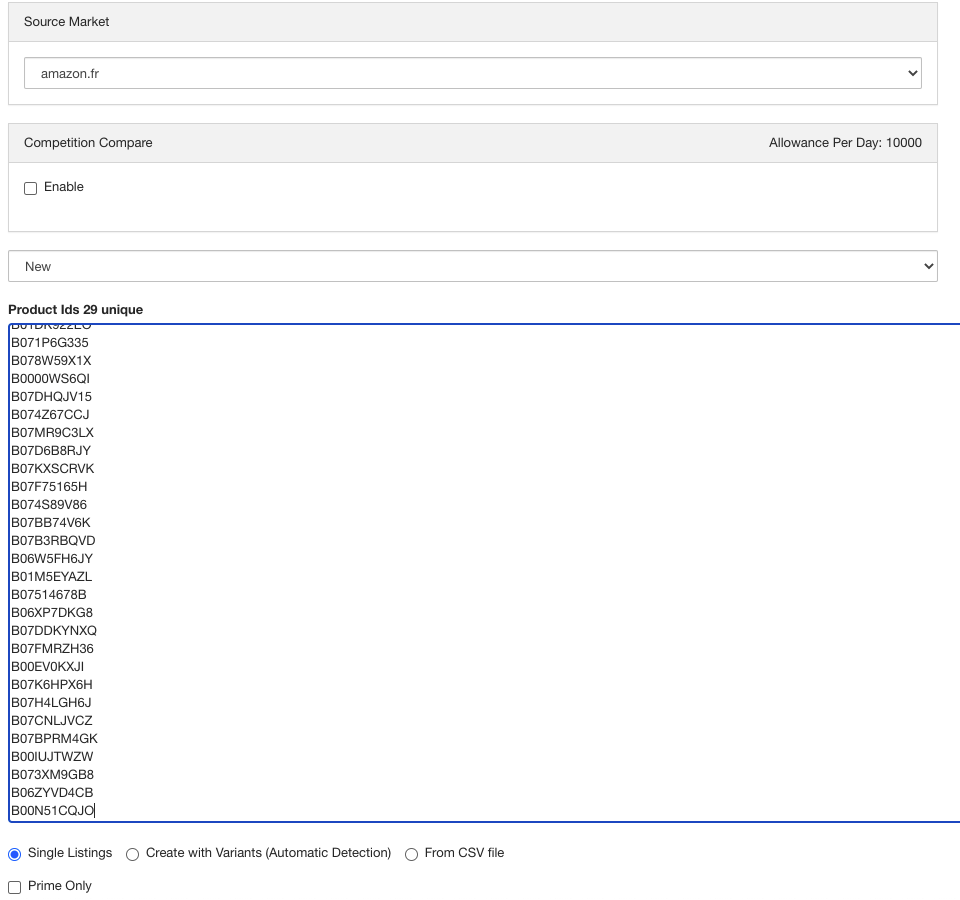 3. Finding items to sell
To make money dropshipping from Amazon to eBay, you need scale. While you aren't likely to make much profit with 100 listings, once you start creating thousands of listings you have many more opportunities to sell. But to create thousands of listings, you need to find thousands of hot items to sell. That's why software like Easync include Finder that can scan Amazon(All Amazon Markets) subcategories with up to 100,000 items at a time in a few clicks.

4. VeRO protection
Checking if the items you want to list are in breach of eBay's VeRO program manually would take a long time, and you could quite easily miss if a brand is registered for protection with eBay.
But if you use an established eBay dropshipping software like Salefreaks, you benefit from having access to a comprehensive VeRO list with millions of banned items that the software will scan your listings for and automatically prevent you from listing.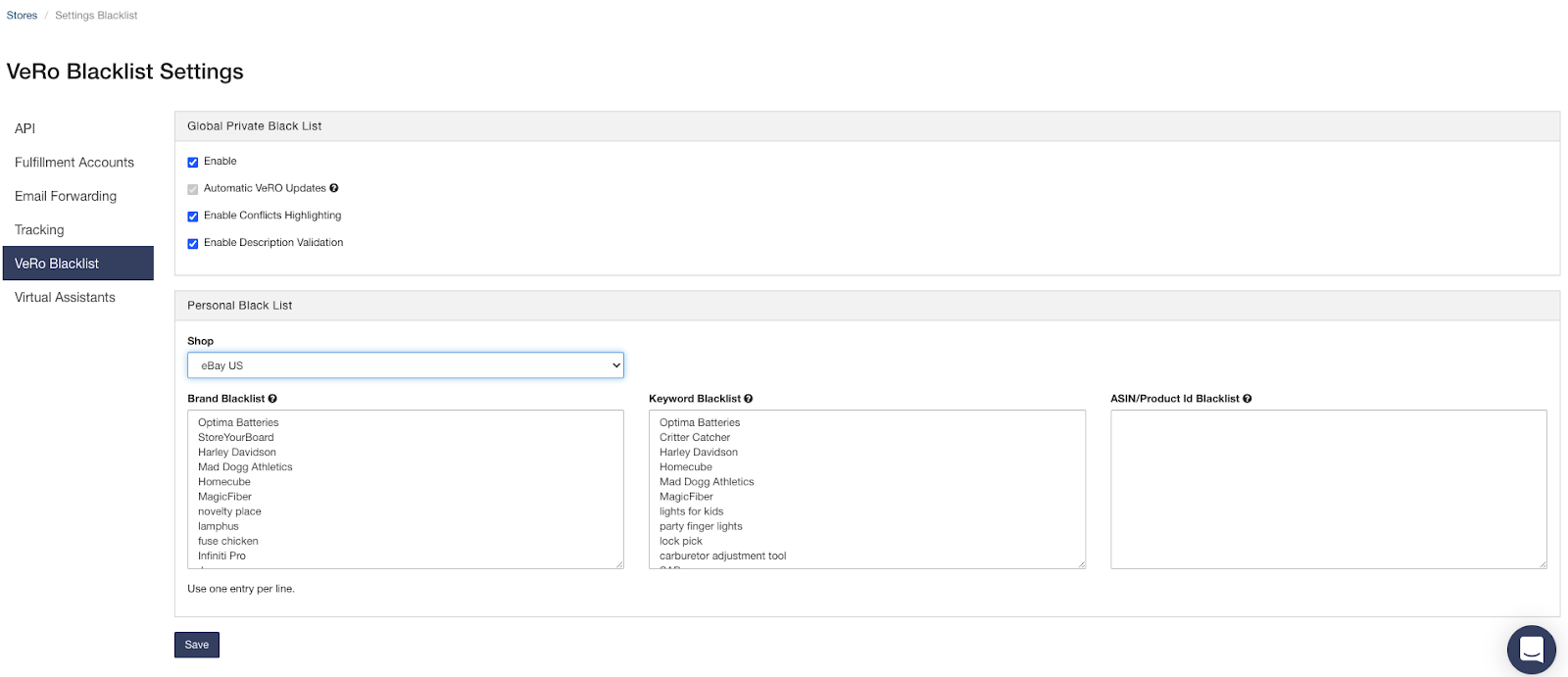 5. Auto-ordering items
Likewise, if you manually list items from Amazon to eBay, you run the risk that the item falls out of stock before you place your order. That's why it's important to find eBay dropshipping software that includes an auto-order function.
Auto-order tracks sales made on eBay and then automatically orders the corresponding item for you from Amazon within minutes of the sale going through, meaning that out of stock items rarely occur.
Or you can use our managed accounts FBE Service ( Fulfil by Easync)

6. Filtering items and optimizing your store
Finding items to sell, and listing them onto eBay is one thing. But you also need to regularly remove items that don't sell to keep your store optimized. If you don't, your costs with eBay will be unnecessarily high and could lose your search ranking.
Using software like Easync allows you to easily filter all your listings according to your needs such as; finding listings with no sales in 60 days or finding listings that only have a few views.
7. Using a CRM to deal with customer service issues
It's possible to deal with customer service tickets without a CRM (customer relationship management software). However, when you start to create multiple eBay stores and multiple Amazon accounts the task becomes much harder. All in one place.
A CRM can display all the information you need in one place making it much easier and quicker for you to respond to customers and be accurate in your answers.
8. Sending Automatic 3 messages to Customers + leave feedback
In Easync it's much easy to send Automatic messages to customer : When the user purchase items from our store( thanks message) Item on the way with tracking number update. We remind the customer to not forget to leave positive feedback in our eBay store. And as well automatic feedback for every purchase
9. Tracking Numbers
Post tracking information back to eBay when the order is dispatched by Amazon in this case your item will never get defect rate on eBay.
Thanks for reading the article Easync Team
FAQ For Amazon To eBay Dropshipping
The following FAQs provide instant answers to the most commonly asked questions regarding Amazon to eBay dropshipping. If we missed a question or you require some additional support, please feel free to contact us directly.
Is eBay dropshipping profitable in 2020?
Yes, without any doubt dropshipping is still profitable in 2020. To utilize it properly you must know profitable dropshipping products and also all the techniques of marketing your store. And once you follow these rules then the dropshipping success rate can become higher.
Is it possible to dropship on eBay from Amazon?
The short answer is YES. Dropshipping from Amazon to eBay is legal, there are no explicit laws or policies prohibiting this type of business model or business strategy if you will. … Amazon sellers also feel deceived when they realize someone is dropshipping from amazon to eBay and making money on their back.
What are the best selling items on eBay?
If you want a guaranteed sale, you should be focusing on the top eBay items as listed below:
Home tech.
Fitness.
Branded tech.
Fashion.
Shoes.
Jewelry and watches.
Collectables.
Books.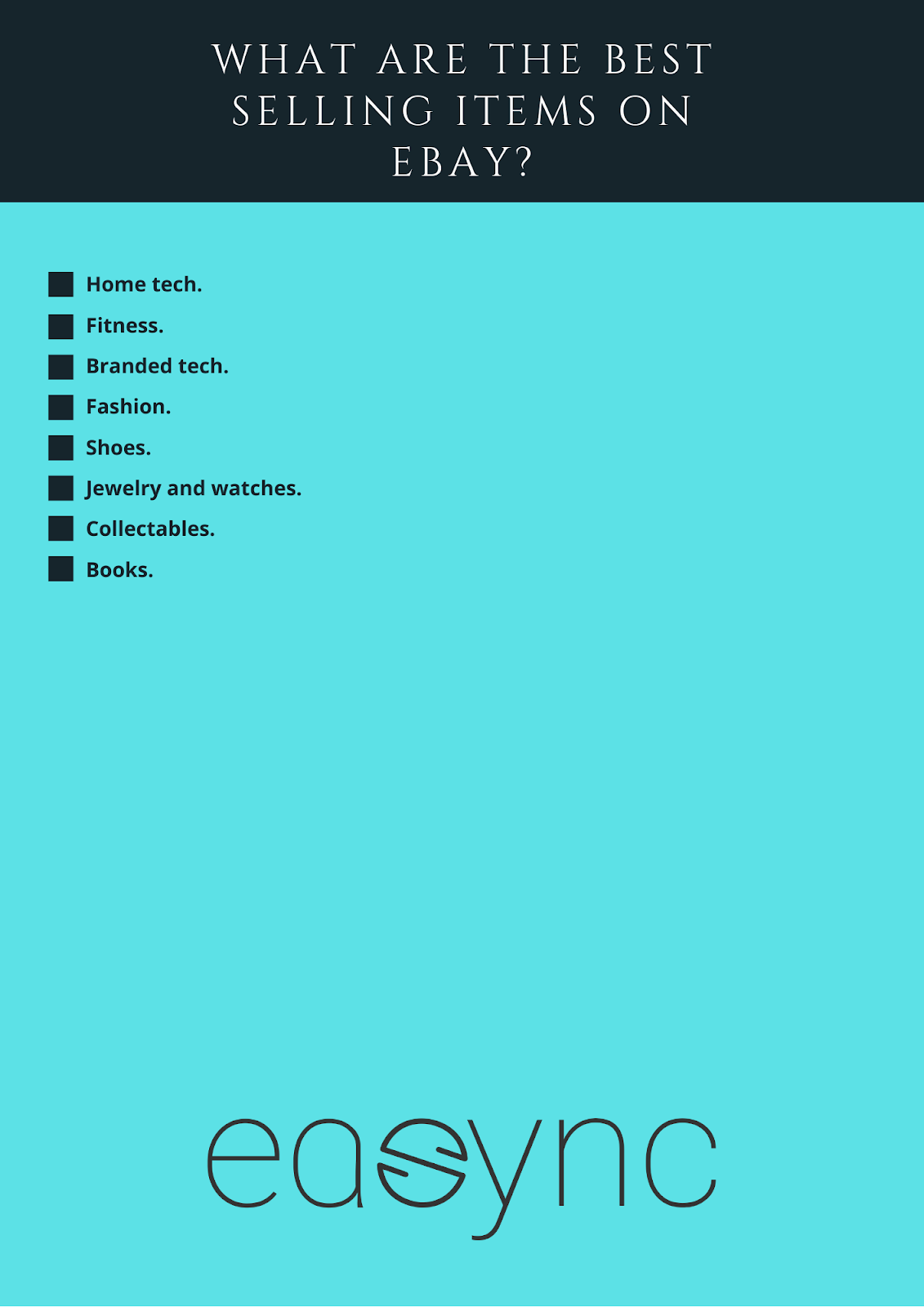 Which items are the best-selling in the world?
8 best-selling products of all time
Rubik's Cube. The Rubik's Cube remains the top-selling single toy of all time with 350 million sold since 1980..
PlayStation.
Category: Video game console.
Lipitor.
Category: Pharmaceutical.
Corolla.
Category: Vehicle.
Star Wars.
Category: Movies.
iPad.
Category: Tablet.
Mario Bros.
Michael Jackson's Thriller.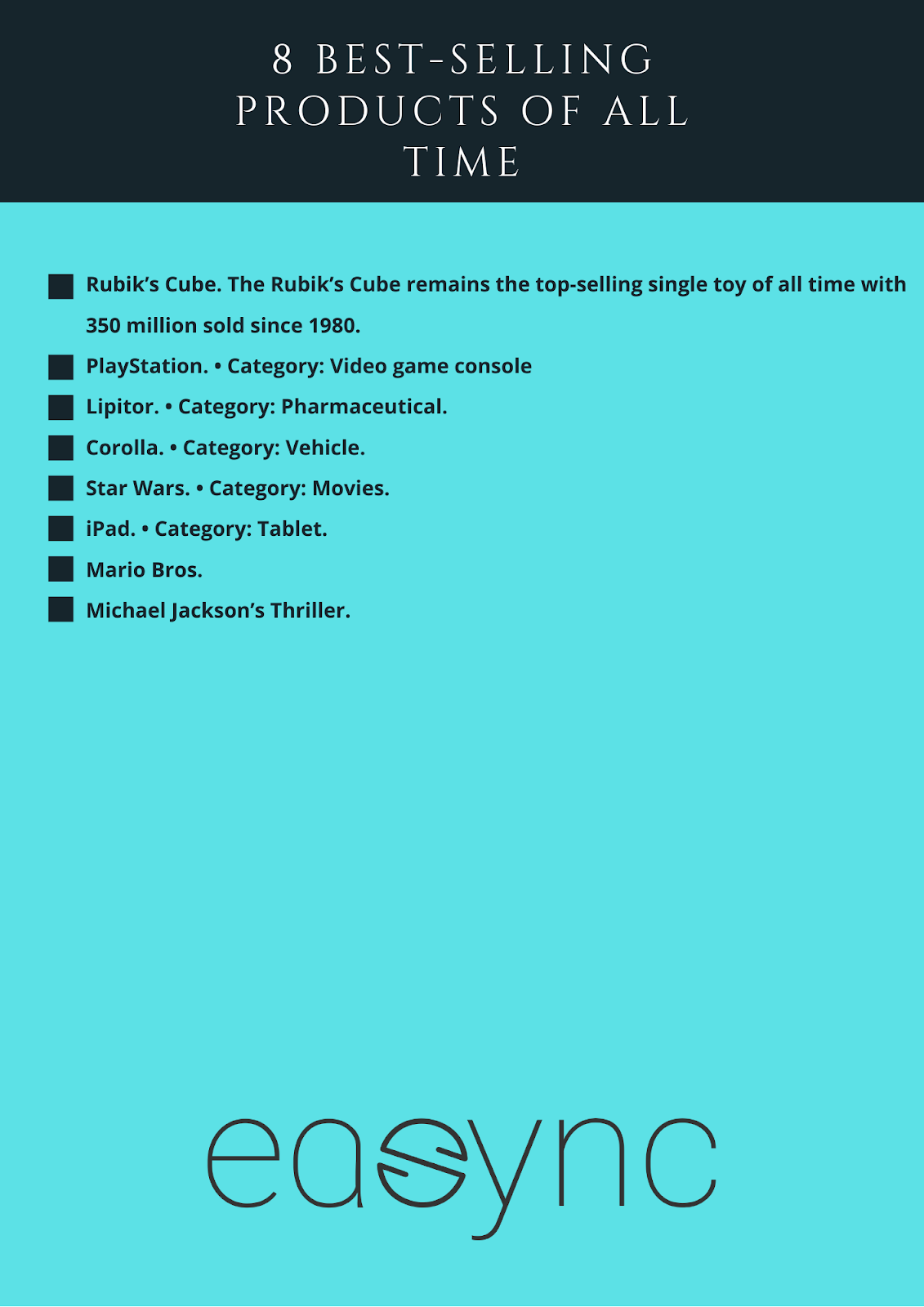 What items aren't allowed on eBay dropshipping?
18 Things you should never sell on Ebay:
1. Food. Okay, you may be thinking, why not?
2. Items that need authentication.
3. Jewelry.
4. Counterfeit (bootlegged) items.
5. Cigarettes and Cigars.
6. Alcohol
7. Coupons
8. Plants
9. Seeds
10. Firearms
11. Intellectual Property
12. Accounts
13. Recipes
14. Magazine Subscriptions
15. Items with personal info
16. Beanie Babies
17. Pets
18. Pelts/Stuffed (taxidermy) animals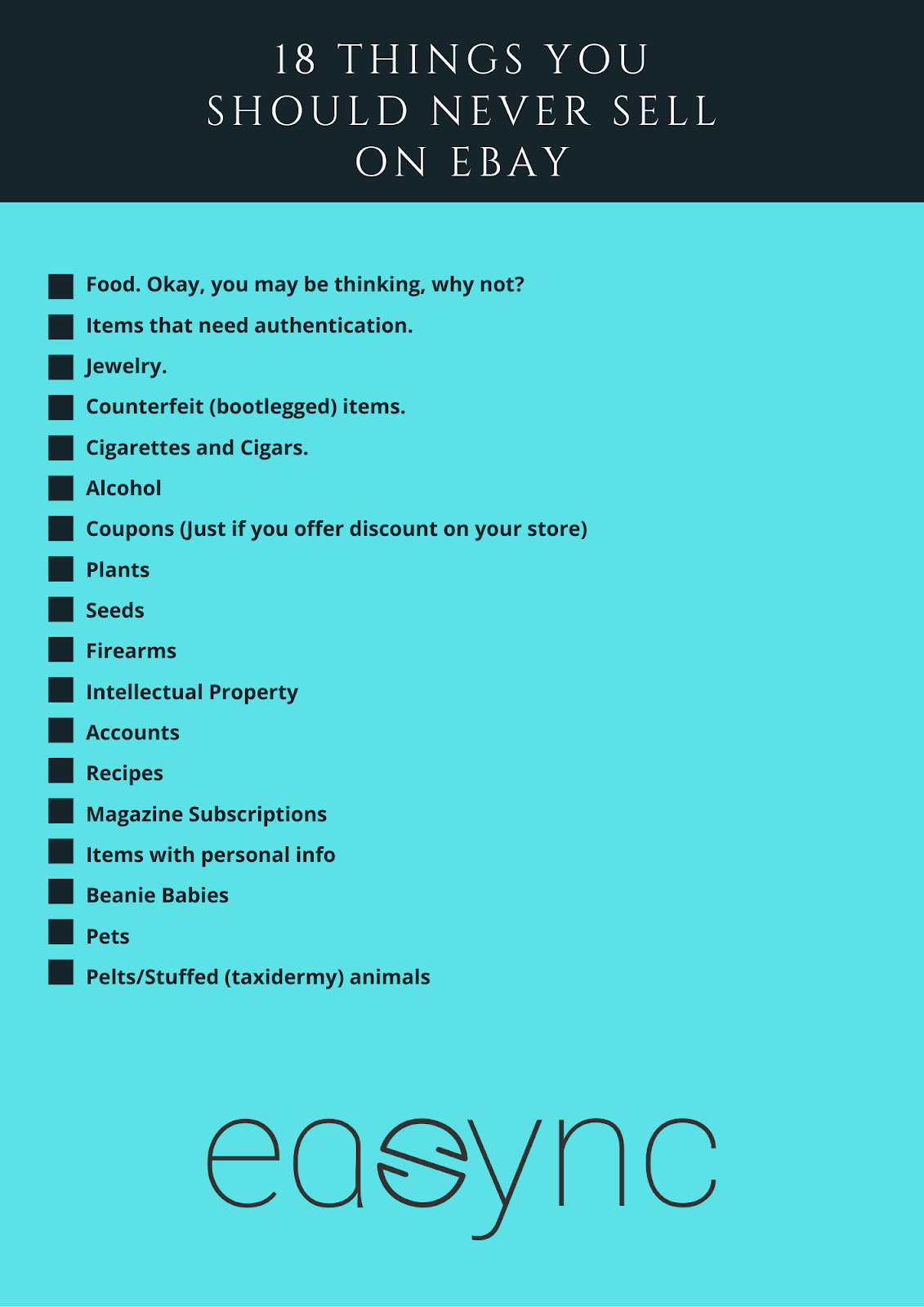 What is the average selling time on eBay?
eBay allows the buyer to make 3 offers on one item within a 30-day timeframe. Many times, an item will sell after offering and counter offering back and forth a few times.
Does eBay dropshipping require tax?
Not every eBay sale is subject to income tax, but most are. … According to the IRS, if your online auction sales are the Internet equivalent of an occasional garage or yard sale, you generally do not have to report income from those sales.
What are the fees for eBay and Amazon dropshipping
eBay charges 10% FVF, while Amazon charges 15%. … The only fee that eBay charges that Amazon does not is the Paypal fee. This is 2.9% of the sale price plus a flat rate of $0.30. Winner: eBay – sellers keep an average of 5.13% more of their profits than if they sold the item on Amazon.
Thanks for reading the article Easync Team