How To Find Top Selling Items On eBay + Best Selling Products in 2023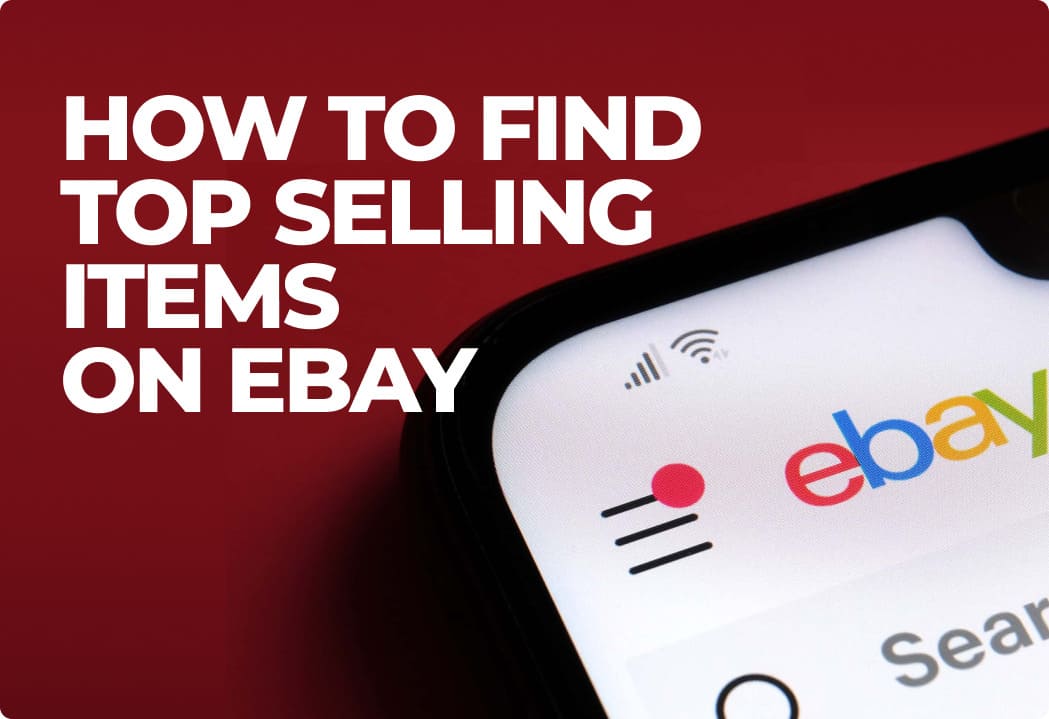 How to find top-selling items on eBay. This is the most challenging part for many eBay dropshippers. Finding the best-selling dropshipping products is fundamental and can be the deal maker or breaker. If you struggle to find the best products to add to your store, worry not. In this article, you will learn everything there's to know, including;
Whether dropshipping is profitable
Why dropshipping on eBay is a good idea
How to find the best-selling products on eBay
The best-selling categories and products
Tips on how to scale your eBay dropshipping business
Is Dropshipping Profitable
Dropshipping is a business model where sellers list products they don't own. Instead, when they get an order, they forward it to their suppliers. The supplier then delivers the order to the customer. The dropshipper pays the supplier and remains with a cut.
So, the big question is, does dropshipping still work? Is it still profitable?
Well, many believe that dropshipping is dead, but the truth of the matter is it is still profitable and has a bright future. Below are some of the statistics that prove dropshipping is not dead.
"The dropshipping market size was worth USD 225.99 billion in 2022 and is expected to grow at a compound annual growth rate (CAGR) of 23.4% from 2023 to 2030." (Grand View Research)
"About 27% of online retailers today primarily use dropshipping to fulfill customers' orders." (Statista)
A simple search on Google Trends also shows that the interest in dropshipping is still growing.
From the above, it is clear that dropshipping is still a worthy venture.
Why Dropship on eBay?
Now, why eBay? You can dropship on many platforms, for example, Amazon, AliExpress, and the rest. But why eBay?
Established in 1995, eBay is one of the leading eCommerce companies globally. The platform boasts over 135 million customers and is witnessing exponential growth. On eBay, you have ready customers. You don't need to incur marketing costs to make that sale if you get everything right, from finding a winning product to creating listings and ensuring orders are fulfilled.
Another reason to start eBay dropshipping is that eBay is a dropshipping-friendly platform. The company allows dropshipping as long as you abide by the dropshipping policy.

Regarding profits, eBay dropshippers process an average of 1,000 orders translating to monthly profits of around $2,587. On the other hand, the established and experienced dropshippers process around 4,759 orders raking in an average of $12,706 monthly.
Indeed, eBay dropshipping is a great idea. However, to succeed, you need to sell what is in demand. Remember, the average dropshipping success rate is between 10% and 20%.
One of the reasons many dropshipping businesses fail is selling the wrong product and working with unreliable suppliers. But thanks to this guide, you will learn how to find that winning product.
How To Find Top-Selling Items On eBay
Now, to the day's main business, how do you find top-selling items on eBay? There are several ways of finding that winning product that will catapult your eBay dropshipping business. In this section, we will be covering them in detail. Below are the methods of finding eBay dropshipping winning products.
Check eBay's Best-Selling Categories / Trending Tab
Manual Research 
Google Trends 
Easync
1. eBay Terapeak
As mentioned earlier, eBay is a dropshipping-friendly eCommerce site. Besides allowing dropshipping and offering dropshippers other perks such as cashback, it offers dropshippers a resourceful product research tool called Terapeak that can be accessed from the eBay Seller Hub.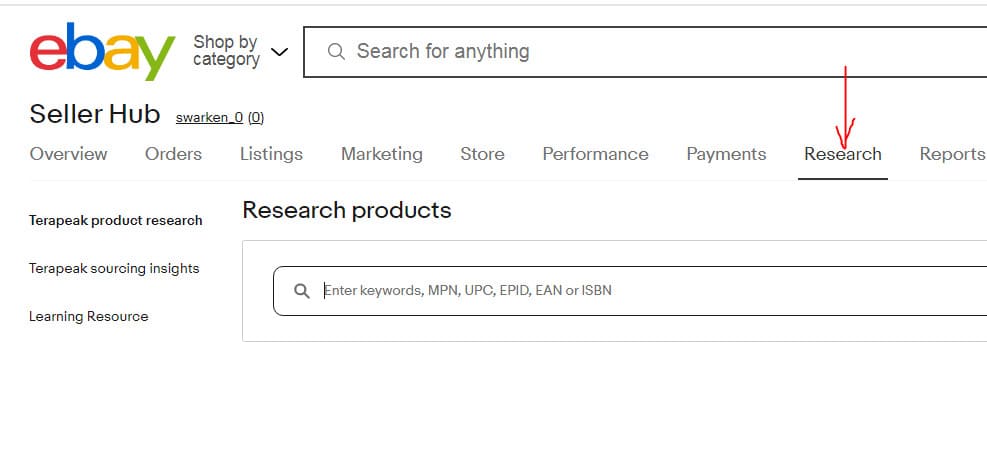 For starters, Terapeak is a market analysis tool designed to facilitate data-driven product research. With Terapeak, eBay dropshippers can decide what to sell, at what price, and when. According to statistics from eBay, over 32% of successful eBay dropshippers rely on Terapeak.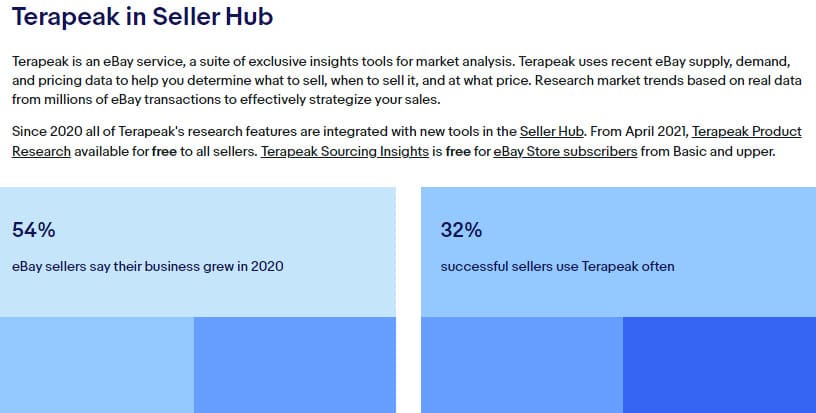 So, how does Terapeak work?
Terapeak is a search engine that offers users key insights on niches and products. You can find any product by its name or other attributes, such as the eBay Product ID (EPID) or Universal Product Code (UPC).
Terapeak has the following features;
Category Selector
Typeahead Component
Relevant Active Listings Analysis
Multi-User Account Access
Data Visualization
Category Selector lets you narrow down to a category or subcategory, while the Typeahead Component offers keyword-based suggestions and popular searches related to your keyword. On the other hand, Relevant Active Listings Analysis is for comparison with other top-performing sellers, while Data Visualization offers an all-round view of key metrics.
To mention, Terapeak has two main products; Terapeak Product Research and Terapeak Sourcing Insights.
Terapeak Product Research offers vital metrics, including;
The number of listings and items sold for particular items
Average sales prices
Condition of sold items
Sell-through rates
Sales trends over time
Average shipping costs and free shipping
Seller and buyer geolocations
Unsold inventory
Listing formats
On the other hand, Terapeak Sourcing Insights offers key data points, including; 
Search volume 
Active listings
Search-to-listing ratio 
Click-through rate over 12 months 
Total number of listings 
Total number of items sold 
Top listings
Top opportunities
Terapeak may not be as robust as other product research tools, but it is a solid base to start your research for winning products. You can check out our detailed guide on how to use Terapeak to find the best-selling products on eBay.
2. eBay Best-Selling Items and Trending Deals
Using Terapeak can be complicated, especially if you are starting. In this case, we recommend you take your search for the hottest-selling items to the eBay Best Selling Items tab. Here, you can discover product categories and products that are hotcakes on eBay.
For example, at the time of writing, the best-selling category is eBay Motors, followed by Home & Garden, Business & Industrial, Clothing, Shoes & Accessories, Collectibles, Health & Beauty, and Jewelry & Watches. Once you know the best-selling categories, you can go to a subcategory and narrow down on products with high sales volumes that are well-priced and with good margins.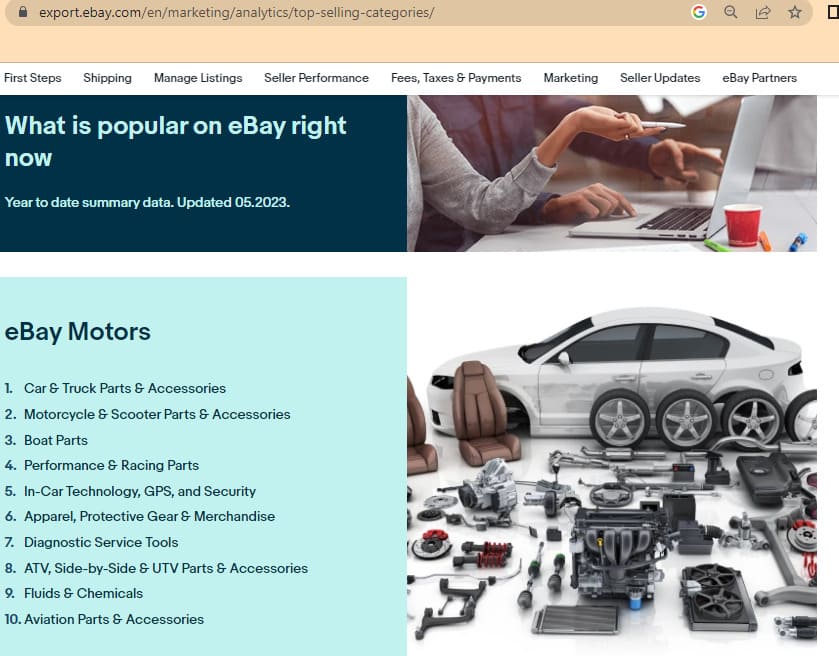 Your other option is to go to the Trending Deals page. Here, eBay lists all the trending products. These products are in demand and have been recently purchased, so you can make a kill. Remember, you can always use the filter to find trending products in any category.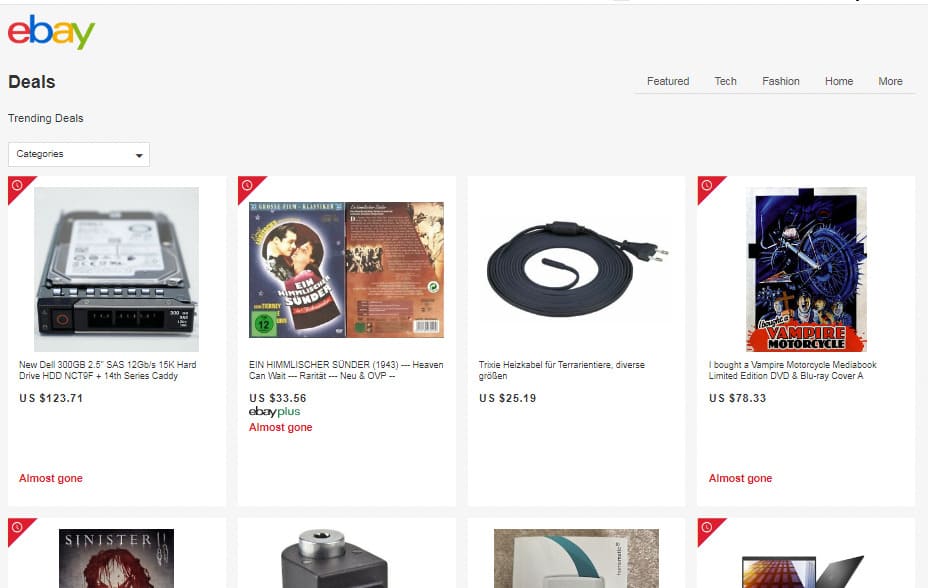 3. Manual Research
Even though it might be time-consuming, researching best-selling items manually is also an option. So, how do you go about manual product research?
Well, it is pretty straightforward. Go to any category and find a product you think customers will love. Then, check the number of products sold in total and how many were sold in the last 24 hours.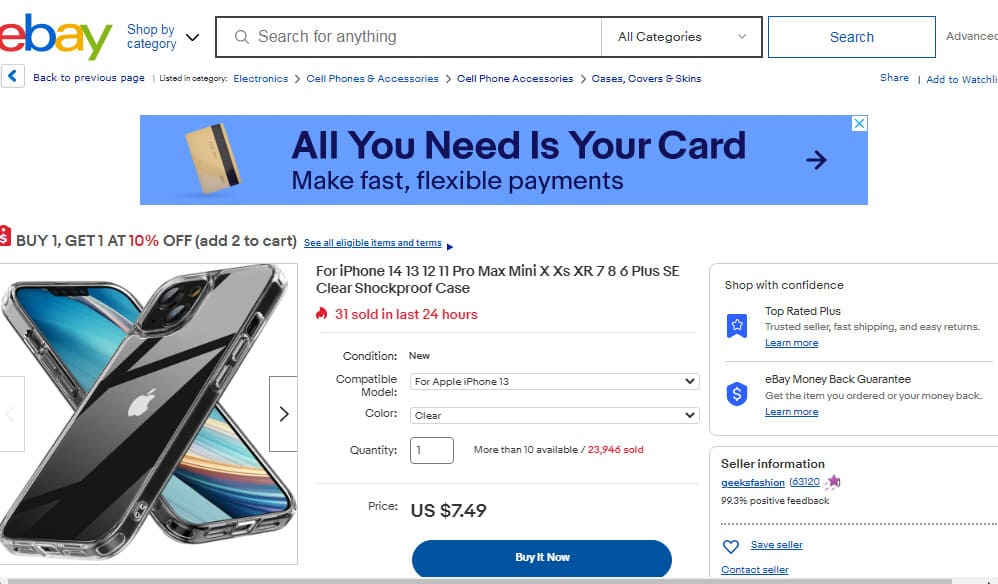 Your target should definitely be products with high sales volume in total, as well as the last 24 hours. But don't focus on just products with high sales volume. Also, check the potential of products with just a few sales, as they probably don't attract huge competition from other dropshippers. Remember, most dropshippers are also looking for products with high sales volume.
You can also consider analyzing the stores of successful dropshippers. Check through their product catalog thoroughly. You might spot that winning product that will be the deal maker for your eBay store.
4. Google Trends
You can also turn to Google Trends to find the best products to sell on eBay. Google Trends is a tool designed to analyze the popularity of top search queries on the Google search engine.
But you should know that Google Trends is not a product research tool per se. However, you can rely on it to find out whether the product in mind is in demand. For example, if you are considering selling dog collars, you can confirm with Google Trends whether buyers are searching for dog collars.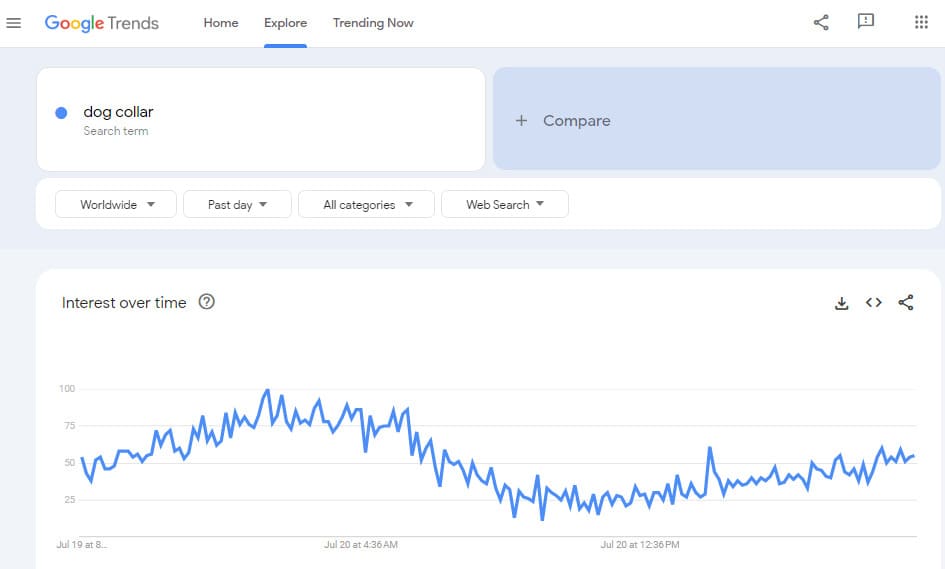 The tool also gives you historical interest in a particular product so you can know when something is in demand and when it is not.
5. Easync.io
One of the most reliable methods of finding the best products to sell on eBay is using 3rd party product research tools, for example, Easync. As the name suggests, this tool is designed to simplify product research.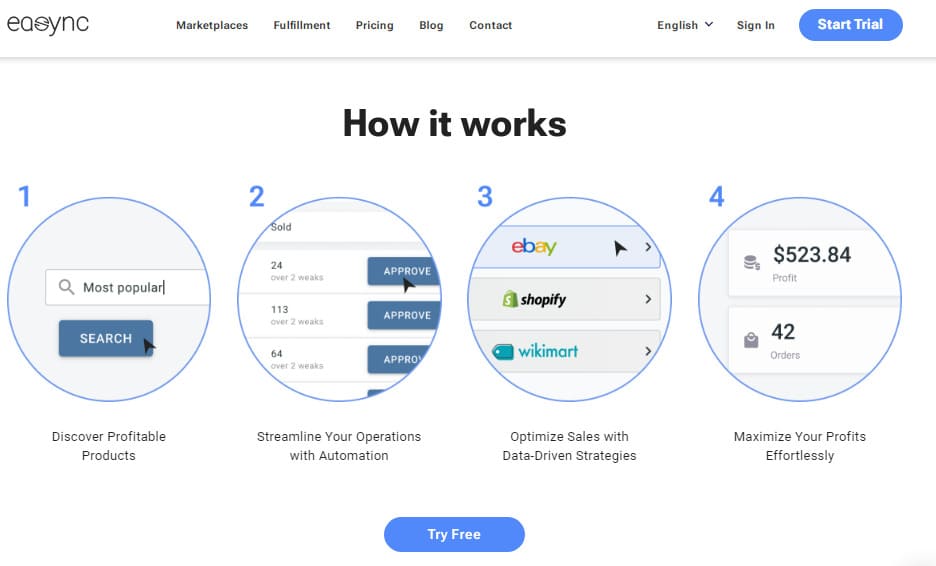 Easync has a tool called Finder that finds hot dropshipping products you can sell on eBay. Besides Finder, there's the Hot Items feature that lists dropshipping products in demand. Interestingly, Easync furnishes you with all the information you need, from the item's price and profit to the competition.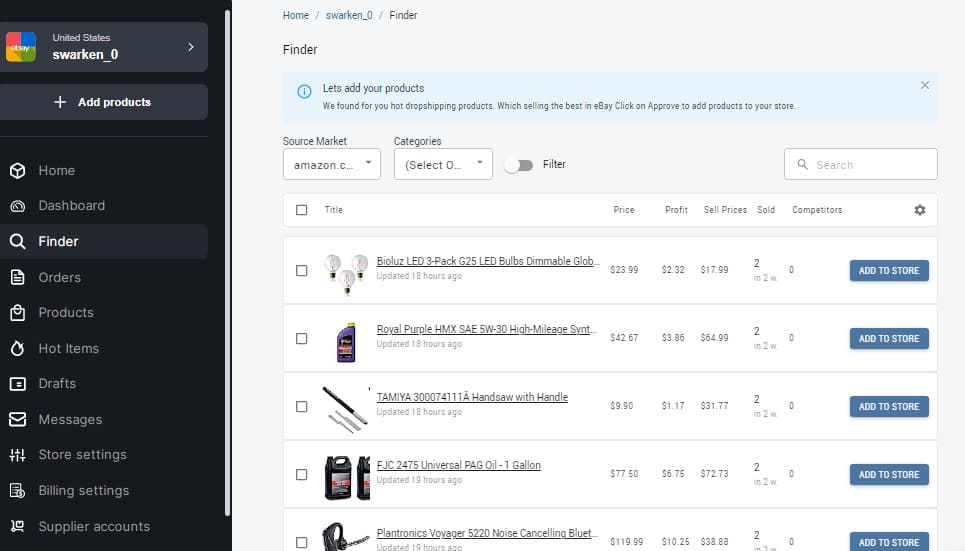 One great thing about Easync is that it is an all-in-one dropshipping tool you can leverage to find the best products to sell, create listings, and reprice.
Top Products & Categories on eBay: Best Sellers for 2023
Now you know how to find the best-selling products to list on your eBay dropshipping store. But we understand that finding the right products can still be frustrating, even with Terapeak or any other product research tool. For this reason, we decided to share some of the best categories and products you can focus on in 2023. Without further ado, let's get into it.
1. Clothing and Accessories
Clothing and accessories is one of the best categories to tap into and rake in profits. The below snapshot shows the interest in dresses on Google Trends.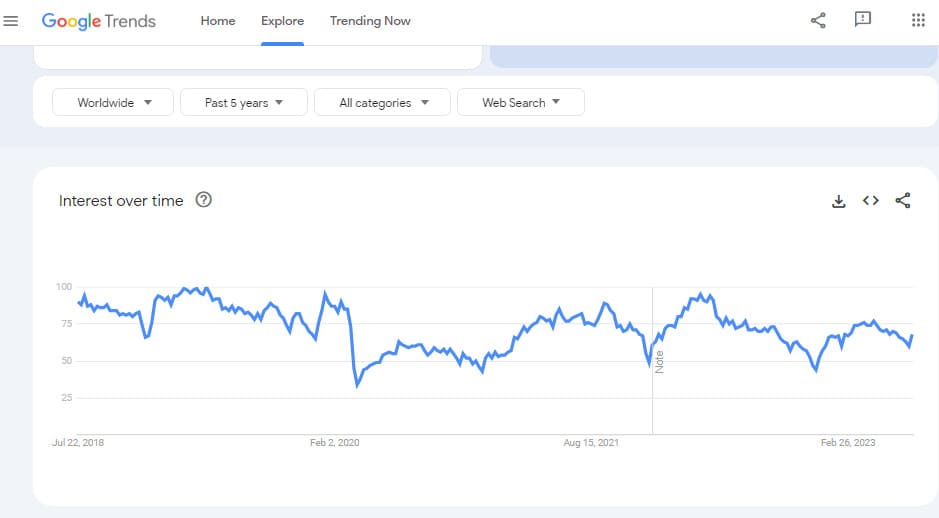 According to statistics, the apparel market only was worth over $1.53 trillion in 2022 and is expected to hit $1.7 trillion in 2023. That said, you should consider selling apparel. But not just any apparel, trendy apparel that will attract customers' eyes. Dresses and coats do very well. For men, you can try T-shirts. Notably, the apparel should be sourced from trusted suppliers who guarantee quality.
You can also focus on shoes, from those trendy custom sneakers to heels. Again, ensure not to compromise quality to avoid returns and damage to your store's reputation.
Lastly, on accessories, you can consider selling belts, caps, scarves, hats, and wallets. They do really well and have good margins.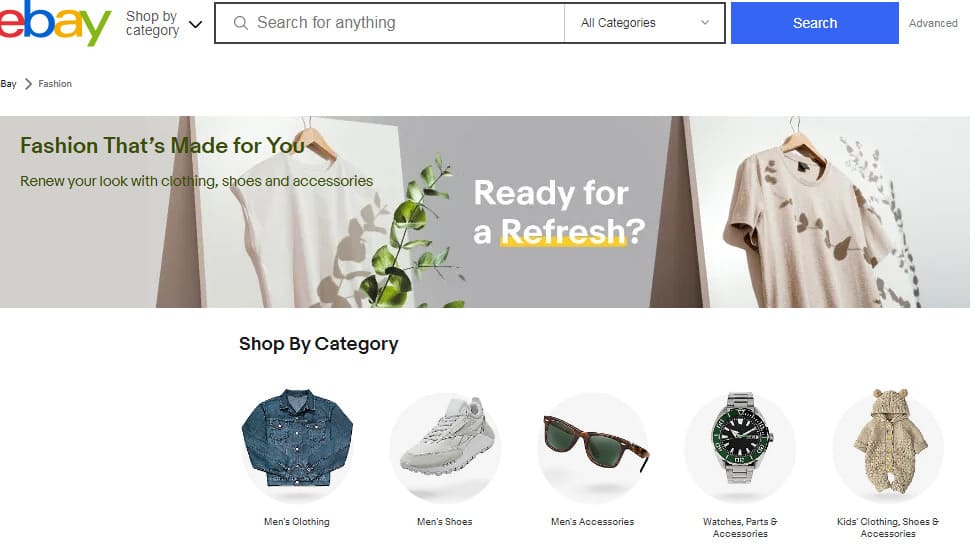 2. Jewelry and Watches
Another top category you can focus on as an eBay dropshipper is jewelry and watches. The jewelry market is projected to shoot to over 330 billion by 2026, and interestingly, there's always demand for anything and everything jewelry. Below is a snapshot reiterating the interest in jewelry and watches on Google Trends.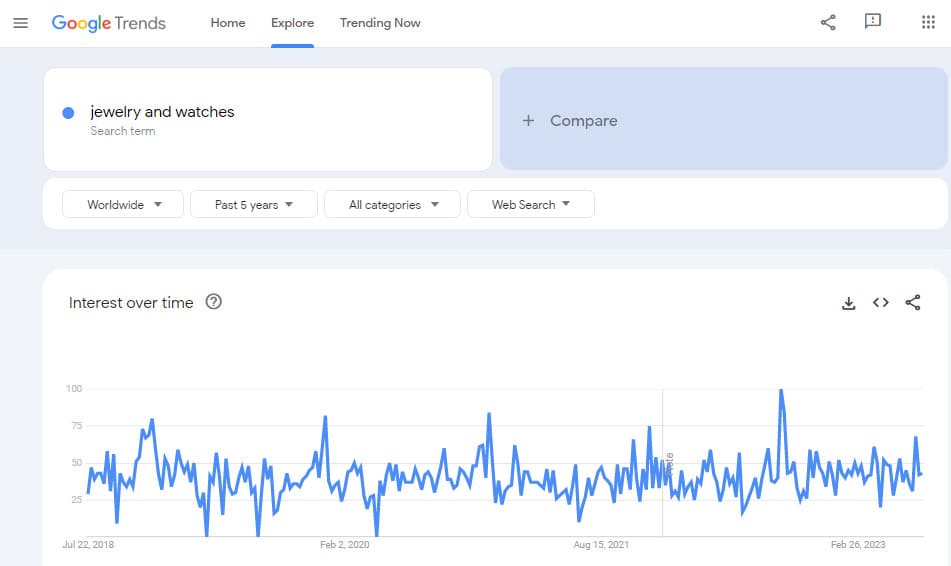 In the watches subcategory, go for watches and watch bands. They have a high demand for almost the entire year. Consider modern, vintage, and custom watches. Mechanical watches, quartz watches, and hybrid watches will also be a kill considering they are classy, always in demand, and have high margins.
eBay also has a huge demand for rings, so it is also a market you can capitalize on, and even offer free shipping as they are small and light. Have all types of rings, from wedding and engagement rings to antique and contemporary variants. Besides, have them in different materials, gold, silver, diamond, you name it.
Necklaces, pendants, and earrings should also be listed in your store if you are going with watches and jewelry. They, too, do well on eBay and have demand all year long.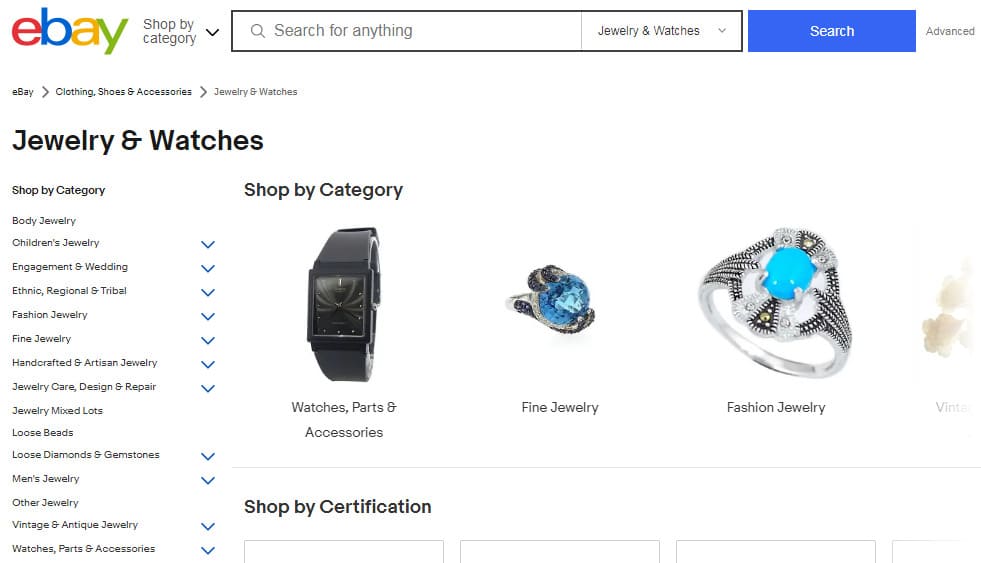 3. Cell Phones and Accessories
The global smartphone market industry was valued at $457.18 billion in 2021 and is projected to register a compound annual growth rate of 7.3% between 2022 and 2029, growing into a $792.51 billion industry by 2029.
The mobile accessories market is another industry that is witnessing exponential growth. According to Globe News Wire, the industry was worth over 278.17 billion in 2021 and is expected to grow at a compound annual growth rate (CAGR) of 4.3% between 2022 and 2030, blossoming into a 413.22 billion industry. From the above statistics, it is a great category to focus on, considering we are buying mobile accessories daily.
You can start a cell phone dropshipping store listing both the big and lesser-known brands. Profits trickle in as long as you find the right supplier and price them well.
Phone cases, covers, and screen protectors also do well and have a huge demand now that everyone wants to protect their phone. In-car phone holders are also becoming the trend, so having them can boost sales exponentially. Also, consider having headphones, earphones, Bluetooth accessories, and even replacement parts such as batteries and chargers.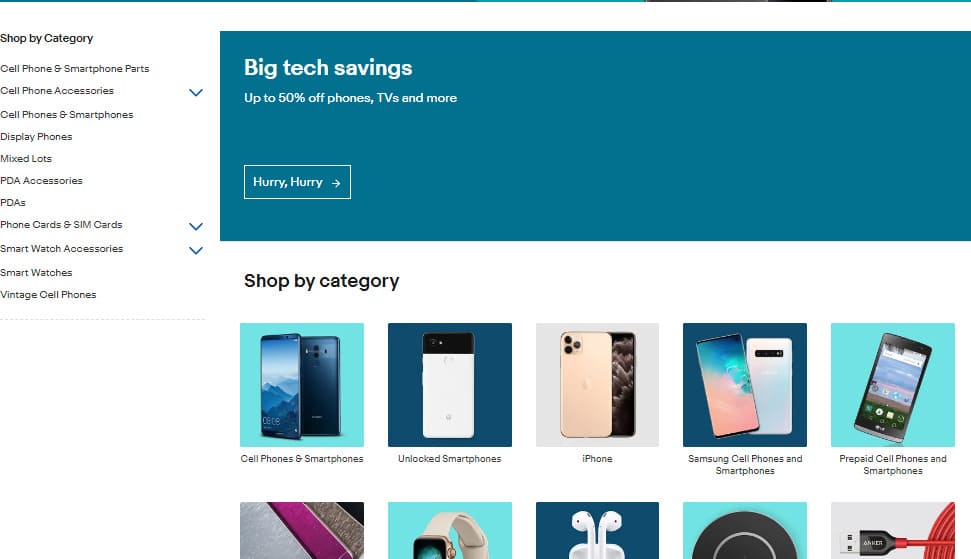 4. Beauty & Personal Care
According to Statista, the Beauty and Personal Care industry is also one of the fastest-rising markets, with a valuation of $579.20bn in 2023. Interestingly, more and more consumers are moving from local stores to shopping for beauty and personal care products online, so focusing on this category as an eBay dropshipper is a wise idea.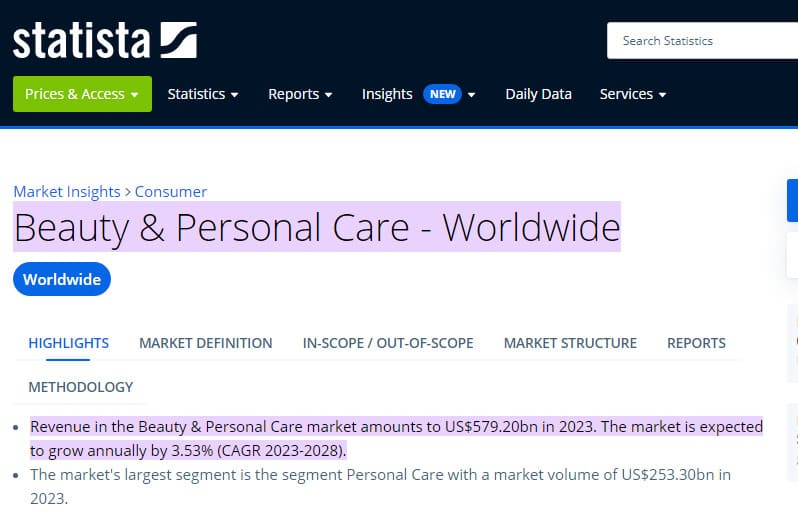 The beauty segment has great potential, so you can focus on skincare products such as sunscreens, body lotion, night creams, acne creams, etc. Haircare products such as conditioners, oils, styling gels, and custom-made shampoos also do well. Perfumes and fragrances, alongside makeup such as lipstick and mascaras, also have demand.
Another segment to watch is the lifestyle supplements which includes minerals, vitamins, and other dietary supplements. They are also popular on eBay, so having a store that deals with these products is worthwhile.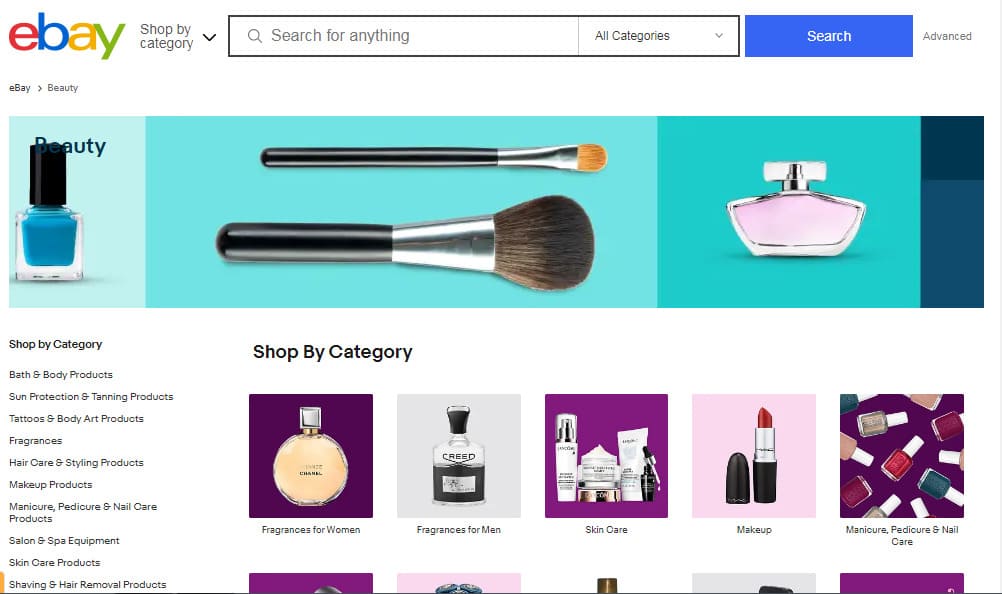 5. Fitness Products
With more awareness of the essence of fitness, the fitness industry is also experiencing exponential growth, making it a good choice for rBay dropshippers. You can consider selling sports apparel and equipment.
Athletic wear and shoes are not just ideal for sports and fitness activities but are also considered fashionable. There's growing demand for these products on eBay, so consider selling leggings, sports bras, sneakers, etc.
Equipment and accessories are also hotcakes on eBay and attract some good margins. Start selling adjustable dumbbells, suspension trainers, rollout wheels, pull-up bars, water bottles, gym bags, etc.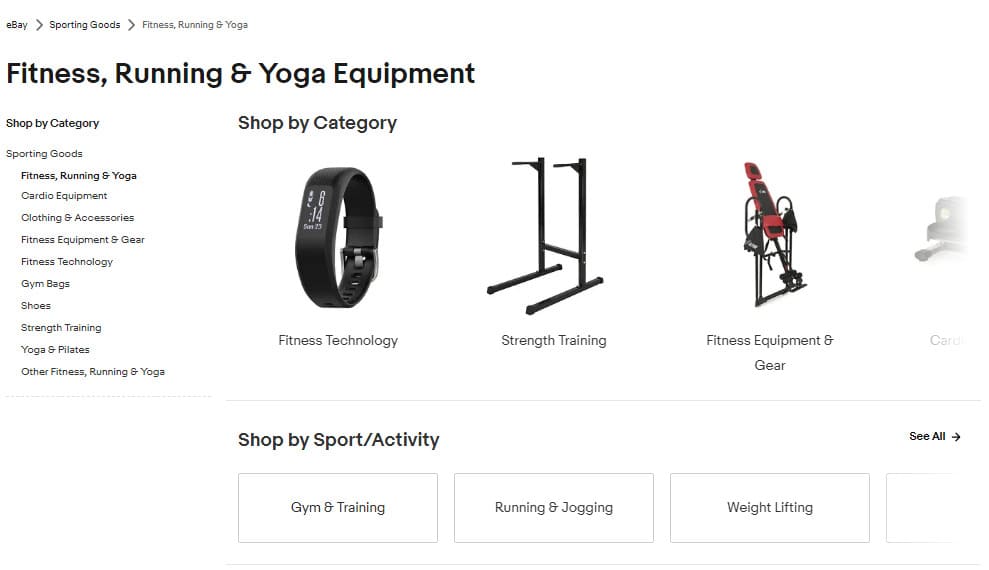 The above are some of the best categories and products to focus on in eBay dropshipping. Other worthy mentions include;
Pet Supplies – water and food bowls, first aid kits, leashes and collars, brooming brushes, food, and toys.
Home and Garden – lamps, lighting, heating and cooling systems, small kitchen appliances, home decor.
Automotive Accessories – car mats, seat covers, spoilers, air fresheners, cleaning formulas, dash cams, alarms, inflators, and lamps.
Computers and Networking – mice, mouse pads, keyboards, WiFi dongles, laptop vinyl, GPUs, batteries, and chargers.
Toys and Hobbies – RC toys, kids' toys, board games, action figures, dolls, and bears.
How to Scale Your eBay Dropshipping Business
Now you know how to find the best-selling products on eBay. So, the next step is moving the business to the next stage. To ensure you succeed, we have shared some simple tips that will help you scale your business.
1. Be Keen On Supplier Search
You may have found a winning product(s), but that's not the end. You also need to find a reliable supplier. So, what makes a reliable supplier?
First, a good supplier should have quality products. For example, if you have identified Bluetooth headsets, ensure you work with a supplier with authentic and high-quality ones. Next, the supplier should have proper packaging that appeals to the customer. Last, make sure the supplier, whose responsibility is to fulfill the order, has the right resources to ensure the order is delivered within the specified timeframe.
2. Automation is Key
Another pro tip is to embrace automation. Yes, you have a winning product and a reliable supplier, but so many other operations are awaiting you.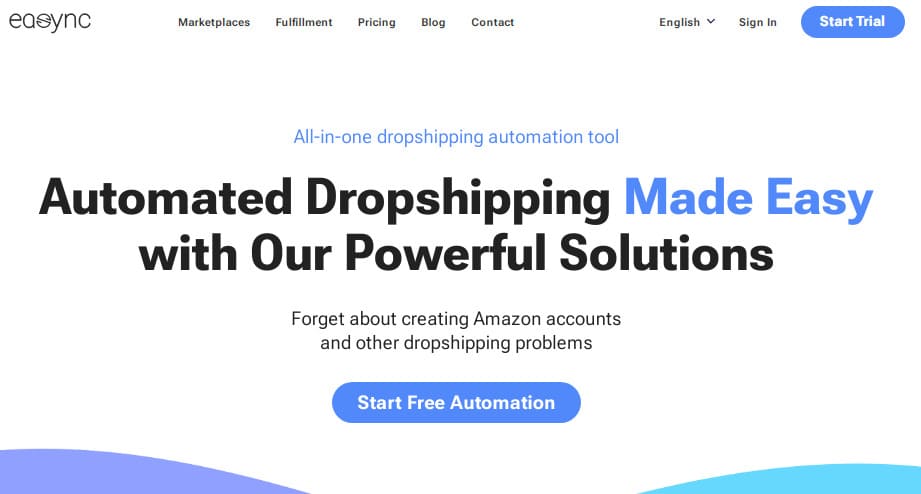 To be on the safe side and to have ample time to focus on the core aspects of the business, embrace automation. Software solutions such as Easync will eliminate mundane tasks such as product research, creating listings, and creating listings.
3. Leverage eBay Promotions Manager
eBay may already be an established eCommerce site, but there's stiff competition. So what are your options?
Well, here's the deal. Leverage eBay Promotions Manager, a marketing extra that gives you better visibility. Basically, you promote your products on the site. According to eBay, 44% of listed transactions leverage at least one of the Promotions Manager tools.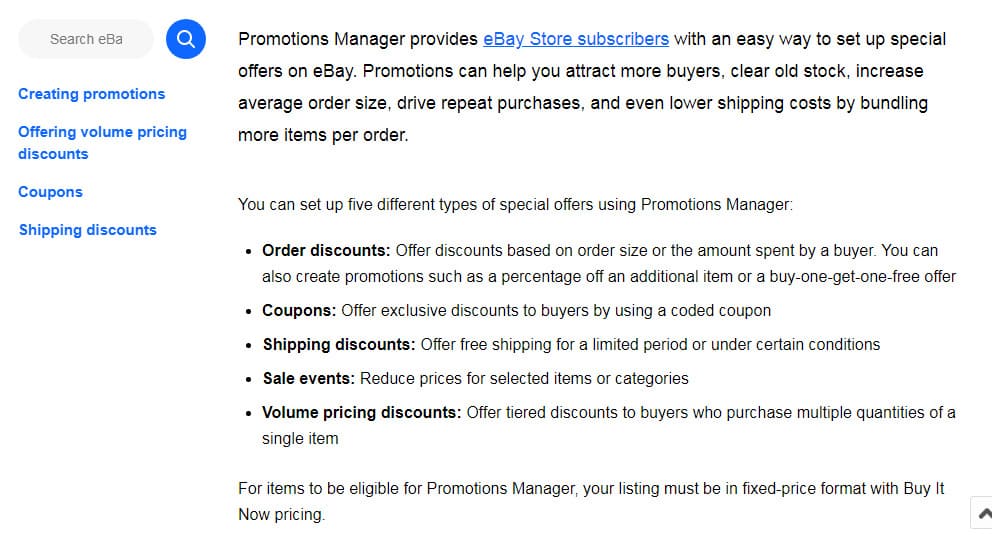 Frequently Asked Questions
1. What is the eBay product research tool?
As the name suggests, an eBay product research tool is a software solution that helps you find winning products with high accuracy and speed. eBay has its proprietary product research tool known as Terapeak. There are also 3rd party tools, for example, Easync.
2. Which category is best for eBay?
It's hard to say which is the best category as times change. However, as of 2023, eBay Motors, Home & Garden, Business & Industrial, and Clothing, Shoes & Accessories are the best categories for dropshipping.
3. Which supplier is best for eBay dropshipping?
It all depends on the niche you are focusing on. However, AliExpress, Alibaba, Shein, and Amazon are the most preferred suppliers by eBay dropshippers.
4. What are the advantages of eBay dropshipping?
eBay dropshipping has several benefits. It is a low-risk investment as you don't need to have inventory, and besides, eBay is an already established eCommerce site with millions of users, so you have a ready market.
Wrapping Up
That's the end of this guide on how to find top-selling items on eBay, plus all the best-selling eBay dropshipping products in 2023. As you have seen, there are several methods of finding winning products including using tools such as Terapeak and Easync as well as combing through best selling product tabs and the trending products section.
So, what are you waiting for? Find your niche and winning products, and start your eBay dropshipping business today. You can also check out our ultimate guide to eBay dropshipping and everything you need to know to get started.