Here's how it works — you list products on your site without holding any physical inventory. Then when you receive an order, you contact your supplier who ships the item(s) directly to the consumer. And that's it!
Topics
Before we dive into how dropshipping on Amazon works, let's touch on dropshipping using your own store.
This interesting business model has increased in popularity over the last five years as you can see by this graph
Dropshipping Amazon Graph

What is the meaning of dropshipping on Amazon?
It's a solid idea. Amazon is one of the world's most recognizable brands, after all. Amazon is one of the world's biggest ecommerce sites with sales of $280 billion in 2019. Once you've been approved for an Amazon seller account, you'll be able to start selling on the platform.
Is dropshipping allowed on Amazon?
Dropshipping on Amazon (or allowing a third-party to fulfil orders) is generally acceptable as long as you comply with Amazon's requirements.
You must:
Be the seller of record of your products;
Identify yourself as the seller of your products on all packing slips and other information included or provided in connection with them;
Remove any packing slips, invoices, external packaging, or other information identifying a third-party drop shipper prior to shipping the order;
Be responsible for accepting and processing customer returns of your products;
Comply with all other terms of your seller agreement and applicable Amazon policies.
Examples of dropshipping that are not permitted:
Purchasing products from another online retailer and having that retailer ship directly to customers;
Shipping orders with packing slips, invoices, or other information indicating a seller name or contact information other than your own.
How do I start Amazon dropshipping?
Once you choose some dropshipping products and link up with a supplier through websites like Walmart, Homedepot or AliExpress, you can start listing products on Amazon.
Setting up an account is simple. However, if you plan to sell products like clothes, jewellery or beauty products, you'll need to await Amazon's approval.
So, how do I start Amazon dropshipping? It's easy. You just create listings and sell products on the platform as normal. If the product you want to sell is already listed on Amazon, you can click "Sell yours here". Then all you have to do is set the price, fill out the shipping details and you're good to go.
As you will be selling generic products that can also be sold by a number of other merchants, winning the Amazon Buy Box is crucial. To give your products the best chances of getting in the Buy Box at the best price possible, you'll need to use Amazon repricing software.
If your product is new to Amazon, you'll have to create a product details page from scratch. The trickiest part of this is getting the images right, as Amazon has some strict requirements.Take a peek at Amazon's list of restricted products to make sure you're not in any of these categories. These items include things like hoverboards and dangerous goods.
List of Eligible stores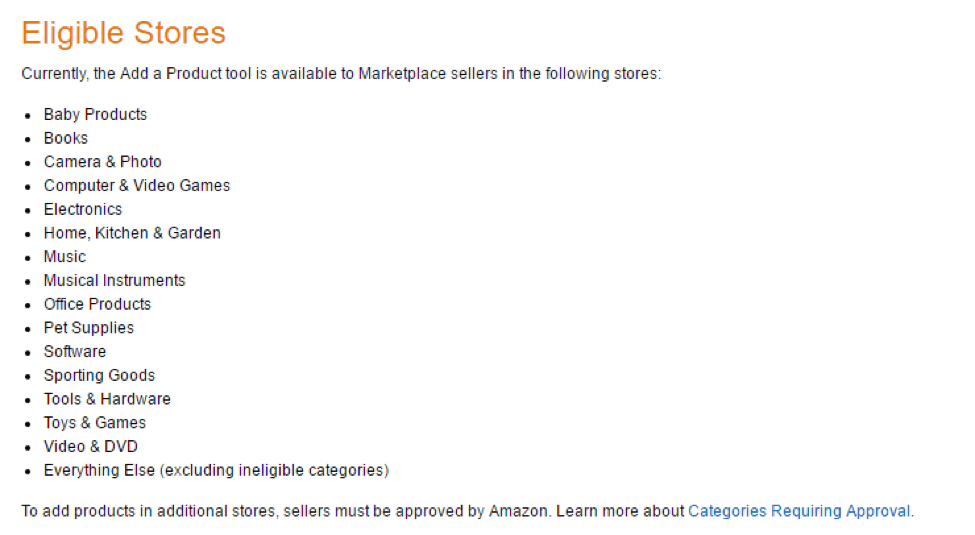 Win the Buy Box
Most of Amazon's sales come from the Buy Box. This means your goal as a dropshipper is to win the Buy Box so you can maximize your sales like the pros.
First, you'll need to have a high seller rating. Many have found having a rating above 95% has worked well for them.
Second, you need to ship products quickly, ideally within 14 days.
Third, your cost (shipping and product cost total) should be lower than most of the other offers being presented. Having a low refund rate, fast customer response time, and high feedback score also help you win the Buy Box.
Buy Box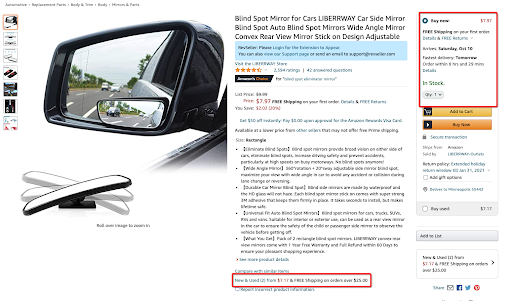 Offer a better coupon discount than competitors
By creating an Amazon coupon, you can help encourage customers to buy from you. If you promote the coupon to coupon sites, you can help drive more traffic from those looking to score sweet deals.
Just remember that you need to price the coupon in a way that allows you to pay your expenses and remain profitable.
Offer Amazons Coupons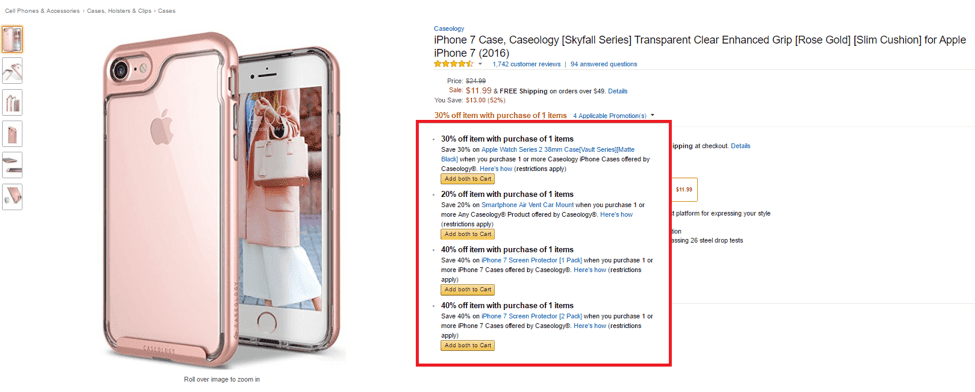 Five tips for success when dropshipping on Amazon
Still seems pretty simple, right? That's because it is!
Of course, creating a dropshipping business on Amazon is easy. But succeeding with dropshipping on Amazon arbitrage takes a little more work.
Regardless, here are five tips to help you succeed with dropshipping.
Tip 1 – Promote your listing
In order to maximize sales, you will need to drive traffic to your product listing. This can be done a number of ways.
First, you have Amazon's internal sponsorship program, Amazon Pay-Per-Click (PPC). With PPC, you create advertisements for your products that make your product appear higher in Amazon's search results for keywords that you set.
Next, you can drive traffic to your Amazon product listing through external methods such as social media, blogging, email marketing, etc. While this method is a little more difficult to get going if you don't already have a following for your brand, it can help you differentiate your product from your competitors.
Tip 2 – Focus on the customer
When you perform dropshipping on Amazon, you're taking a lot of the hard parts of being an entrepreneur off the table. You don't have to manufacture your product, nor do you have to ship it. All you have to do is make sure that the customer receives it and they are happy.
So, whereas you would normally spend your time running your business, with dropshipping you can invest your hours into customer service.
Plus, great customer service helps you get good product reviews. And good product reviews can make or break your products on Amazon.
Tip 3 – Focus on your brand
As I stated above, dropshipping's chief disadvantage is that you will be selling a product over which you will have no final say in its development or design. In addition, other sellers will have access to the same supplier.
This leaves you with very little competitive advantage. Therefore, it's important that you focus on the brand.
But even if your product is identical to your competitor, that doesn't mean it has to be the "same." For example, the brand YETI sells 40 oz stainless steel tumblers for $40 each. Meanwhile, their competitor, RTIC sells the same stainless steel tumblers for less than $20. Yet, somehow, YETI still dominates in that product category.
The reason is simple: people want to buy the YETI brand and the image it purveys.
Tip 4 – Get samples
Before you list your product, make sure you know what you're selling. Bite the bullet and order a unit in advance. And if you can do it without the supplier knowing that you're a potential dropshipper, even better.
Once the sample arrives, inspect it. How did it look when it arrived? How long did it take? Were the products as described?
All of these little details will help you predict how your customers will receive the product once you start dropshipping on Amazon business.
Tip 5 – Cast a wide net
Because you have no start-up costs with dropshipping, it's a lot easier for you to cast a wide net. In other words, you can list numerous products at the same time.
Some will fail. Others will succeed. Simply double down on what works and cut the rest.
As long as you follow Amazon's rules, this approach is totally fine. Just make sure you stay organized and that you continue to focus on Tips #2 and #3.
Why Use Amazon Dropshipping Software?
Using Amazon repricing dropshipping software to boost your sales has the advantage of helping you deal with the constant pricing war often seen on the Amazon platform. It's a hugely competitive marketplace, and any process which provides a stress-free solution to help you stay competitive is always going to be a welcome relief to most sellers.
The short answer is yes if your Amazon inventory is large and you don't have time to manually track and adjust prices, and you have massive competition within your niche which is affecting your sales.
That said, pretty much every Amazon seller has some competition, so it's likely that repricing software will be beneficial to your business even if your inventory is small.
The short answer is yes if your Amazon inventory is large and you don't have time to manually track and adjust prices, and you have massive competition within your niche which is affecting your sales.
That said, pretty much every Amazon seller has some competition, so it's likely that repricing software will be beneficial to your business even if your inventory is small.
So, it's pretty flexible, right? But what else can you do to ensure you're utilizing your Amazon repricing software for maximum benefits? Here are four ideas.
Use Amazon FBA alongside your repricing software. You will be able to price above non-FBA sellers and still win the buy box. Yes seriously!
Make sure your reputation doesn't drop below par so that you can compete at higher prices against sellers who have fewer reviews or a poor reputation.
If your competition comes only from international sellers, put your price up as Amazon favors domestic sellers!
And here's a no-brainer. Put your prices up when your competitor is out of stock.
Implement these tweaks, trust the software and the potential is there.
FAQ For Amazon Dropshipping
Do I need to buy the products before I sell them?
NO. That is the best thing about dropshipping. You only pay for the product once you have sold it and collected a payment for it. This means that you can start selling thousands of products online without even having to buy them in bulk. You do not have to worry about warehousing the products, packaging & shipping, inventory management. All this is taken care for you so you can focus on selling the products and making and collecting payments from your buyers.
Do I need an eBay account to sell on Amazon?
YES you do need to have a Professional Amazon Seller account to use our Amazon dropship plan.
I am not from the USA, can I still sign up?
Yes, this is not a problem. You can still resell products in the USA even if you are from a foreign country as long as you advertise the products in the USA or Canada.
How long does it take for Amazon to conduct security checks, analyze the data and calculate a new price?
This part of the process is extensive.
When does the new price become live on Amazon?
The new price will first be queued and must pass pricing rules and error tests before it can go live. Amazon's pricing criteria must also be met, so if your new price is deemed too low or too high, the repricing will not complete.
With this in mind, it's best to set a floor and ceiling price on your products to avoid creating issues with automatic repricing. Once matched, the new price will typically be live within approximately under current rules but can take up to an hour if there are new rules or changed parameters involved.
Thanks for reading the article Easync Team