EASYNC

Amazon DropShipping Automation

Amazon is the number 1 American retailer. It is the largest retail brand with a monthly turnover of billions.
Easync has a strong position among the popular dropshipping tools for Amazon. Our service has been proven by Amazon dropshipping software for years.
Easync tools will provide complete Dropshipping Automation for your business. In addition to standard options, such as repricing, and auto-order auto-tracking, Easync provides a unique service - FBE. It means you don't have to worry about anything at all. Easync will do everything for you. Your dropshipping business will be fully automated with Easync

Connect Now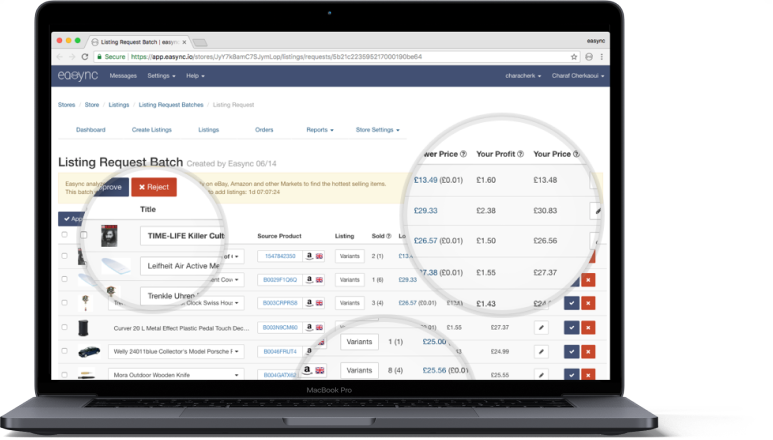 Our Top Amazon Dropshipping Software
Repricing
Easync is a repricing tool the fastest in the market, Both pricing. This is a great way to protect you from selling something on Amazon that is actually out of stock on the source market.
With Easync Amazon advanced listing tool we won't delist the item from Amazon, but we will set the quantity to zero and once the item is back in stock, the Amazon listing software will show the matching quantity.
Easync repricer will find the lowest price offered so that you have the most competitive price for your profits.
Auto Ordering
Easync will add the source product to your cart and ship it to your buyer's address. You can also specify which shipping speed you want to use. If an order fails you'll receive an email and instructions on how to fix the problem.
Once an order is placed on Amazon, Easync will auto order the item from the source market with the correct shipping address and will choose the proper shipping so your buyer receives the product as soon as possible (all within 60 seconds). Screenshots of the order and its tracking will be provided in the details of the order.
Chrome extension Tool
Easync is a dropshipping app which works with many major platforms. Most popular eBay, Amazon, Walmart, Shopify. Easync has a Google Chrome drop shipping extension for the browser, which makes it possible to bulk add all products for a specific request to your catalog. It shows which products will sell poorly. And it will offer to edit duplicates so that you are not banned.
Dropshipping Chrome extensions are dropshipping business automation tools that improve efficiency and simplify the process of importing goods and processing orders.
The Aliexpress to eBay Chrome extension or Aliexpress to Shopify chrome extension allows you to import products into your Shopify or eBay store directly from AliExpress.com, sort products by your preferred shipping option, and reduce the processing time for orders containing products from AliExpress.
If your source market is Amazon then use the Amazon dropshipping Chrome extension.
24/7 support
Easync customers can get help and find answers to questions as soon as they come up—24/7 and in real-time. We work with customers all over the world. They are all in different time zones. Therefore Easync organized the work of the support service in such a way that each client received an answer within 5 minutes, regardless of his country of residence. Our specialists are always in touch and ready to help with any question. Such a mode of operation of the support service has a beneficial effect on your business, since it eliminates downtime and delays in work. We have also collected many articles and video instructions that will help you quickly and easily understand the principles of our service.
Product Benefids

FBE
Easync offers its fulfillment center for dropshipping or in other words FBE. We use our own Fulfilment accounts to process your orders. This is very convenient because you don't need to care about the item returns or the account suspension.
FBE frees up time for you to do more important things for your business. For example if your buyer wants to return the item you just contact our support and get a return label within a few minutes. The same thing happens with the cancellation of an order. You do not need to do anything other than contact our support team, which works for you 24/7.
To start using FBE just top up your FBE balance and that's it!
Hot item
We have created a tool for you that allows you to find the most popular and best-selling products on eBay and Amazon.
Easync members that use our hot items tool have a sell through rate of around 10x higher than finding listings using normal methods.
Sales typically have a significant impact from these products. We'll continue finding popular items to sell for your store.
We don't pull hot items from our existing Easync members stores; so you won't be competing with other members and you don't have to worry about us passing your hot selling items to other Easync members. The listings aren't chosen from any specific categories, they're just random.

Aquline tracing
Aquiline is an officially approved carrier by Amazon. Aquiline will convert your Amazon tracking numbers to their own tracking which are accepted by Amazon. Aquiline is an authorised and recognizable carrier on Amazon. You can choose it from Amazon's dropdown menu list of carriers.
Aquiline offers better customer service as your buyers will be able to track their orders, as well as maintain your valid tracking percentage and deal with "Item not received" cases.
Aquiline supports and convert All Suppliers
You can decide if you want to convert UPS, USPS, DHL & FedEx (no matter the supplier.) into Aquiline.
Tracking conversion works in all markets US, UK, DE, FR, IT, ES, CA
Connect Now
Pricing
7-Days Free Trial
Question about Amazon Dropshipping
Can I manage multiple Amazon stores with Easync?
You can manage any number of stores with Easync.
How can I start dropshipping with Amazon?
All you need is to connect your target market store, add Amazon listings, and make the necessary settings. Further, Easync fully automates your dropshipping business.
Can you automate Amazon dropshipping?
Esync has all the tools to automate dropshipping, repricing, AutoOrdering, and AutoTracking. ForAmazon Easync provides FBE service (processing your Amazon orders from Easync fulfillment accounts)
What is the minimum budget to start dropshipping?
The price of the Easync plan depends on the number of listings. Also, consider the cost of your marketplace.
Is Amazon dropshipping still profitable?
Amazon dropshipping has been at the top for many years. Therefore, we confidently declare that Amazon dropshipping will be popular and in demand for many years.
Is it legal to Dropship with Amazon?
Dropshipping is not officially allowed. However, Easync has all the features and tools to run a dropshipping business without any threats successfully