The Ultimate Amazon UK Dropshipping 2023 Guide For Beginners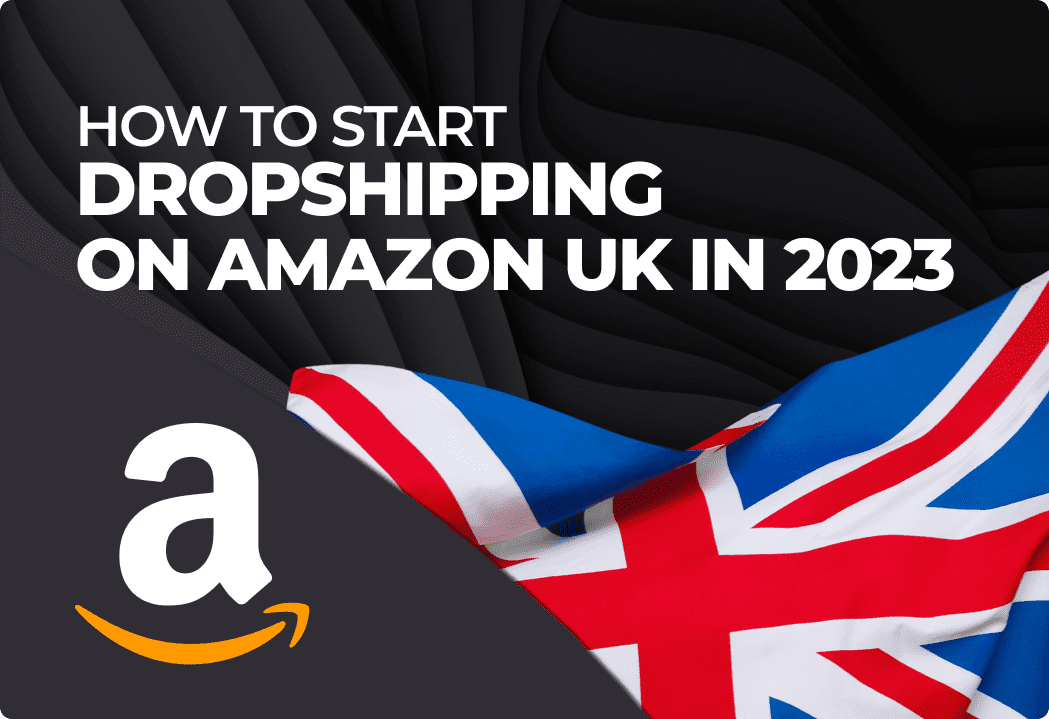 Do you want to start Amazon UK dropshipping in 2023 but don't know where to start now that you are a beginner? Well, heave a sigh of relief as you are at the right place – a one-stop resource where you will learn everything you need to know as a beginner. At the end of the article, you will learn;
The dropshipping model and its profitability
Why prioritize dropshipping on Amazon UK
Whether Amazon UK dropshipping is legal
How to start dropshipping on Amazon UK
How to scale your dropshipping business
Without further ado, let's get into it.
Amazon UK dropshipping is dropshipping on Amazon's UK marketplace. Amazon has marketplaces in several countries, each with its own platform. In the Amazon UK dropshipping model, you list your products on the amazon.co.uk website.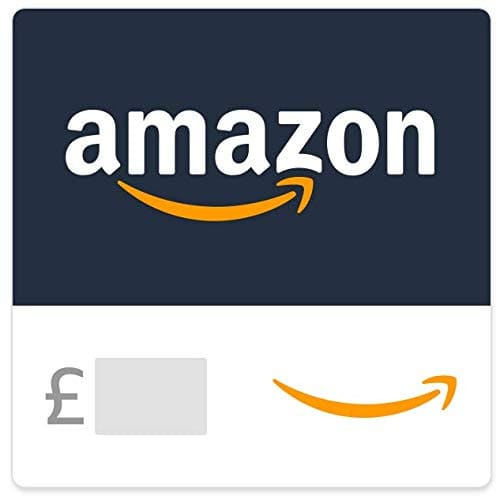 Advantages and Disadvantages of Amazon UK Dropshipping
Amazon UK dropshipping has both advantages and disadvantages, as listed below.
Pros
Low-cost investment
Low-risk investment
Flexibility
Speed to market
Scalability
You don't need inventory or incur any warehousing and logistics costs to start selling with dropshipping fulfillment successfully. Dropshipping is also a low-risk investment, considering you are not buying any merchandise. Amazon dropshipping also gives you flexibility, as you can sell any product anywhere from the comfort of your home. You can also start selling immediately and scale the business as the supplier handles fulfillment. Besides, there are many opportunities in automation.
Cons
Stiff competition
No control over the supply chain
Strenuous registration process
On the downside, dropshipping is very competitive as one of the fastest-rising online markets. The margins are also lower compared to the wholesale model. The other shortcoming is a lack of control over inventory and product quality, as you don't have inventory and can't vet product quality before it's sent to the customer. Shipping turnaround is slower, and you will always be in constant pursuit of winning products. Last, the registration process is long as you are required to take a video of yourself holding your government-issued card.
Is Amazon UK Dropshipping Still Profitable?
In recent years, after the surge of dropshipping and competition, many have claimed that dropshipping is dead, but it isn't. The truth of the matter is that dropshipping, especially Amazon UK dropshipping, is still a viable business despite its paltry 10% to 20% success rate. Yes, dropshipping is competitive, but there are opportunities for success. The average dropshipper makes $2,000 monthly, while expert-level dropshippers with established stores average $10,000 monthly.
Why Amazon UK Dropshipping
Amazon, the biggest eCommerce website, is undoubtedly one of the best places to start your dropshipping business. While you may have to spend on marketing to stand tall, you already have a customer base.
Amazon itself is one of the biggest online marketplaces in the UK, with 86% of UK consumers buying on the platform. Interestingly, Amazon UK web traffic was 579.5 million in November 2020 and has grown exponentially. So you made a good choice to sell on Amazon UK. Now, the big question is, why Amazon UK and not any other Amazon platforms?
Well, the answer is low competition. Amazon UK has less competition compared to Amazon US. According to statistics, there were less than 300,000 sellers on Amazon UK in 2019, compared to Amazon US's 1.1 million. The lower the competition, the higher the opportunities for success. Besides, the 3.6% desktop conversion for the UK market is something worth smiling about as an entrepreneur.
Is Amazon UK Dropshipping Legal?
Amazon dropshipping in the UK is allowed, but as with any other business, you should be conversant with both Amazon and UK laws. Amazon has set policies to ensure consistent customer experience.
One of the crucial policies is regarding information that can be printed on the packing slip or any other communication to the customer. All package slip invoices and other materials must bear your name as the seller on record. The shipment should not contain the supplier's details or any other seller apart from you. It is also your responsibility to handle returns. Basically, selling on Amazon is allowed if you adhere to the seller agreement and all applicable Amazon policies.
Regarding the laws of the UK, know that a dropshipping business is the same as any other online trade, so you have legal responsibilities. You are supposed to have a license and register for tax as an individual or sole trader. Similarly, you will need to register and report Corporation Tax. Your business will also be subject to the Consumer Rights Acts, Consumer Protection Laws, Truth In Advertising Laws, etc.
How To Start Amazon UK Dropshipping: Step-By-Step Guide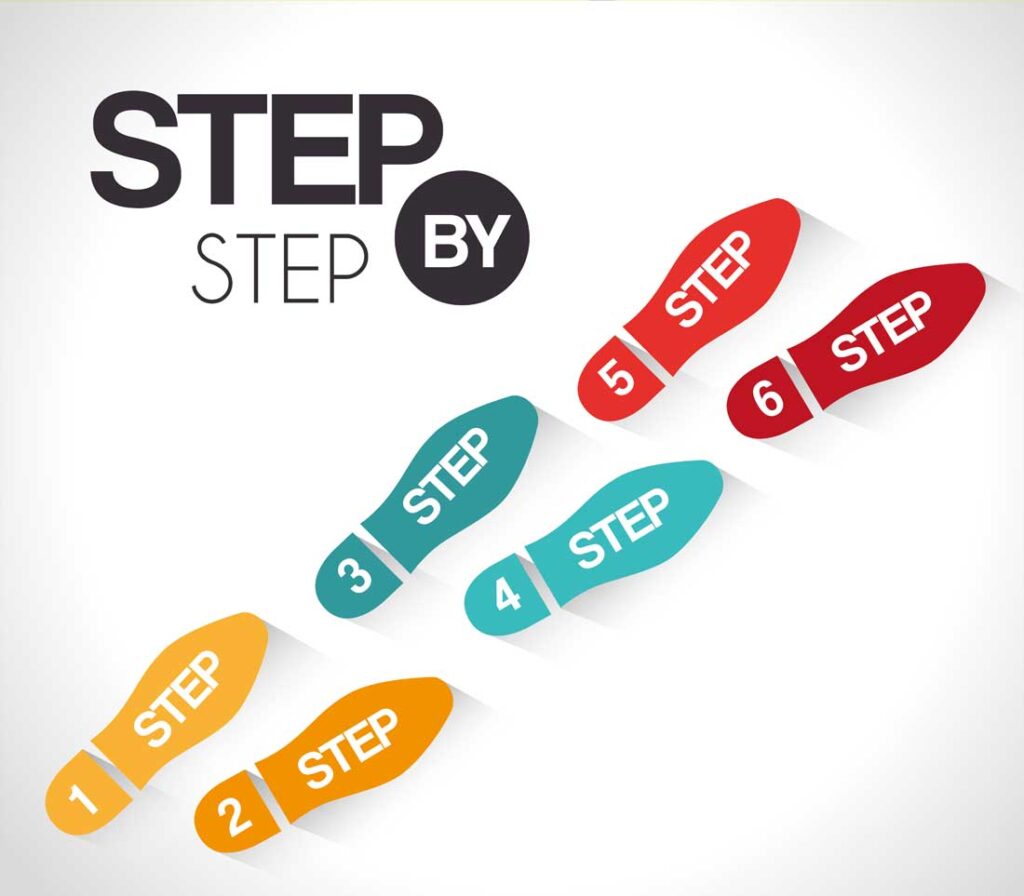 To the main agenda, how do you start Amazon UK dropshipping? What do you need to get started? Here is a step-by-step on how to start a dropshipping business on the Amazon UK platform.
Step 1: Niche, Product, and Supplier Research
Research is vital to the success of your dropshipping business. You need to do proper research to make informed decisions. Unfortunately, many sellers fail because they are in the wrong niche, are selling the wrong product, or are dealing with the wrong supplier. The three, niche, product, and supplier, can be the deal maker or breaker. You need to do proper research before starting.
How to Find a Dropshipping Niche
A niche enables you to build a focused audience that will form the basis of your marketing campaign. A niche will also help you find the best products that meet the needs of your audience and make their life simple.
You can focus on many niches, including fashion, jewelry, automotive, hair & beauty, sports & fitness, pet supplies, home & gardening, kids & toys, electronics, and so on. So, what's the best niche for UK Amazon dropshipping?
Well, it is hard to say which is the best niche, but from the recent trends, hair & beauty, fashion, and automotive do very well. When finding a niche, it is recommended that you go for one you have passion for to succeed. You also have to choose between trendy and steady niches. Trendy niches are seasonal, while steady niches are in demand all year round – the latter is the best.
How to Find a Winning Product
Finding a winning product is perhaps the most critical stage in launching your business. The big question is, what is the best Amazon UK dropshipping product? Many businesses fail because they sell what their audiences don't want. Thus, product research is fundamental.
Take your time and find that product that meets the criteria of a winning product. As you know, a winning product should;
Have a wow factor
Not be available in mainstream stores
Be affordable, with good margins
Solve a problem
Have a dropshipping size
Now, there are many ways of finding a winning product. You can check trending products, audit Amazon UK sellers, research product videos, etc. But the best bet is using product research tools. A good example is Easync, which comes with a tool called Amazon Product Finder to help you find the best products to sell on your Amazon store.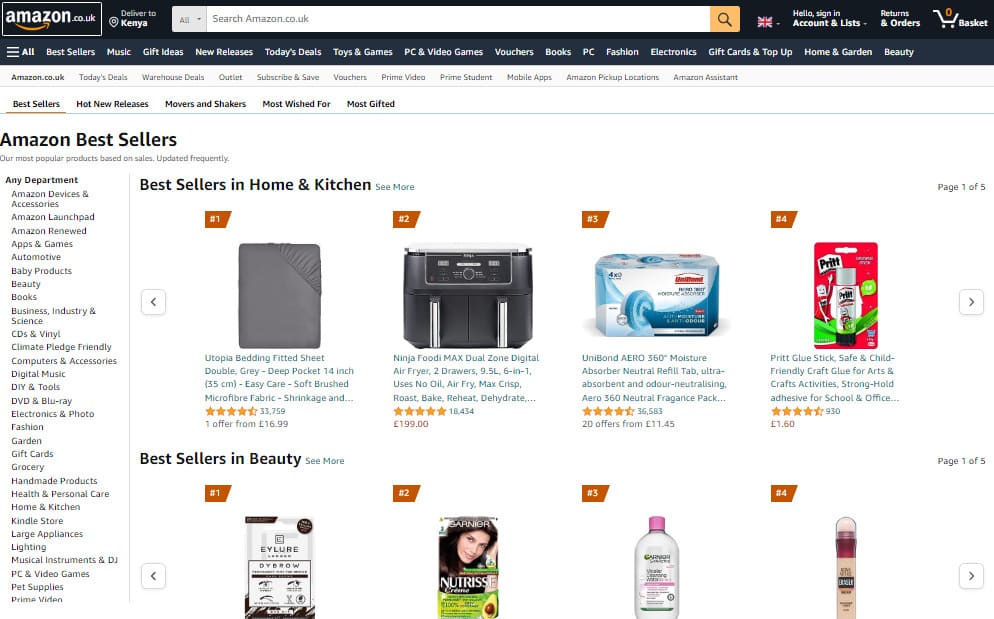 NOTE: Amazon UK restricts sellers from listing some products. There are also category restrictions, so make sure to go through the restricted items and categories page on Amazon UK.
How to Find an Amazon UK Dropshipping Supplier
Once you have a product in mind, the next step is finding a reliable supplier. The supplier is an essential player in the dropshipping business model as they affect key dynamics, including;
Inventory availability
Product quality
Shipping turnaround
The best supplier should guarantee excellent product quality and should, have enough inventory and communicate any changes on time. The supplier should also have a reliable logistics infrastructure to ensure fast shipping.
Below is a checklist of the best suppliers for Amazon dropshipping.
UK warehouses for faster shipping
Fast shipping and delivery turnaround
Wide, quality product range
Positive customer reviews
Agreeable per item price
Transparent return policy
Resourceful support 24/7
When dropshipping on Amazon UK, you can work with suppliers in the UK or internationally suppliers. The former is the best if you want fast shipping, while the latter gives you a wide range of product options and low prices. Some of the best UK suppliers to work with include TB Trade, Manchester Wholesale, Go Drop Ship, and Clothes to Order (C2O), just to mention a few.
84% of eCommerce retailers say securing a good supplier is the biggest obstacle to starting a dropshipping business. (Fundera)
There are several ways of finding dropshipping suppliers for your Amazon UK dropshipping store. You can contact suppliers directly, go through supplier directories, or order from your competition. But here again, a dropshipping tool is the best. For example, Easync links you with some of the best suppliers, including AliExpress, one of the best dropshipping suppliers.
Step 2: Creating an Amazon UK Seller Account
To sell on Amazon UK, you need an Amazon UK seller account, popularly known as Seller Central. So, how do you get Amazon Seller Central? Is Amazon Seller Central free? Let's find out.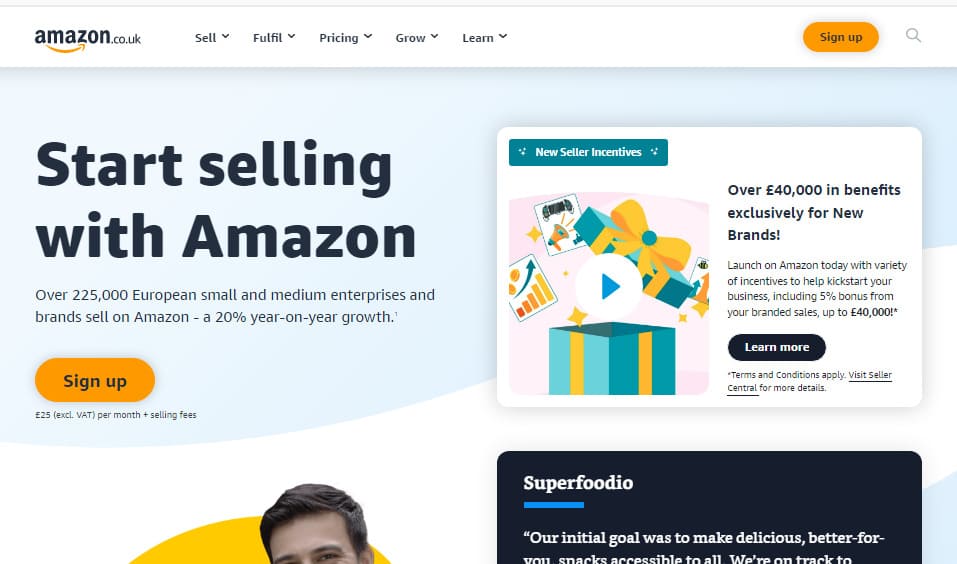 How to Get an Amazon Seller Central Account
To get an Amazon Seller Central account, you need the following;
Email address or existing Amazon customer account 
Credit card 
Government-issued ID 
Tax information 
Phone number
Bank account
Go to the Seller Central registration page here – https://sellercentral.amazon.com./ Feed all the required information, abide by the terms, and complete the account setup. The last step is confirming the email address, and you are good to go.
How Much Does it Cost to Sell on Amazon?
Getting an Amazon seller account is free, but you don't sell for free. There are 2 plans: Individual and Professional. As a beginner, we recommend going for an Individual account and upgrading as more sales start tricking in.
The Individual Plan is free, but you are charged £0.75 / item sold, excluding VAT + additional selling fee. This account is ideal if you sell less than 35 items monthly and don't want to advertise products, qualify for top rankings, use advanced tools, or sell in restricted categories.
On the other hand, the Professional Plan is not free as you have to pay £25 per month as subscription fees, excluding VAT + additional selling fees. The Professional Plan is suitable if you want to sell more than 35 items and advertise products, qualify for top placements, use advanced tools such as API, or sell products in restricted categories.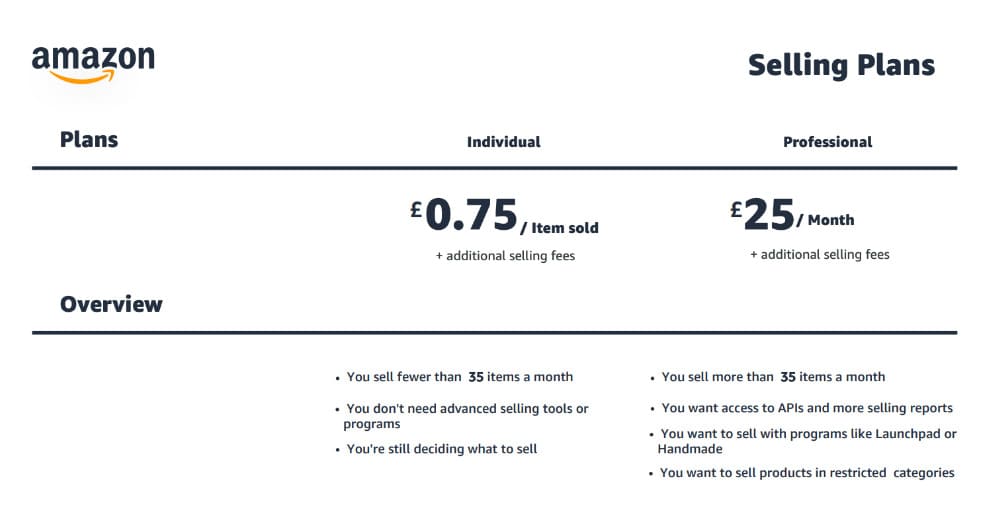 Step 3: Creating Product Listings
Now you have an Amazon store. The next thing is to create product listings. Before getting started, look around the product description creation page and find out how it works. The goal here is to create proper product listings that rank and convince customers that this is the product they want.
But the elephant in the room is, what makes a good Amazon product listing?
Amazon Rules On Creating Listings
To start, Amazon has rules and regulations that dictate how product descriptions should look like. You should write clearly and concisely, and the description should include product-related information only. Don't promote any other product. Promotional messages and testimonials/quotes should not be included.
When it comes to the product title, it should describe the product, its use, and whom it is for. The product description, on the other hand, should be as short as possible and as long as necessary, highlighting the benefits and value of the product without being too salesy. A list with bullets would make the description even better and easy to scheme through. Nothing should be left to chance. All the information, including sizes, size charts, color, book editions, delivery timelines, shipping charges, etc., should be made available.
Another talking point is the images. Make sure to have HD images of the product from different angles. The more the images, the better. Perhaps you can add a video for a better shopping experience.
75% of online shoppers decide whether or not to buy an item based on product images.
Step 4: Calculating Prices
This is a crucial stage as it involves the main cogs of the business – finances. There are a few things you need to know here.
First, decide on the products you want to sell. Remember that high-ticket items move slowly but have high margins, while low-ticket items move faster but have very low margins, so you need high-volume sales to make it even.
Next, decide on the margins you want. Here, we recommend starting with low margins to get a competitive edge. After you start getting traction, you can increase your profits. It will be essential to check what other competitors are doing. Just make sure you are selling your products at a slightly cheaper price.
Last, factor in all the costs when calculating your selling price. Many Amazon dropshippers fail here as they focus on the buying price, forgetting costs such as store and per-item fees, taxes, and shipping costs where applicable.
Step 5: Marketing
How do you bring in sales? Marketing…marketing…marketing. Amazon is an established brand that boasts high traffic volume, so you are a step ahead compared to a dropshipper who has established his store. But still, You need to stay on top of the game, considering you are facing stiff competition from other sellers. So, what are your marketing options?
Ads
Now that you are selling on Amazon, you don't need to focus much on SEO. Your best marketing channel will be ads. Ads have impressive conversion rates and are easily scalable. As far as ads are concerned, you have two options;
Amazon Ads
External PPC Ads
Amazon Ads, also known as Sponsored Ads, is basically Amazon's version of CPC as we know it. You can leverage this tool to increase product visibility, get more leads, and sell efficiently. There are 3 Ad types: Sponsored Products, Sponsored Brands, and Sponsored Display Ads. You can choose what works for you. The good thing is there's no start-up fee, and you can start with a small budget.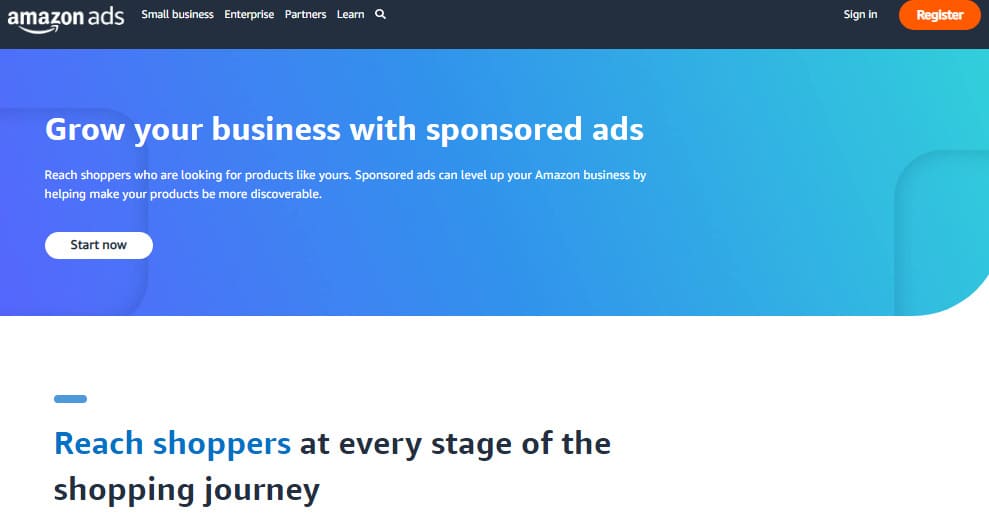 External Ads can also come in handy. You can choose Google Ads, an affordable platform with a 2.85% conversion rate. Facebook Ads remains the best channel, with a 9.21% conversion rate. Other options include Instagram Ads and TikTok Ads.
Email Marketing
An email marketing plan will be vital to your marketing artillery. Email marketing is affordable, easy to implement, and has a higher ROI. Start by collecting emails, and after building a healthy email list, launch a campaign. You can use a tool like MailChimp for this.
Free Shipping and Discounts
According to recent statistics, free shipping is among the things that can trigger instant purchases. According to statistics, 73% of consumers are more likely to purchase online items with free shipping(Statista), while 90% of consumers would shop more often online if free shipping is available (Marketing Land).
Discounts entice customers. Set a budget for discounts, as small as they may be. They will ultimately enable you to increase sales and boost your reputation and loyalty.
How To Scale Your Amazon UK Dropshipping Business
To stay on top of market demands, enhance efficiency, and increase profit margins, you need to think of how to scale your business. One of the best ways of scaling is automating your dropshipping business.
You see, in as much as the supplier is responsible for fulfillment, you have a lot in hand. You will need to find winning products, research suppliers, create listings, manage inventory, reprice items, and order products from suppliers. To improve efficiency and eliminate human errors, we recommend automating your business. With tools such as Easync, you can save a lot of time that you can allocate to marketing and customer service.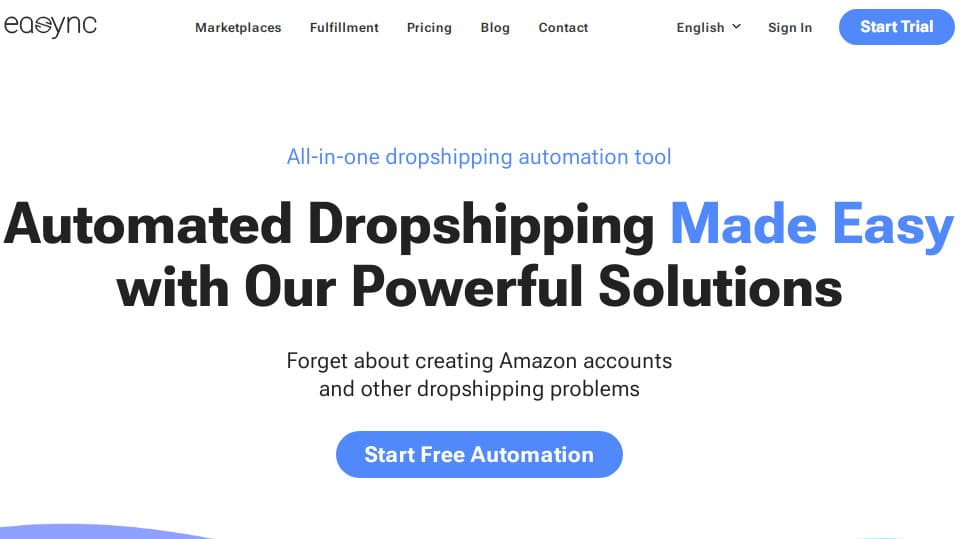 Customer service will also be vital for your business. Understand that the customer is king, and that message you are neglecting could be a sale and a potential loyal customer. Customers believe good customer service is the beginning of a smooth shopping experience. Great service yields loyal customers and positive ratings and reviews.
Frequently Asked Questions
1. Is Amazon dropshipping legal in the UK?
Amazon dropshipping is legal in the UK. But you will have to adhere to all the licensing and tax requirements. Amazon UK also allows dropshipping, but make sure to follow the Amazon UK seller's policies lest you get your account banned.
2. Is Amazon dropshipping profitable UK?
Yes. Amazon dropshipping UK is profitable, considering the UK has higher conversion rates, and suppliers offer fantastic margins. With proper strategy, you should be able to create a passive income with Amazon dropshipping UK.
3. What sells best on dropshipping in the UK?
It's hard to say what sells best in the UK as times are moving fast, and as is the norm, what sells today may not sell tomorrow. You can, however, check the best sellers tab on the Amazon UK website to see what is being bought most. Another option is using product research tools.
4. How many hours do Amazon dropshippers in the UK work?
Well, it all depends on the stage at which the business is and the level of automation. But on average, to make £2,000, you will be working around 10 to 15 hours weekly.
5. Do you need a license to dropship to the UK?
If you want to dropship to Amazon UK, and you live in the UK, you will definitely need a license to avoid rubbing shoulders with the authorities., Also, pay taxes accordingly.
Wrapping Up
That's the end of this guide on how to start Amazon UK dropshipping in 2023. As you have seen, Amazon UK dropshipping is a worthy venture that can turn your fortunes. However, you need to lay down a robust strategy to succeed. The first step is identifying a niche, a product, and reliable suppliers. Then, create a store, list products, calculate pricing, and start marketing. Orders will start flowing in.
But don't rest just yet. You will also need to offer excellent customer service and automate the business. Easync is the go-to dropshipping automation tool that will help you automate all mundane tasks, including product research, listing creation, inventory management, repricing, and ordering. Start your 7-day free trial today and scale your business to greater heights!