Top 6 Best Dropshipping Product Research Tools: The Ultimate Guide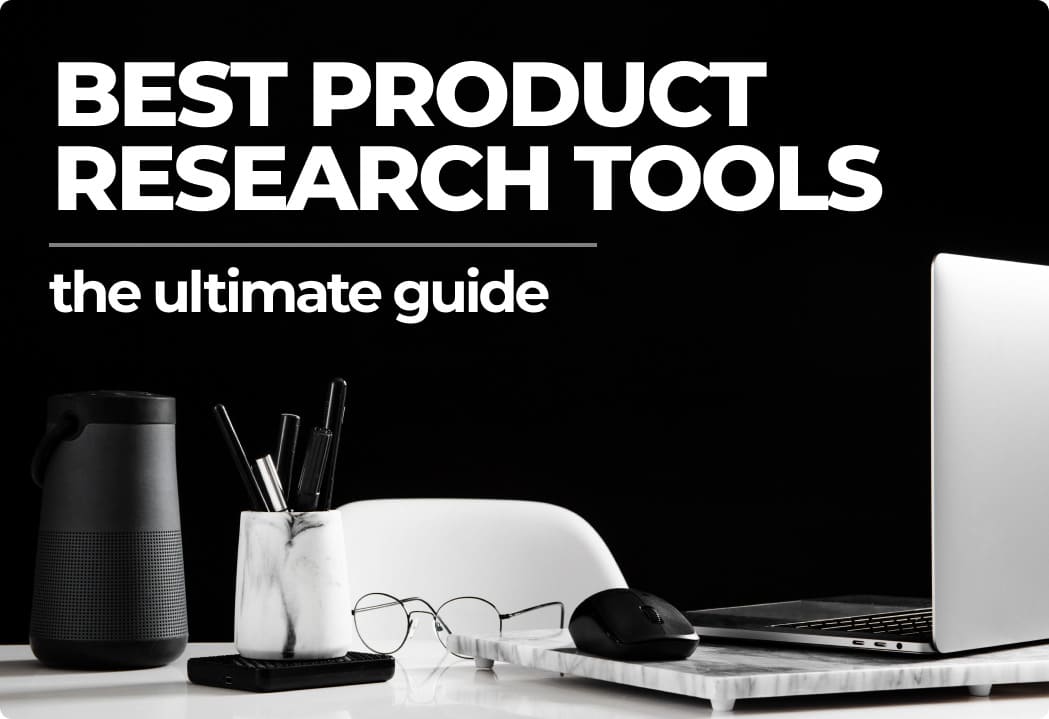 What are the best dropshipping product research tools in 2023? Why are dropshipping product research tools the best way to find dropshipping winning products? After finding the perfect niche, the next hurdle is finding the winning products.
In this article, we have shared everything you need to know about dropshipping product research tools. In the end, you will learn;
Why product research is key to the success of your business
What dropshipping winning products are
Different dropshipping product research methods
Why dropshipping product research tools are the best
How to choose the best eCommerce product research tools
Which are the best dropshipping product research tools
Free vs. paid dropshipping product research tools
Without further ado, let's get into it.
What is a Winning Product?
If you are a beginner, you might wonder why the phrase 'winning product' features in almost all dropshipping conversations. A winning product refers to dropshipping products that offer value to customers.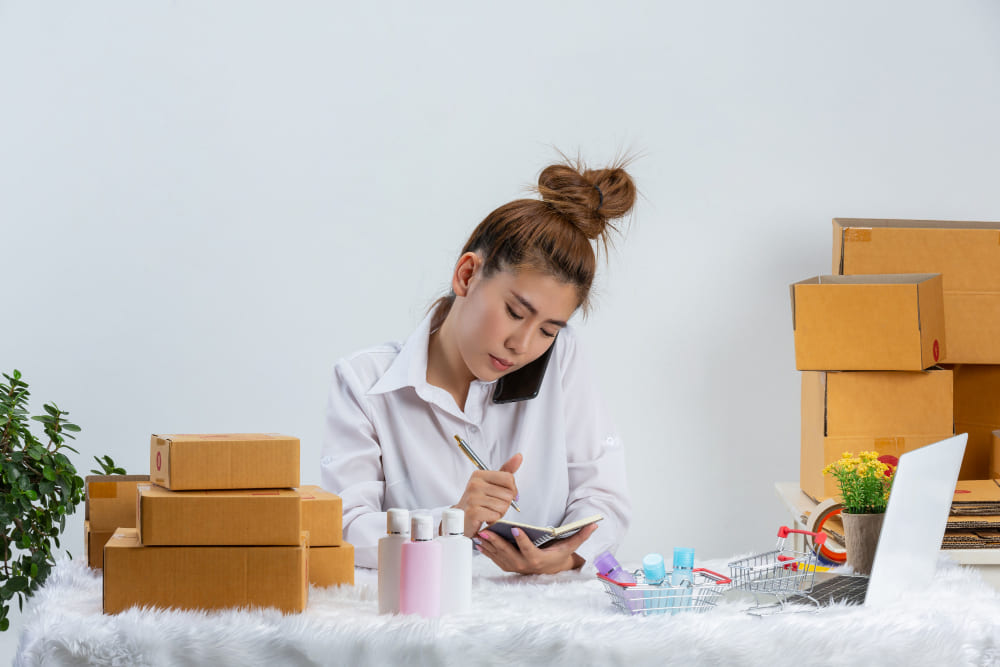 The key to success in dropshipping is finding winning products. The perfect winning product has several traits.
First, it should be problem-solving, and that makes it have a huge demand. Second, a winning product should be reasonably priced to trigger impulse buying. Notably, a winning product should fit your target market and be able to create that WOW effect instantly.
Besides solving problems, affordability, and fitting the target audience's needs, a winning product should be light to lower shipping fees and expedite shipping turnaround. It should also be easy to market.
How to Find Winning Products for Dropshipping
For many dropshippers, especially beginners, finding dropshipping products can be an uphill battle. But this should not discourage you from realizing your dreams of becoming a successful dropshipper, as there are several methods of finding dropshipping products, including; 
Using product research tools
Finding trendy products using Google Trends, TikTok, and Facebook Ads
Analyzing competitors' product catalogs
Joining dropshipping communities and forums
Scouring supplier directories
The above are just some of the ways of finding the best dropshipping products. While they are all effective, there's one method that stands out and is the future of dropshipping product hunt; dropshipping product research tools.
What is a Dropshipping Product Research Tool?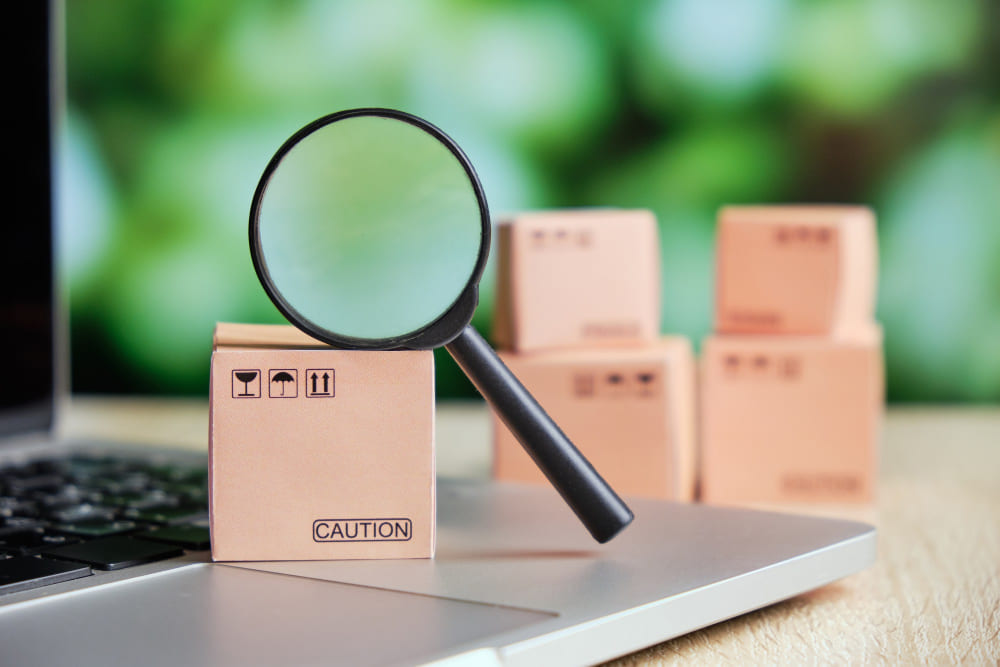 For starters, a dropshipping product research tool is software specialized for scraping eCommerce websites to extract data on the best-selling products and other product insights within set periods.
Today, product research tools are key in business development as they offer insights that enable dropshipping businesses to avoid saturated niches, gauge consumer demand, and stay on top of the competition.
The main advantage of product research tools over the other methods of finding dropshipping products is the fact that they save time and are accurate. You can search multiple products in multiple marketplaces at a go and analyze competition effortlessly. Importantly, they offer accurate, up-to-date data.
Top 6 Best Dropshipping Product Research
To the main segment of this roundup, which are the best product research tools for dropshipping? Before starting the countdown, it's important we share the factors we considered when compiling this list.
Brand Ratings – Are they trusted brands?
Platforms – What marketplaces do the tools work with?
Features – What product research features do the tools offer?
Extras – Are there any other dropshipping tools within the software?
Reliability – How reliable and accurate is the data and insights?
Usability – We emphasized user-friendly tools with intuitive interfaces
Pricing – Are there paid and free plans? What about free trials?
1. Sell The Trend
At number 1 in this list of the best dropshipping product research tools is Sell The Trend, a full-featured all-in-one dropshipping software that integrates with Shopify and WooCommerce platforms. Regarding suppliers, you can import products from CJ Dropshipping and AliExpress.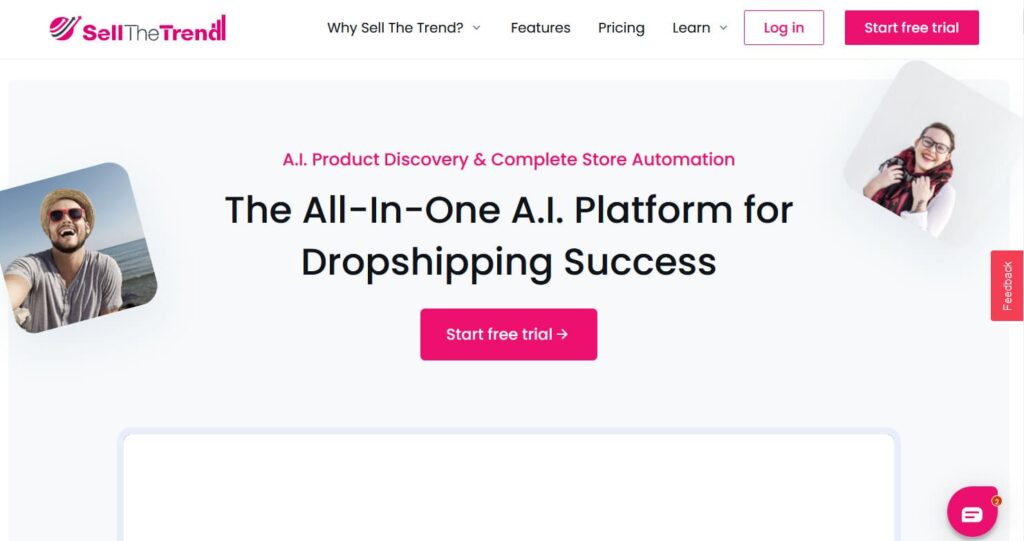 Sell The Trend Pricing
There is no Sell The Trend free version, but the company offers a generous 100% risk-free 7-day trial. You can cancel anytime within 7 days if you are not satisfied. Sell The Trend has just 1 plan payable either monthly or annually. The monthly plan goes for $39.97 a month billed every month, while the annual plan goes for $32.97 a month billed yearly. The annual plan gives you 2 months free.
Platforms
Main Features
Product research
Store Intelligence
Marketing tools
Automation tools
Supplier database
Training
Sell The Trend boasts an AI-powered product research feature dubbed The Nexus. This is a research machine that gives you a front-row seat to over 7 million products in 83+ top-performing eCommerce niches.
Harnessing the power of AI, The Nexus can show you trending products on Amazon, Facebook, AliExpress, and Shopify stores. The tool also shows the number of stores selling a product, and the wholesale cost, selling price, and margins. It also offers accurate insights into the total orders for the current month, the first and last time a product was added, and a timeline link to all stores that have had the product.
Sell The Trend is not just about product research. Its other cool features include a marketing toolbox, automation features, and supplier databases.
The marketing toolbox integrates a Video Ad Creator for your marketing and an Engagement Rating Calculator that shows Instagram and influencer engagement. We also have an AI Brand Builder for automated branding and Facebook Audience Builder.
Regarding automation, Sell The Trend allows you to manage orders and shipment tracking and create a store within minutes, and Success Academy, a detailed dropshipping course.
2. Niche Scraper
Another top-rated dropshipping product research tool is Niche Scraper, dubbed the number 1 eCommerce growth platform. The dropshipping software has been designed to help entrepreneurs scout for profitable dropshipping products on AliExpress and Shopify stores.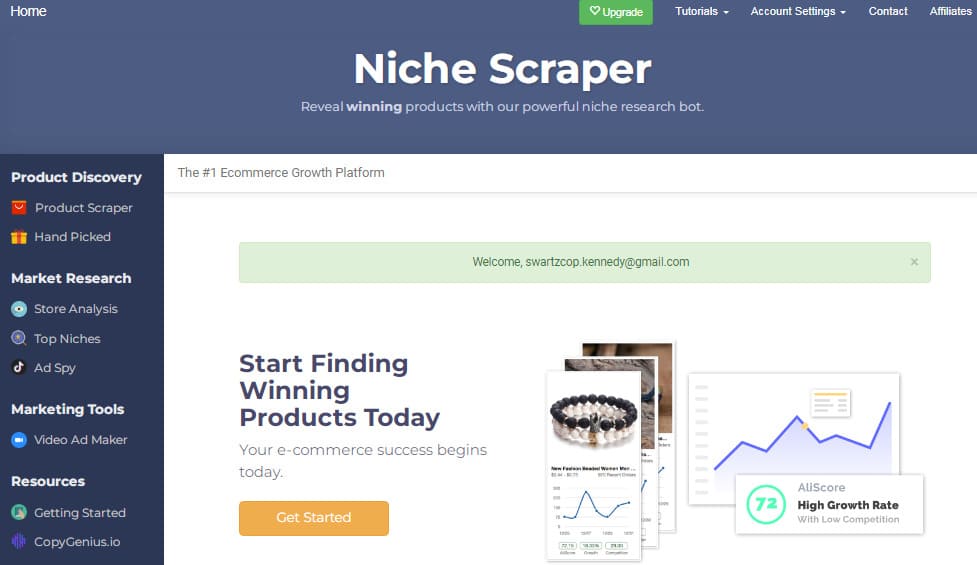 Niche Scraper Pricing
Niche Scaper is available as a free tool but with limited functionality. There are 2 plans; a monthly plan (Pro) for $29 a month billed monthly and an annual plan for $199 a year.
Platforms
Main Features
Product Discovery
Market Research
Marketing Tools
Niche Scraper should be on your wishlist if you are looking for free dropshipping product research tools. However, note the free plan limits the number of scrapes. Product Discovery is the main feature and has two products; Product Scraper and Hand Picked.
Product Scraper allows you to scrape AliExpress products based on AliScore, Competition, Growth Rate, Recent Orders, and Relevance. You can also filter AliExpress products based on Category, Subcategory, Total Order, Maximum Orders, Minimum Price, and Maximum Price. As for Shopify stores, the parameters are Relevance, Store Popularity, Category, Business Type, Maximum Product Price, and when the product was added.
As for Hand Picked, this is a list of fantastic dropshipping products that are handpicked and added to the list manually on a daily basis.
When it comes to Market Research, there are 3 products; Store Analysis, Top Niches, and Ad Spy. Store Analysis enables you to browse through thousands of Shopify stores, showing you the most popular items, best-selling products, traffic, and so on. Top Niches is specifically for AliExpress and shows you the top 10 niches that perform best on AliExpress in terms of sales. Last is AD Spy, a powerful feature that lets you spy on TikTok and Facebook ads with the highest ROIs.
As far as marketing is concerned, there is only one feature; Facebook Video Ad Generator.
3. AliExpress Dropshipping Center
For those dropshipping from AliExpress to Amazon and other marketplaces, AliExpress Dropshipping Center will come in handy. This is AliExpress' proprietary dropshipping product research tool. Interestingly, it is free. AliExpress Dropshipping Center is on the 'My Orders' page at the bottom and labeled as DS Center.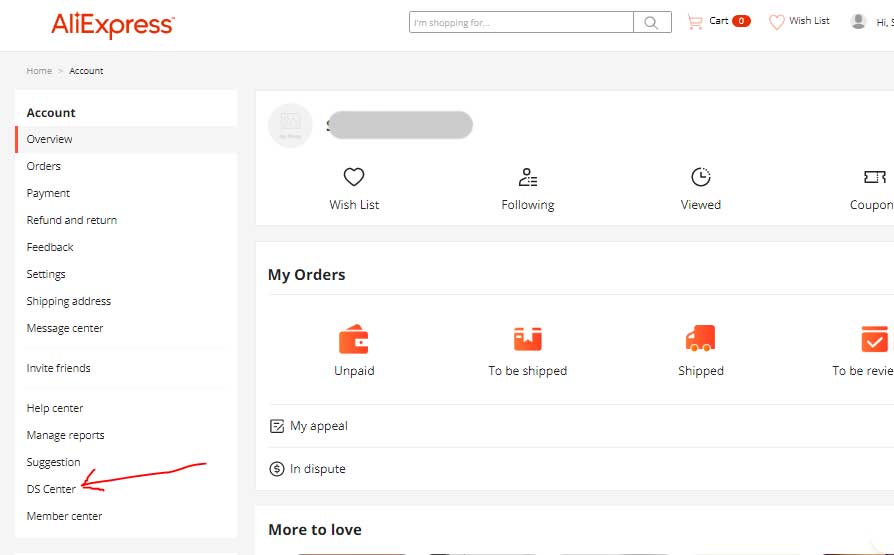 AliExpress Dropshipping Center Pricing
The AliExpress Dropshipping Center dropshipping tool is designed to help AliExpress dropshippers. It is absolutely free to use the service.
Platforms
Main Features
Find Products to Sell
Product Analysis
Find Products to Sell has two features; Find Products and Top Selection.
AliExpress Dropshipping Center Find Products enables AliExpress dropshippers to find top dropshipping products to sell based on Categories, Ship From, Code Availability, Free Shipping, Video Description, Local Stock, Minimum and Maximum Price, Product Name, or Image. Sorting is by Recommended, Price (Low/High), Rating, and Sales. Top Selection recommends products based on factors such as 7-day delivery, hero products (stable inventory), POD products, etc.
The other feature is AliExpress Dropshipping Center Product Analysis, which offers detailed data about a specific product. If you have narrowed down on a watch but are unsure of its previous performance or whether it will rake in sales or not, this is the tool to use. Interestingly, it is user-friendly. Just enter the product URL and let the system do the magic. A graph with crucial insights will pop up.
4. Intelligynce
Intelligynce is another reliable product research tool. The software boasts detailed and accurate data of over 400,000 top-performing stores with close to 2 million trending products for dropshipping. The software has been designed for Shopify and Wooomerce. It also tags along with several other features, including Ali Inspector 2.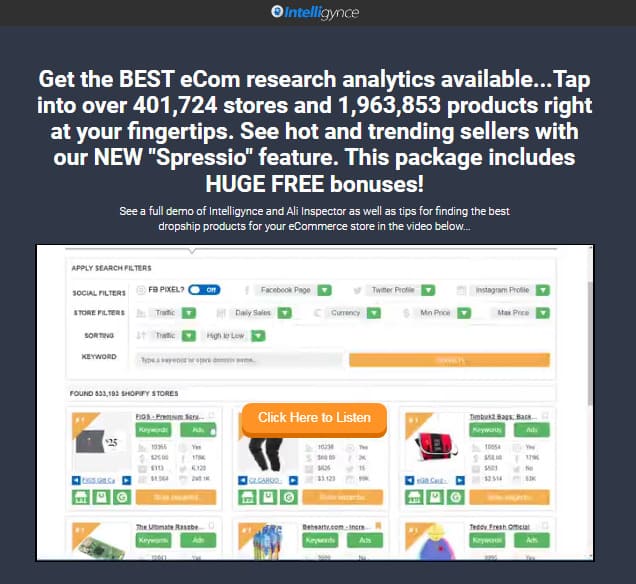 Intelligynce Pricing
There are 3 payment options with this dropshipping tool. First is a monthly plan for $39 a month and an annual plan that goes for $79 a year billed annually. There is also a lifetime plan for $99.
Platforms
Main Features
Spressio Hot Products Tool
Store Inspector
Keyword Generator Tool
Best Sellers Tool
Auto Product Importer
Price Monitoring
As mentioned earlier, Intelligynce is designed for Shopify. You can use the software to find winning dropshipping products on Amazon and eBay marketplaces. It also has a bonus product dubbed Ali Inspector 2 for AliExpress.
Intelligynce product research is on another level. The multi-featured tool allows you to find the best-selling product with powerful filters, and together with Store Inspector, gathering valuable sales data is a buzz. You can also leverage Spressio Hot Products Tool, which updates the list weekly to uncover the hottest products. Other Intelligynce features include Arbitrage Price Check Tool, Bookmark, Shopify Store Analytics, and Installed Shopify Apps.
Ali Inspector 2 allows users to find trending products on AliExpress using several tools. There is Keyword Generator Tool which generates high-value niche keywords instantly, and the Best Sellers Tool, which analyzes the best-selling products in over 380 AliExpres categories. A Product Importer lets you import unlimited products to your Shopify or WooComerce store and even manage pricing and price adjustments.
5. ZIK Analytics
If you are an eBay dropshipper, ZIK Analytics is the best product research tool for you. The software makes dropshipping easier and smarter, courtesy of its robust infrastructure. So far, the platform has helped over 100,000 dropshippers to scale their business and gives them access to over 100 million products to scout for winning products for eBay dropshipping.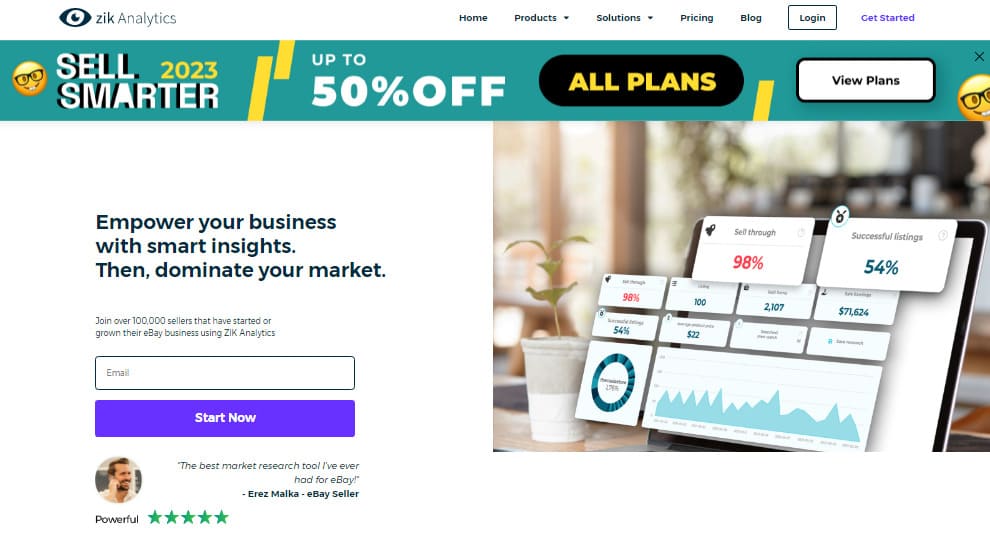 Zik Analytics Pricing
Zik Analytics has a free trial and 3 plans; Pro, Pro+, and Enterprise. The Pro plan goes for $14.99 a month, billed monthly, and $209.91 a year, billed annually. The Pro+ plan costs $29.99 a month, billed monthly, and $359.92 a year, billed annually. The Enterprise plan costs $449.93, billed yearly.
Platforms
Main Features
eBay Market Research
AliExpress Market Research
ZIK Pro Tools
Dropshipping Course
ZIK Analytics allows you to intelligently find profitable products to list on your eBay dropshipping store. You can discover the best-selling categories and trending products from each eBay category. You can also leverage the ZIK Dropshipping Course to learn the ropes of smart dropshipping and beat your competition.
Another feature is AliExpress Market Research. ZIK understands AliExpress is one of the best dropshipping suppliers, so it incorporates a tool that helps you find the best-selling products on AliExpress. You can research any AliExpress seller and instantly analyze product data.
Also worth mentioning is ZIK Pro Tools, a suite of tools that enable you to find even more profitable products to sell from Amazon and Walmart. With ZIK Pro, you can scan different sellers to get product ideas. There's also ZIK Arbitrage Software for scouting low-competition products and listing them with just a few clicks. With ZIK Pro, you can scan different sellers to get product ideas.
6. Ecomhunt 
As the name suggests, Ecomhunt is the ultimate eCommerce hunter. The platform has been designed to enable dropshippers to find the best-selling and trending dropshipping products with ease and scale marketing. The product research tool is designed for all the popular eCommerce platforms, including eBay, Amazon, Shopify, and Woocommerce platforms.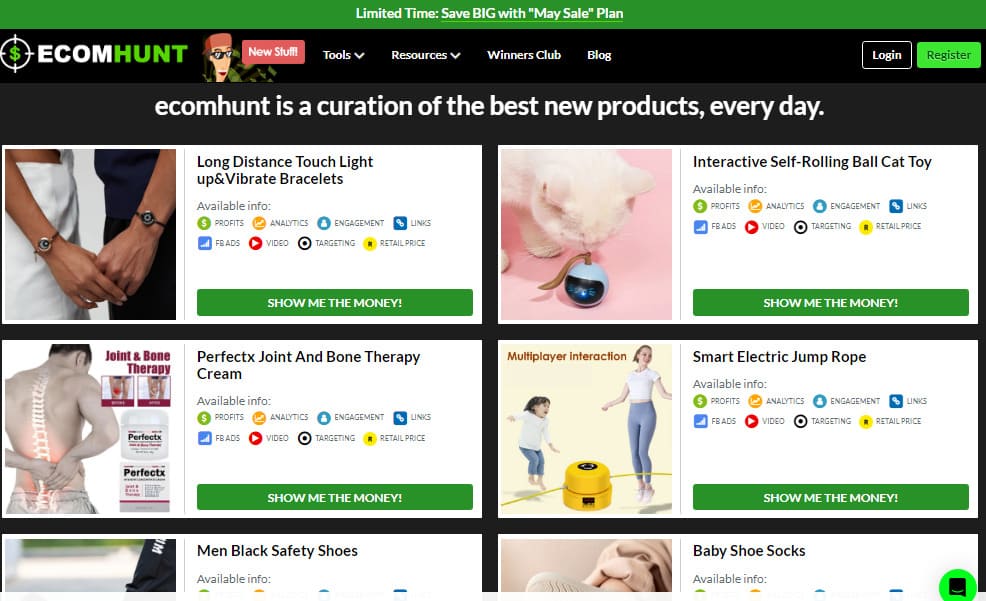 Ecomhunt Pricing
There is a free version of Ecomhunt, but there are limitations. Paid plans start at $29.99 a month.
Platforms
eBay
Amazon
Shopify
WooCommerce
Main Features
Ecomhunt Classic
Ecomhunt Live
Ecomhunt Lucky 
Ecomhunt Tracker 
Ecomhunt Adam
Ecomhunt Extension
Ecomhunt Classic is a feature that gives dropshippers access to carefully handpicked products selected by expert dropshipping product hunters. The other product research feature is Ecomhunt Live which deploys intelligent systems that find the latest trending items and update them in the trending products list in real time. On the other hand, Ecomhunt Lucky relies on algorithms to find those unexplored products that are considered real nuggets by just a few dropshippers.
Another great feature is Ecomhunt Tracker, an analytical tool that enables you to track sales performance in real time. The system has excellent accuracy and shows you reports in an easy-to-understand manner. With these reports, you can discover hidden opportunities before anyone else.
Also worth mentioning is Ecomhunt Adam, an AliExpress product search virtual assistant, and the Ecomhunt Extension that lets you spy on competitors; ads
Other Worthy Mentions
The above tools are the best and most popular dropshipping product research software. Other worthy mentions include;
Peeksta
Minea
Thieve.co
Dropship Rabbit
Product List Genie
Product Mafia
FindNiche
Pexda
Winnerzilla
Commerce Inspector
Free vs. Paid Dropshipping Product Research Tools
On the market, there are free and paid dropshipping product research tools. So, what should you go for as a beginner? Is it a free product research tool or a paid one?
There are some reliable free dropshipping product research tools, for example, AliExpress Dropshipping Center. Please note there is no paid version of this tool, and you get access to all the features. On the other hand, free tools such as Niche Scaper and Ecomhunt may offer you a free plan, but you don't get access to all the features or are limited in some way.
Paid dropshipping product research tools are the best, as you get access to all the features. As much as they are expensive, they offer the best value. But as a beginner, we understand you might be on a budget, so don't shy away from trying out a free product research tool.
Frequently Asked Questions
1. How profitable is dropshipping?
Dropshipping is one of the most profitable online ventures. On average, dropshippers make profits between 20-30%. However, it's important to know that the success rate of dropshipping is 10-20%.
2. What is the best product research tool for dropshipping?
It's hard to call a winner as the best dropshipping products research tool depends on your needs, especially the platform you are using. However, from the current trends, Sell The Trend, Niche Scraper, and AliExpress Dropshipping Center are the most popular software amongst the most successful dropshippers.
3. Which are the best niches for dropshipping 2023?
The best dropshipping niches include health & personal care, women's fashion, pet products, jewelry & watches, fitness & gym, car accessories, and toys & baby products.
4. How many products should I start with when dropshipping?
It's hard to put a number as it depends on your resources. However, as a beginner, it is recommended that you start with just a few products, say 20 and push around 5-10. You can expand as you progress and streamline processes.
5. Dropshipping general store vs. niche
As a beginner, a general store might be too much to handle. Start with a niche, focus on a few products, and expand as you get along with operations.
Wrapping Up
That's the end of this review of the best dropshipping product research tools. As mentioned earlier, it's hard to say which tool is best, as dropshippers have different needs and use different platforms. However, Sell The Trend, Niche Scraper, AliExpress Dropshipping Center stand out from the crowd. 
Now that you know why it's important to use a dropshipping product research tool and the best dropshipping product research tools on the market, you now have what it takes to find winning dropshipping products. Best of luck!