How To Start Dropshipping From Walmart in 4 Easy Steps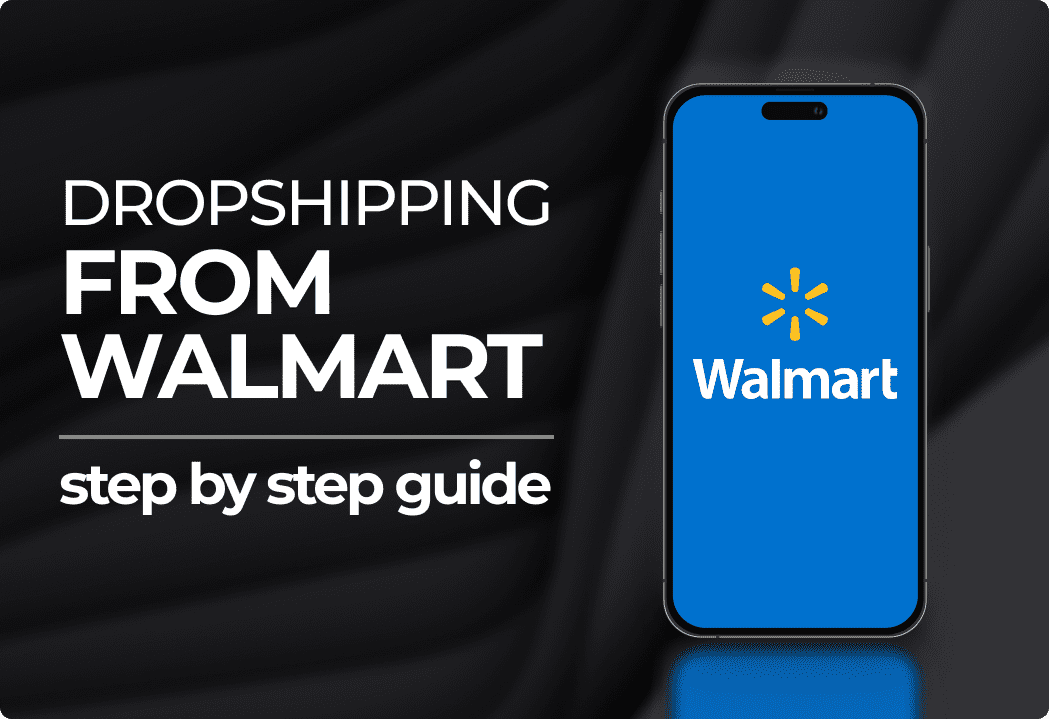 How do you start dropshipping from Walmart to your store? This is among the common questions asked by dropshipping entrepreneurs. This article will cover everything you need to know about Walmart dropshipping, particularly dropshipping from Walmart.
In the end, you will understand;
What Walmart dropshipping is
3 ways to use Walmart for dropshipping
Why consider dropshipping from Walmart
If Walmart dropshipping is legal
How to launch your store and use Walmart as the supplier
How to scale your dropshipping business.
The Evolving Dropshipping Market
Dropshipping is among the best online markets to invest your time and money in. Although some say dropshipping is dead, the truth is dropshipping is still profitable and growing exponentially.
According to statistics from Grand View Research, the dropshipping market size was valued at $225.99 billion in 2022 and is projected to grow at a compound annual growth rate (CAGR) of 23.4% between 2023 and 2030.
Interestingly, Forrester's Research says that over a quarter of all online sales are fulfilled through dropshipping, and retailers using dropshipping rake in more profits than their traditional fulfillment counterparts.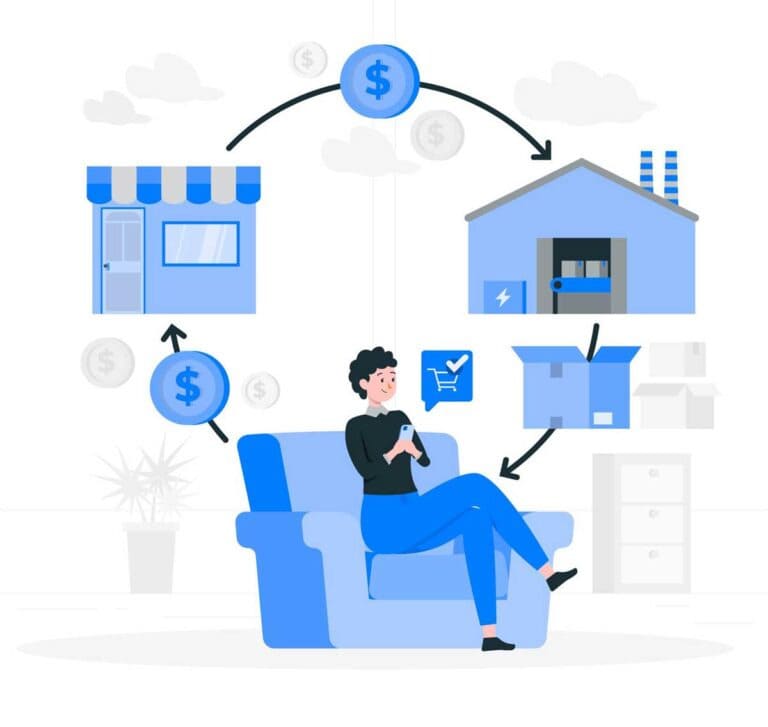 Walmart Dropshipping
Walmart dropshipping is a business model based on the dropshipping principle. However, there is a twist in that you can opt to dropship using Walmart in 3 ways, as listed below;
Selling dropshipped products on Walmart
Using Walmart's Drop Ship Vendor (DSV) program
Dropship from Walmart to your store
In the first model, you are selling on Walmart. You can create a store on Walmart and find a supplier for the products you list. Once you get an order, the supplier ships the products to the buyer. Here, you don't need to have inventory.
In the second model, you are also selling on Walmart. You can use the Drop Ship Vendor (DSV) program, where you, as the merchant, need to have inventory, bulk, and send orders to the buyer.
The third way of using Walmart dropshipping is to leverage Walmart as your supplier, the same way you would use AliExpress or Shein. You are not a seller. Here, you find products on the Walmart platform that you can sell elsewhere at a profit.
In this article, the focus is on dropshipping from Walmart, the 3rd model.
Dropshipping From Walmart: In-depth Guide
Even though Walmart is a retailer, it is still a great option as a supplier. The company boasts tens of thousands of suppliers globally, meaning there's variety. Whether you are looking for the best dropshipping baby products to sell or the best Halloween products, Walmart has got you covered.
These sellers have been rigorously vetted, guaranteeing they can offer high-quality products. As you may be aware, product quality is vital for your business's success. Walmart also offers fast shipping, as fast as same-day delivery.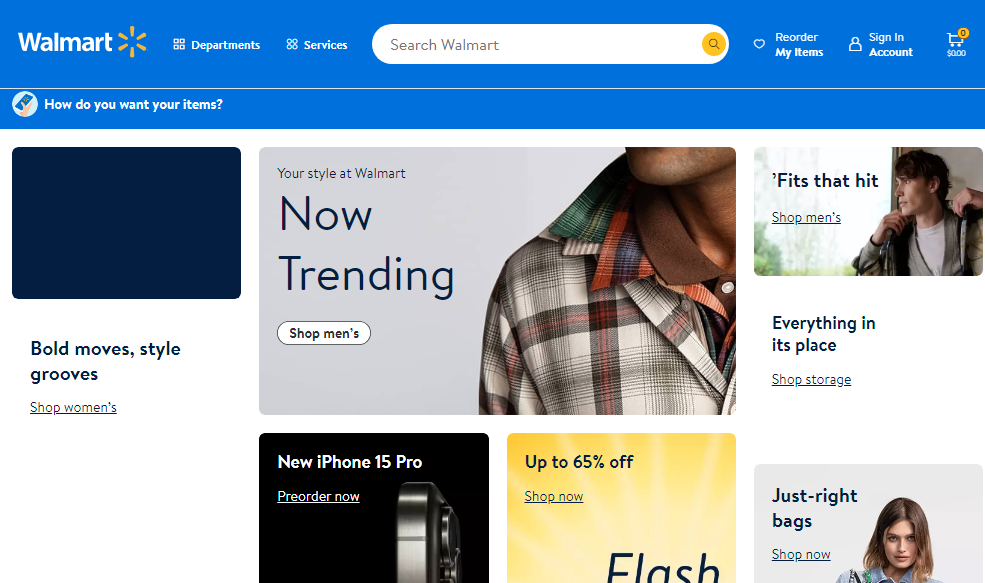 90% of consumers would shop online more often if given the option of free shipping. (Marketing Land).
Walmart sellers also have plenty of stock, and interestingly, they offer fantastic prices, so you can be sure of making a kill once you find that winning product.
Attention: Indeed, Walmart, as a supplier, has advantages. However, there are some shortcomings that you need to be aware of. You will be limited to the US market, and you won't have many options in terms of payment. Walmart also has rather strict return policies.
But all said and done, dropshipping from Walmart is still lucrative as you can find the best dropshipping products at the best prices. Interestingly, you can always take advantage of the Walmart price-match policy. You will also break the boundary of slow shipping, which is detrimental to your business. Walmart has a steadfast infrastructure that ensures orders are delivered fast and support is always available.
Is Walmart Dropshipping Legal?
Before sharing the step-by-step guide on how to start dropshipping from Walmart, you should first know the legality of dropshipping on Walmart. So, is Walmart dropshipping legal?
Well, dropshipping on Walmart is legal if you sell dropshipped products or use Walmart's Drop Ship Vendor (DSV) program. For the above cases, you must have proper documentation and abide by all Walmart policies.
How about dropshipping from Walmart to eBay or, say, Amazon? Is it legal?
Well, dropshipping from Walmart to your store is not prohibited, as you are buying from Walmart as any other customer and directing Walmart to ship the order to your customer.
But wait, there is a catch…
You risk getting banned if you dropshipping from Walmart to Amazon or eBay. This is because eBay and Amazon require dropshippers to own the inventory of the products they sell or have an agreement with direct suppliers/manufacturers. Sourcing products from a retailer such as Walmart will land you in trouble.
Another problem is that most orders will have Walmart packaging, which will definitely raise doubts on the buyer's end. So, what's the solution?
Well, to avoid bans or raising suspicion when dropshipping from Walmart, it is best to have the product shipped to you or your dedicated third-party logistics partner (3PL) for repackaging before it is sent to the customer. This way, Amazon or eBay won't detect that you are dropshipping from their competitor, Walmart.
The customer will also not know the product they ordered came from Walmart. While it might be a bit expensive, it is a worthy undertaking if you don't want to get banned. Another but not-so-promising hack is dropshipping large items that won't be packaged.
You should also be keen on selling acceptable products only. As you may be aware, there are some restricted products, and you definitely don't want to risk your store or brush shoulders with the law.
Walmart Return Policy
Besides the legality of dropshipping from Walmart, you should know the company's return policy. Sometimes, your customers will return the product they bought, and it is your responsibility to handle returns.
Like all other retailers, Walmart has a return policy, but theirs is very strict. For most products, there is a 90-day return window. For valid returns, the refund is credited to the buyer's original payment account, which definitely is your account.
Create a clear, detailed return policy, highlighting whether the return policy covers a product or not to avoid inconvenience. It will be wise if your store's return window is shorter than Walmart's 90 days. You should also be aware of the shipping fees for returns. You can find every detail of this on the return policy's page.
Step-By-Step Guide – How To Start Dropshipping From Walmart
Now, to the main segment of this Walmart dropshipping guide: how do you start dropshipping from Walmart? What do you need? To ensure you get everything right, below are the steps savvy dropshippers follow.
Step 1: Find Winning Products: Walmart Product Research
One of the crucial steps in launching your dropshipping business is finding a niche. Walmart has millions of products. As a beginner, you can't just sell anything and everything.
First and foremost, find a niche. Finding a niche is vital as it helps you build a community and tailor a product line that identifies with your audience.
Some of the best dropshipping niches include;
Women's clothing
Baby products
Automotive
Home and gardening
Sports and fitness
Important: There are two types of niches: seasonal and evergreen. For a start, go for evergreen niches and maybe start a seasonal niche later on after you learn the ropes.
Once you have settled on a niche, you need to further narrow it down to specific products – winning products, for that matter. Finding winning products is crucial and can be the deal-maker or breaker. Most dropshippers fail because they sell what is not in demand.
Here, the big question is, what makes a winning dropshipping product? A winning product should;
Have a wow effect
Not be available at ordinary stores
Make life simpler
Have the perfect dropshipping size
Have good profit margins
A winning product should have that striking feature that sets it apart from the rest, for example, a bamboo toothbrush for eco-conscious buyers. It's obvious that bamboo toothbrushes may be hard to come by. Still on bamboo toothbrushes. They have good profit margins and come in the right dropshipping size that won't blow away the cart value because of shipping fees.
How to Find the Best Products to Dropship From Walmart
There are several ways to find best-selling products to dropship from Walmart.
You could first use tools such as Google Trends, which show you the interest of an item over time, or check what's trending on social media.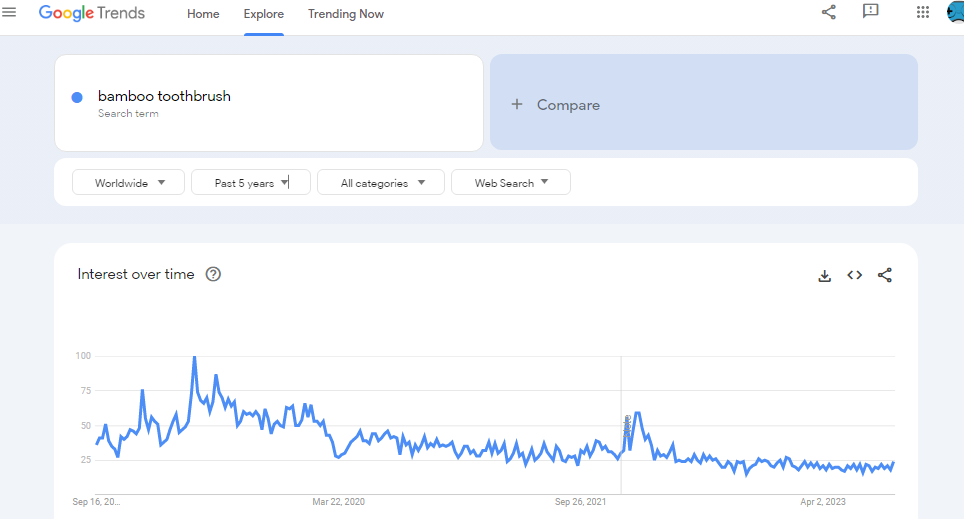 It's also possible to find bestselling products on Walmart on the Walmart Savings Product, Daily Deals, Flash Picks, or Rollbacks tabs. Of course, if a product does well on Walmart, it will do well in your store.
However, the best way to do product research is to use product research tools like Easync.
With Easync Hot Items, you can discover the best-selling products on different marketplaces in a flash. This tool doesn't just show you which are the best products. It helps you automate the entire product research process, saving you a lot of time you can repurpose for other core activities, including marketing.
Did you know Easync Hot Items users have a sell-through rate of approximately 10x higher than dropshippers who use other product research methods?

Once you have found the right products, you can go ahead and find the best sellers on Walmart.
Step 2: Choose a Selling Channel
Now that you have a product in mind and know where to source it from (Walmart), the next hurdle is, where will you be selling? There are two options: marketplaces or websites. Each option has its fair share of advantages and disadvantages.
(a) Selling On Marketplaces
Many established marketplaces allow dropshipping, for example, eBay and Amazon.
Marketplaces are a big deal, especially if you want to start selling ASAP and don't have a huge budget. For example, you can start dropshipping from Walmart to Amazon or eBay almost instantly. In addition, marketplaces are already established with huge customer bases and traffic, so you won't spend much on marketing.
On the downside, there is competition from other sellers, and besides, you have no full control of your business as you can get banned anytime if you violate the platform's policies. You also can't build your brand as your business depends entirely on the marketplace.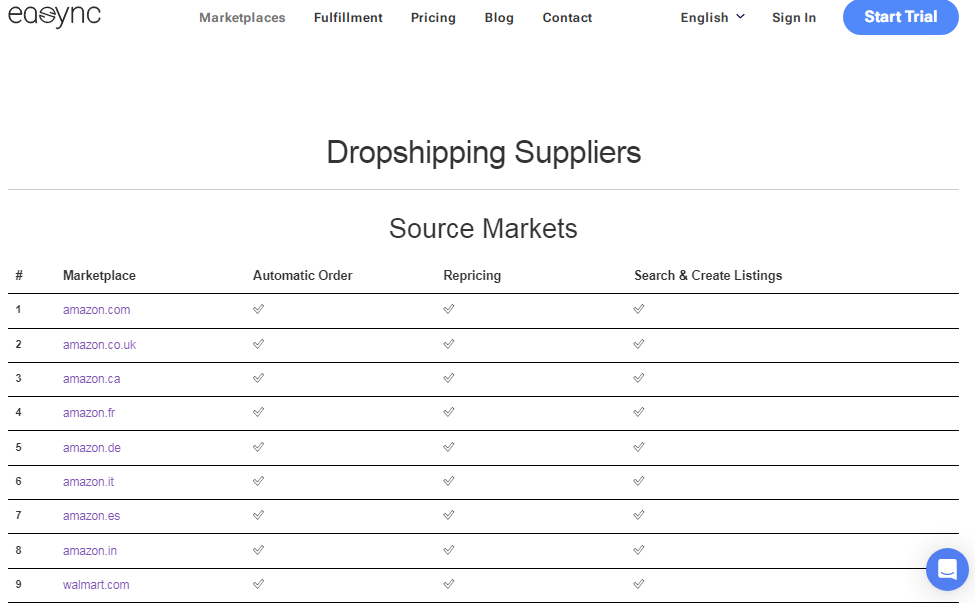 (b) Creating Your Website
Consider creating your store if you don't want to rely on marketplaces. There are two options here: using premade stores such as Shopify or Wix or creating your store from scratch.
The advantage of creating your store is that you have full control of the business. You will have also eliminated competition as you are the only seller on board. Above all, you can take charge of your brand.
However, you will need a big budget to create your store, especially if you build it from scratch. It will also require a good budget for marketing now that it has no traffic or existing customer base.
If you are stuck, check out our guide on the best dropshipping platforms, including factors to consider when choosing a dropshipping platform.
Step 3: Import Walmart Products
With your store ready, be it a marketplace or website, the next step is importing products from Walmart. You can import products and create listings manually or automate the process.
If you are just starting and have a few products, you can import products and create listings manually. However, if you have dozens of products, it is better to automate the process.
Dropshipping automation tools such as Easync.io have been designed to make product import a buzz. With automated listing creation, you have more time to focus on core aspects of your business. Besides, you will have eliminated chances of making errors.
Step 4: Order Fulfilment
You have a working dropshipping business with everything set and probably a few orders trickling in. Now, you need to take care of order fulfillment. Luckily, this is dropshipping, and as you may be aware by now, it is Walmart's responsibility to process the order and deliver it to your customer.
But while it is the supplier's responsibility to process the order, you also have an obligation to transfer the order from your end to Walmart. There are two ways of handling this: manual or automatic ordering.
In manual ordering, you order the product from Walmart manually. At the start, you can process orders manually, but when the business picks up, you will need to automate the ordering process.
Tools such as Easync will handle ordering automation perfectly. As soon as you get an order on your store, Easync automatically orders the product from Walmart. This way, you save time and eliminate any chances of ordering the wrong product.
On top of that, Easync has an auto-tracking feature that lets you easily track orders, and besides, there is Aquiline Tracking, a Walmart-approved carrier. Remember, it is essential to put your customer in the loop always.
How To Scale Your Walmart Dropshipping Business
The above are the simple steps to launch your dropshipping from Walmart business. You should know there is stiff competition, so don't sit back and relax. Think of how you will scale your business to greater heights. In this section, check out 3 ways to ensure your business succeeds.
1. Marketing
Whether you are selling on already established marketplaces or you have your store, marketing is key. Through marketing, you will gain visibility, drive sales, and grow your brand. Now, there are several marketing techniques to employ depending on your sales channel.
For example, if you are selling on Amazon, you should leverage Amazon Ads, otherwise known as Sponsored Ads. This is Amazon's version of CPC and is available in 3 types: Sponsored Products, Sponsored Brands, and Sponsored Display Ads. You can also opt for external ads with Google Ads or Facebook Ads. eBay, on the other hand, has Promoted Listings Standard Promoted Listings Advanced.
If you have your website, you can opt for SEO, which may be expensive but worth every penny in the long run. Ads and email marketing can also come in handy.
Another top marketing strategy is free shipping. Try as much as possible to sell items with free shipping, as statistics show that 24% of consumers would spend more just to qualify for free shipping, while 66% expect free shipping for all orders.
2. Automation
Running a dropshipping business is not a walk in the park, as many activities are involved. You need to find winning products, manage inventory, and adjust pricing constantly. Creating listings, marketing, and customer service are also waiting for you. As a savvy entrepreneur, you need to prioritize automation.
Find the perfect dropshipping tool, such as Easync, that will automate product research, product import, inventory management, and repricing. Once such mundane tasks are automated, you will have more time to focus on marketing and offering customer service.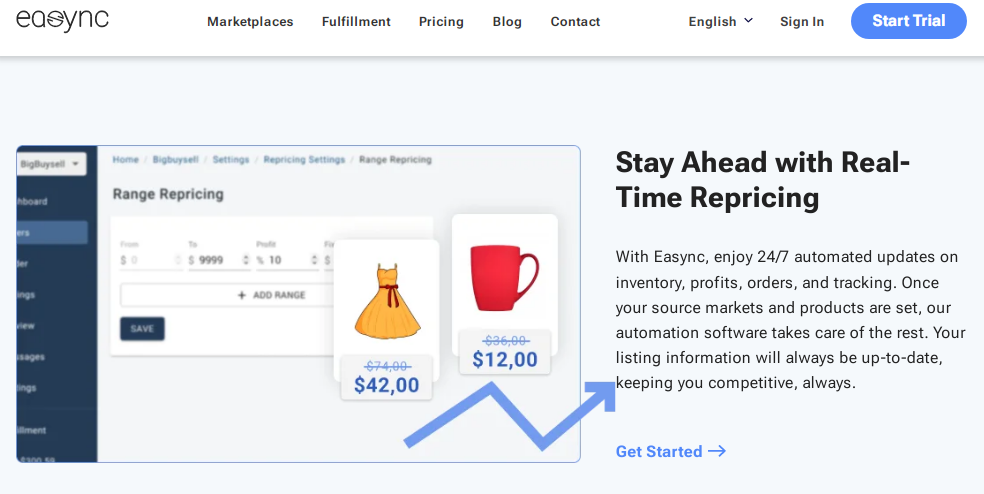 3. Offer Excellent Customer Service
They say the customer is king. Customer service is crucial to the success of your business. Make sure to offer prompt responses at all times. That one ignored message could be a potential sale or a loyal customer.
Always remember a happy customer translates into a brand ambassador, and customers are willing to pay more for excellent customer service.
Wrapping Up
There you have it, folks, a guide on how to start dropshipping from Walmart. Indeed, Walmart is an excellent dropshipping supplier as it offers a wide range of affordable products and fast shipping.
To start dropshipping from Walmart, you need to find a winning product on Walmart, decide where you want to sell, list the product, and start marketing. But make sure you have the right automation tool, such as Easync, so you don't get overwhelmed. What are you waiting for? Start dropshipping from Walmart today and create that extra source of income.
Frequently Asked Questions (FAQ)
1. Can I dropship from Walmart to Shopify?
Yes. You can dropship from Walmart to Shopify, but make sure Shopify doesn't know you are sourcing your products from Walmart.
2. Can you dropship items from Walmart to eBay?
You can dropship from Walmart to eBay, but ensure eBay doesn't realize you are using Walmart as your supplier lest you risk getting banned.
3. Is Walmart dropshipping profitable?
Yes. Walmart dropshipping is profitable as long as you sell the right products.