SHEIN Dropshipping: A Step-By-Step Guide For Beginners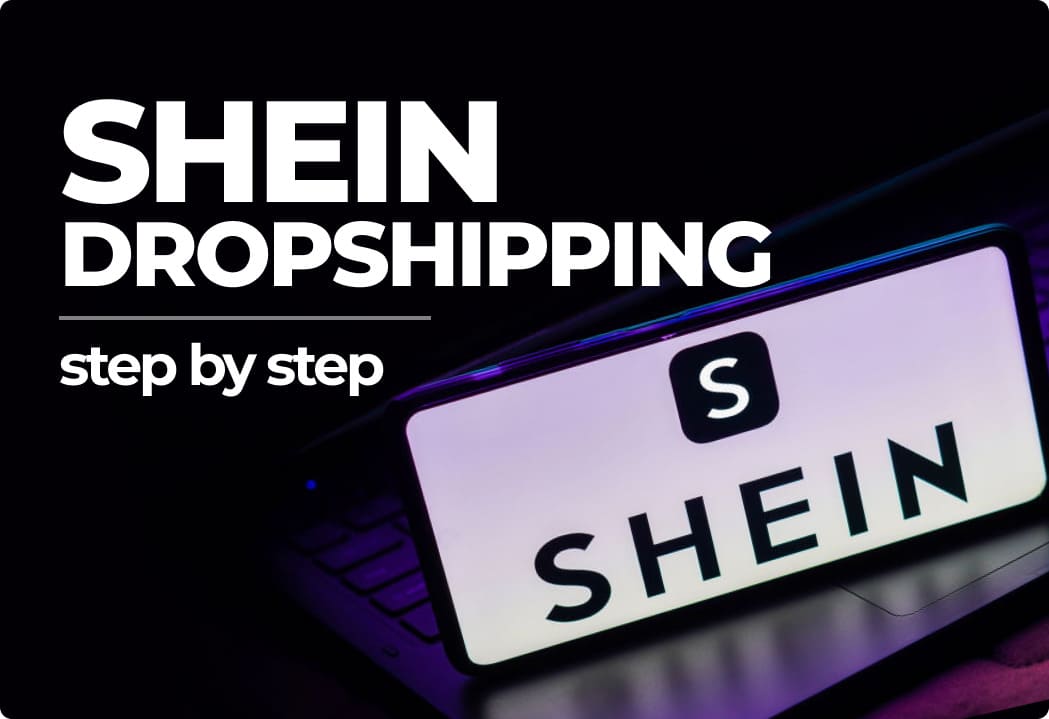 Shein dropshipping is one of the most lucrative ways to make that extra coin. But, what does it take to start dropshipping from Shein? Is it even legal? If you think Shein is your next move, this is the place to be.
At the end of the article, you will have learned;
Whether dropshipping is still a worthy venture
What Shein dropshipping Is
If Shein dropshipping is legal
Advantages and disadvantages of Shein dropshipping
How to Dropship From Shein in 8 easy steps
Tips for scaling your business 
Shein Alternatives
What is Shein Dropshipping?
To understand Shein dropshipping, it is first paramount to understand the dropshipping business model.
Dropshipping is a model where the dropshipper (seller) sells items they have no inventory of. Instead, they partner with suppliers who deliver an ordered item to the buyer. The dropshipper lists the products at a higher price and keeps the profits after paying the supplier.
In the above explanation, Shein is the supplier. That said, Shein dropshipping is where dropshipper gets products from the Shein platform.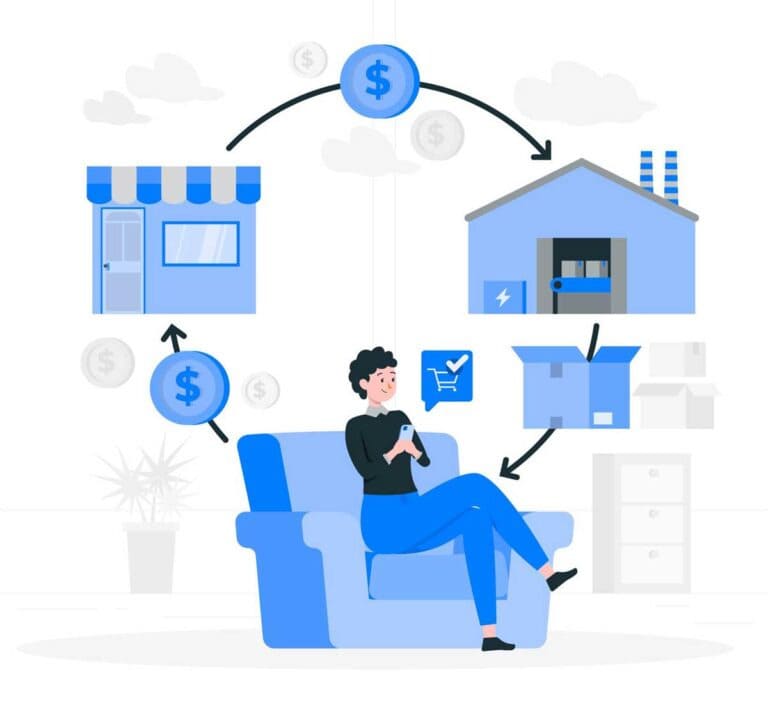 About SHEIN
Formerly SheInside, Shein is a Chinese company started in 2008. Initially, the main product was women's fashion. Later, the company expanded to other categories, including men's fashion, kids' fashion, home and living, and even electronics. Today, Shein is among the big boys in Chinese eCommerce. The venture has over 43 million users and a $100 billion valuation.
Is Shein Legit?
Yes. Shein is a legit eCommerce site with an excellent reputation among dropshippers and consumers in general. Even though there have been a few cases with the quality of products, Shein is still a trusted site. Interestingly, it has better reviews on Trustpilot than AliExpress.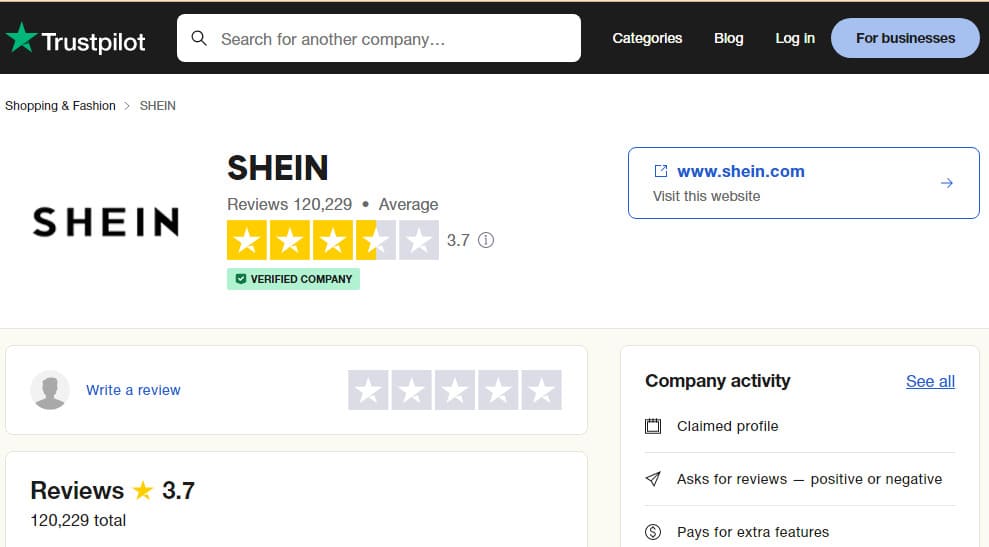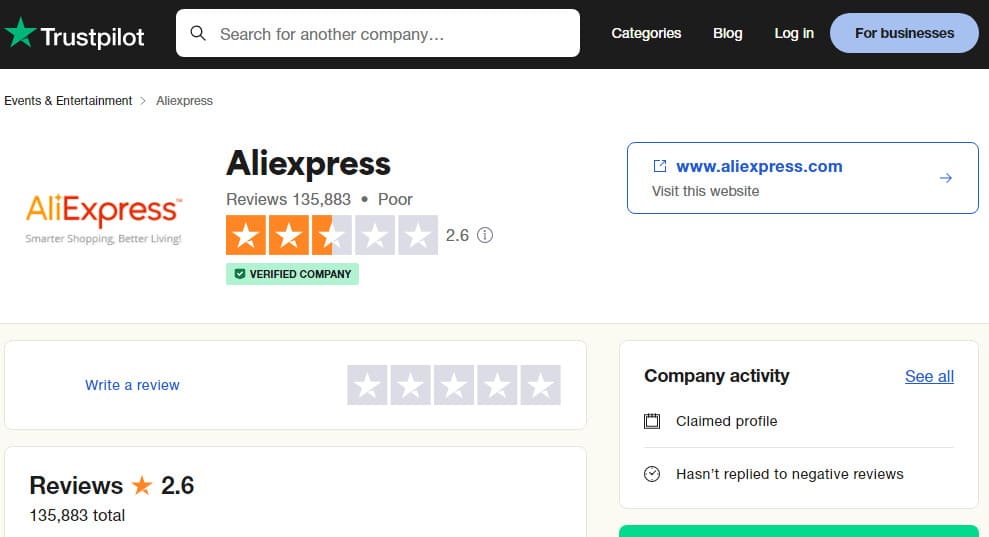 Does SHEIN Allow Dropshipping?
Knowing whether Shein allows dropshipping is essential before going any further with your plan. As you may be aware, some eCommerce sites don't allow dropshipping. Besides, most have strict rules and regulations.
To set the record straight, Shein dropshipping is allowed, so you can definitely start your business without any worries. But there are some strict rules and regulations you have to adhere to. To avoid copyright infringement, you can't use the photos on Shein. That means you will have to source for your own photos, probably by ordering the item and taking photos.

Is Shein a Good Platform for Dropshipping?
As said earlier, Shein is among the best dropshipping suppliers, rivaling the likes of AliExpress and Alibaba. The Chinese conglomerate is known for its wide selection of products from over 3,000 manufacturers. Unlike most dropshipping suppliers in China, Shein delivers in 220 countries and locations.
(i) Acceptable Product Quality
Many Chinese products are substandard. Even on the big online stores such as Alibaba, and AliExpress, you won't miss that one supplier with low-quality products. However, this is not the case with Shein. The company is known for high-quality products.
However, note that the company has been criticized a little here and there for low-quality items. Some buyers have also complained about sizing problems. As a dropshipper, you will want to rely on verified purchase reviews to decide whether a product is a hit or a miss.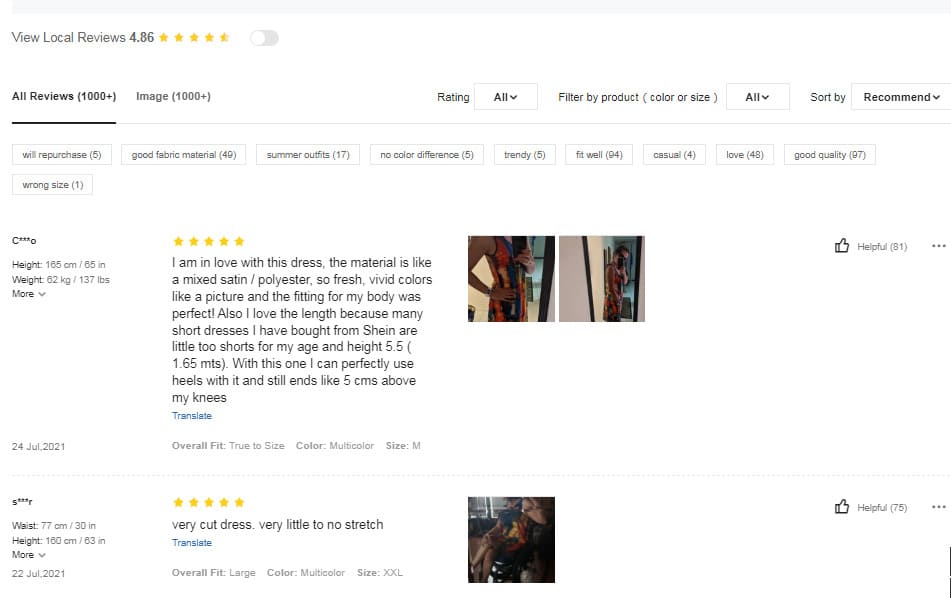 (ii) Competitive Prices, Higher Margins
As a dropshipper, pricing is critical. You definitely want to work with a supplier with the best prices for higher margins and competitiveness. We are glad Shein is known for its inexpensive products popular among Gen Z consumers. With the low prices, you can rake in up to 70% profit on some items.
Besides the low prices, Shein has regular promotions, including discounts, sales, and loyalty programs.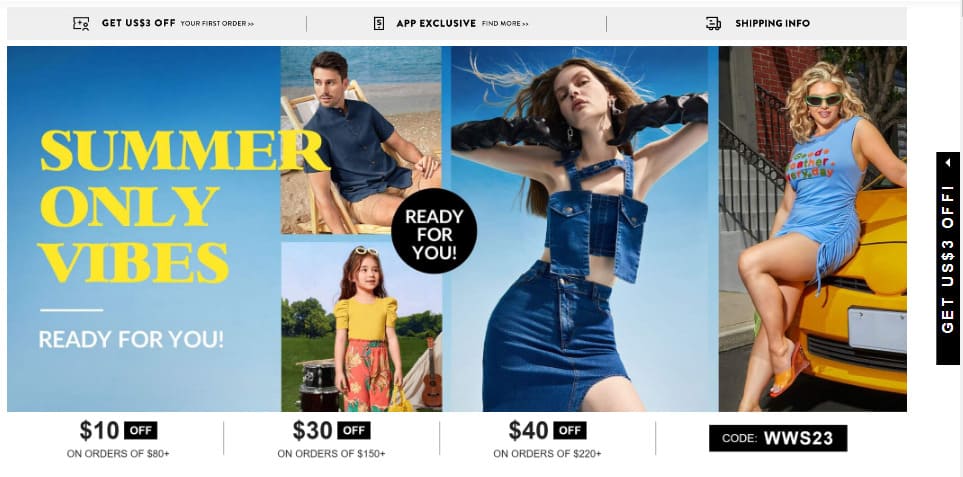 (iii) Fast Shipping, Bad Packaging
One of the attributes of a good dropshipping supplier is the efficiency of fulfillment. You have to ensure the supplier can deliver the product within the specified timeframe on the listing. Packaging, too, should be a consideration.
Shein has several shipping options and delivers relatively fast. For example, Express Shipping takes an average of 10 days, and fees start from $12.9. This is pretty fast compared to other suppliers. However, things are not always rosy, as some orders take longer for one reason or another. All in all, Shein is a reliable supplier. Interestingly, many products are eligible for free shipping, so you can use free shipping to reduce cart abandonment.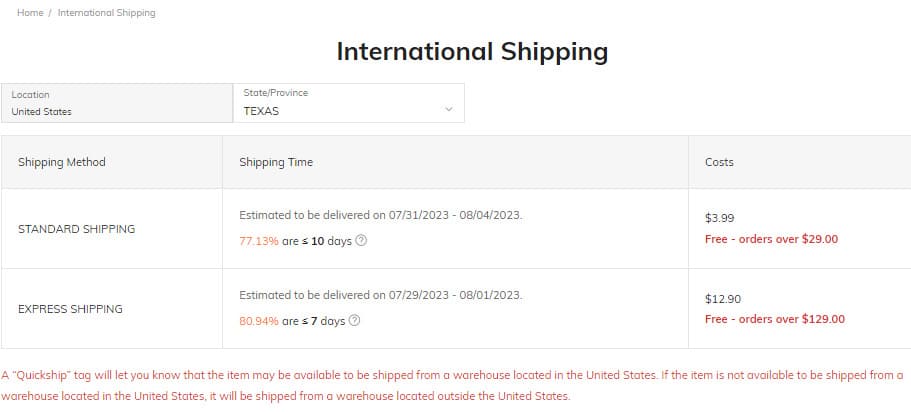 "53% of customers have canceled or abandoned their purchase because the delivery was too slow" (Marketing Profs, 2022)
"88% of consumers are more willing to purchase from an e-commerce store that offers free shipping'' (Inc, 2022)
Unfortunately, Shein is not suitable for your branding. The company labels the product, so your customer might be tempted to order directly from Shein next time. This is a big hindrance if you want to grow your brand and create a long-term business.
How to Dropship From SHEIN: Step-By-Step Guide
If you think you are ready to start Shein dropshipping, this will be the most crucial segment of this guide. Find out how to start your business and launch it successfully in 8 easy steps.
Step 1: Find a Niche and Winning Product
Finding a niche is the most fundamental aspect of starting a dropshipping business. This is where many entrepreneurs go wrong and ultimately fail. So, what is the best niche? Besides finding a niche, you should also find that winning product. Again many dropshippers, especially beginners, fail by selling the wrong product. So, what's the best product to sell?
Probably you want to go with fashion, the most dominant category on Shein. But remember, Shein has also spread its wings to other categories, including home & living, electronics, and home appliances. As a beginner, don't just list anything and everything. Narrow down to a niche, for example, dresses only, intimates & loungewear, beauty and health, and so on. Focusing on a niche allows you to identify your core customers and prioritize their needs.

You should also be keen on a winning product. Just because you sell dresses doesn't mean you list any dress you see on Shein. Make sure it meets the needs of your buyers. The best way to go about this is to do product research using a reliable product research tool, for example, Easync, which has two features specifically for this; Finder and Hot Items.
Step 2: Find a Reliable Supplier
SHEIN is a fantastic platform with thousands of suppliers. But not all of them are reliable, so you need to be careful who you work with. Remember, the supplier can be the deal maker or breaker as they impact;
Product quality
Pricing and profit
Shipping and delivery time
Customer satisfaction
So, what makes a good supplier?
A good supplier should have enough stock so you don't get inconvenienced once you get an order. They should also be effective at communication and importantly, fulfillment.
Step 3: Sign Up for a Shein Dropshipping Account
You now know the niche you want to focus on and have found a winning product(s). The next thing is to create a Shein dropshipping account. Below is a step-by-step guide.
Step 1: Go to the Shein website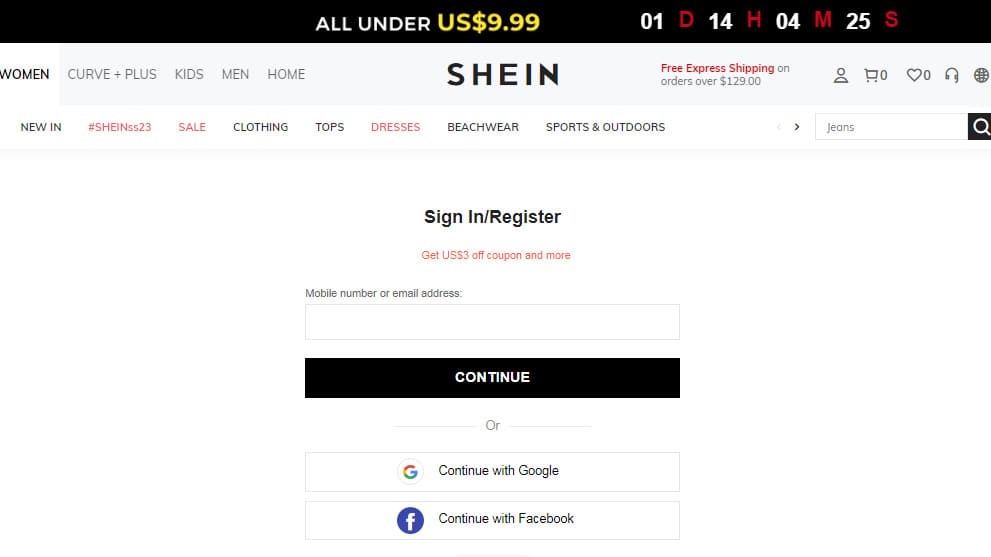 Step 2: Click on the register button 
Step 3: Enter your email and a preferred password
Step 4: Confirm your email
You now have an account and can access your dashboard, which will have all your buyer history.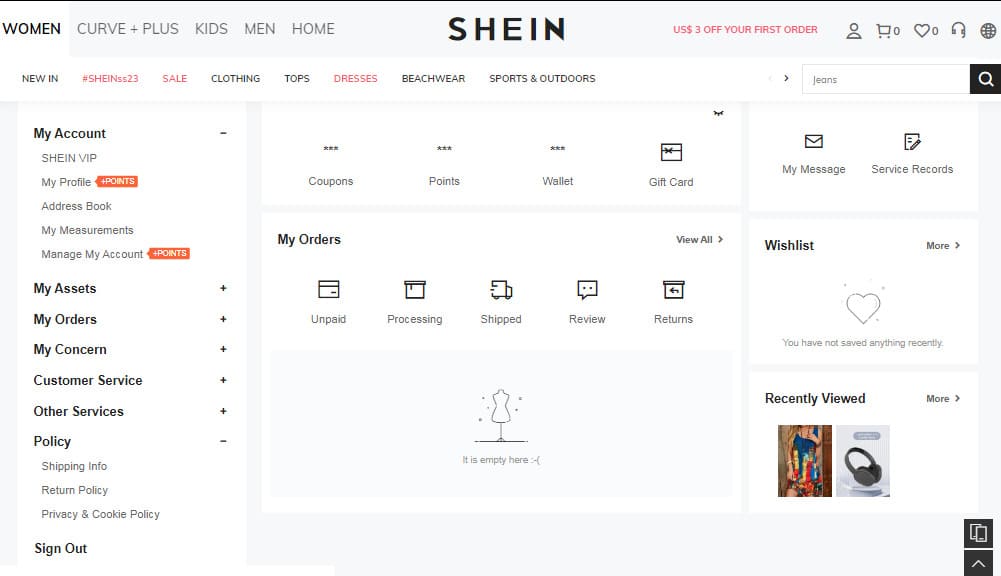 Step 4: Create Your Store
Where will you be selling? Will you create your own store or sell on marketplaces? This is an important consideration and can be the deal maker or breaker.
Creating your own store is a great idea now that you will be in total control of your business. You will also have eliminated competition for other sellers. However, it is an intensive process. You will need money to hire programmers and web designers. Besides, you will need money to market your store. For the record, you can create a website from scratch or leverage apps such as Shopify and WooCommerce, among others.
The other option is selling on marketplaces. The advantage of selling on marketplaces is that they have ready traffic, so you can start making sales sooner. On the downside, you are not in control of the business. Besides, there is stiff competition from other sellers. Some of the marketplaces you can sell on include Amazon and eBay.
Step 5: Create Proper Listings
The fourth step is creating listings now that you have a niche, a winning product, and a sales channel (store). The listings must be created professionally for visibility. Besides, you should adhere to SHEIN's policies. So, what should you know about creating listings?
The title and product description should be detailed and compelling. They should also incorporate various keywords related to the product. Notably, the description should not be salesy but show buyers the product's value. All the necessary details, including, SKU, color, options, variants, and sizes, should be clear and straightforward.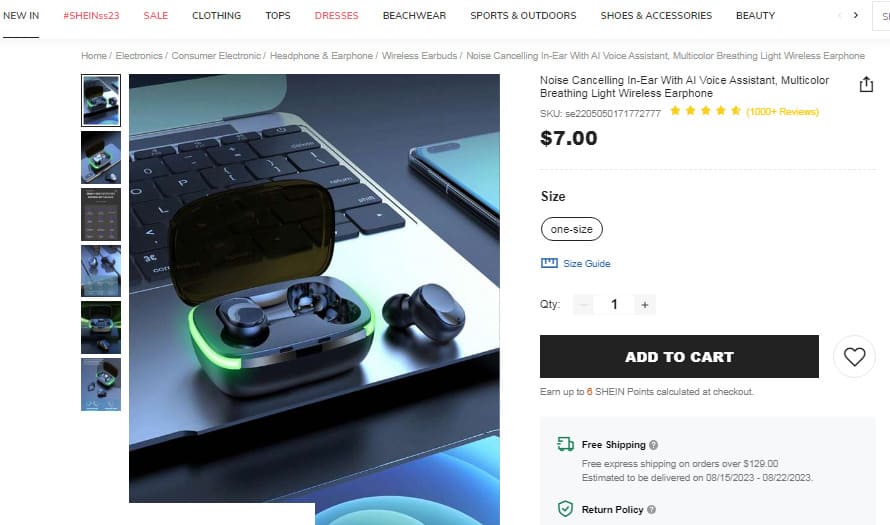 The images should also be up to the mark. Just to remind you, Shein doesn't allow dropshippers to use their images, so you will have to source yours. A good product listing should have high-quality images that show the products from different angles. It would also be best if you incorporate videos.
Step 6: Calculate Pricing and Set Margins
Pricing is another vital aspect when launching your store. You want to make a profit, so you must be keen here.
When finding products to sell, go for affordable products. Remember, one of the attributes of a winning product is affordability. However, don't go too low to avoid compromising quality as most cheap items are of low quality. You need to be very careful of all the associated costs, from initial product costs, platform costs, marketing, and, importantly, shipping. Make sure to factor in all costs when finding out how much an item is worth.
When setting the margin, don't go too high as a beginner. Settle for lower margins to be competitive in terms of pricing until you get traction. Check how much other dropshippers are retailing the item for and set a lower price.
Step 7: Market Your Store
Whether you have a personal store or are selling on a marketplace, you should consider how to promote and market your store. Remember, stiff competition exists, so your store and products should stand out. There are different marketing methods you can employ.
(i) Social Media – You can leverage Facebook, TikTok, Instagram, and other social media to reach potential clients.
(ii) Search Engine Optimization (SEO) – If you have a personal site, you will need to invest in SEO to improve rankings and bring in organic traffic and, ultimately, sales.
(iii) Ads – Social media and search engine ads can also be helpful if you want to reach a wider audience faster.
(iv) Email Marketing – Create an email list and regularly send newsletters and other promotional materials.
(v) Promotions – Leverage coupons and other discounts on Shein alongside free shipping to bring down cart value.
Step 8: Fulfill Orders
The last step to launching your site will be taking care of orders. Luckily, there is not much needed of you here as SHEIN takes care of fulfillment. However, you are responsible for ensuring the customer receives the order and is satisfied with the service.
Your only role in fulfillment is ensuring the order from your end is submitted to the Shein supplier on time. You should also be in constant communication with the supplier and the customer regarding their order. For more regarding fulfillment, check out our detailed guide on dropshipping fulfillment and everything in between.
How to Scale Your SHEIN Dropshipping Business
Your Shein dropshipping store is now up and running, and you have probably started to get some orders. So, what next? Do you just sit and relax?
No…
There is stiff competition in dropshipping. More and more entrepreneurs are discovering that dropshipping is not dead, as many say. In fact, it is witnessing exponential growth. That said, you need to be dynamic and find ways to scale your business.
Below are the top 5 ways to take your business to the next level.
Data-Driven Product Research
Automation
Excellent Customer Support
Consider Bulk Buying
Invest in 3rd Party Fulfillment Services
You have a reliable supplier in SHEIN but what about the product? To succeed in dropshipping, you must have a winning product. But finding the best products to sell can be a challenge. Luckily, we now have product research tools that can enable you to find the winning product that meets the threshold of the best dropshipping product.
Second, consider automation. In the past, dropshippers had to do all the tasks manually. They had to find winning products manually, create listings, manage inventory and pricing, and order products. These tasks took much time that could have been otherwise allocated to other important aspects of the business. Luckily, dropshipping tools such as Easync have simplified all these. You also get to eliminate human errors.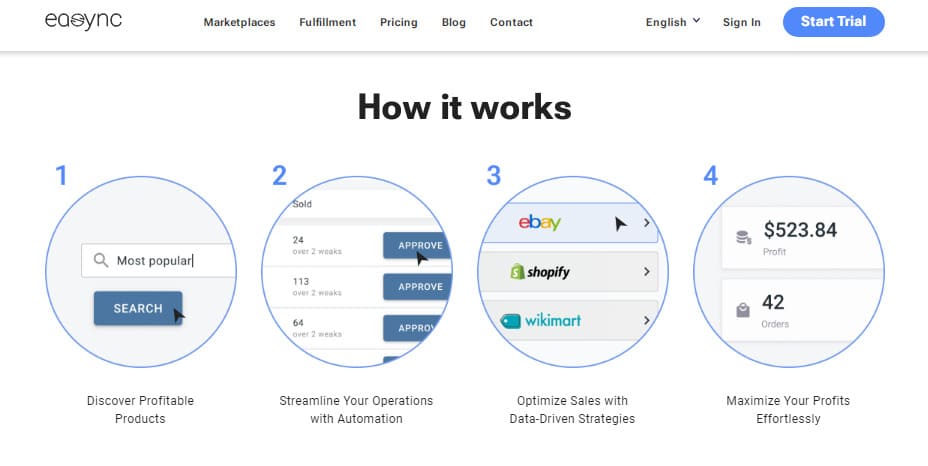 They say the customer is king. Many dropshippers fail because they fail to offer reliable customer support. Make sure to have a robust customer support infrastructure, preferably 24/7. The message you missed could be a sale.
''90% of American shoppers report using customer service as a deciding factor in whether to do business with a company'' (Microsoft)
You can also scale your Shein dropshipping business through bulk buying. Well, this might be the opposite of dropshipping, but it is worth the struggle, considering Shein offers lucrative discounts for bulk buyers. For example, you get a 25% discount for orders above $200 and a 40% discount on orders above $3,000. This works best if you are selling small items that won't take a toll on your finances in terms of storage.
Last, you can invest in 3rd party fulfillment services, for example, Easync. This way, you can do away with Shein's branding and take charge of your branding.
Advantages and Disadvantages of SHEIN
Shein has advantages and disadvantages. As a recap of the guide, below is the good, the bad, and the ugly of dropshipping with SHEIN.
Pros
A one-stop shop with a wide range of products
Low prices
Higher margins of up to 70%
Huge discounts
Fast reliable shipping
Low shipping fees + free shipping
Cons
No private packaging/labeling
No default private labeling 
Use of Shein images is prohibited
Shein Alternatives
Shein is a great platform for sourcing dropshipping products. However, there are shortcomings.
As listed above, you cannot use Shein's product images. Instead, you have to find your own photos to avoid copyright infringement. The fact that Shein sticks its labels on the orders means you are not in control of your brand.
So, what is the best Shein alternative to turn to?
AliExpress
One of the biggest dropshipping product suppliers is AliExpress, part of the larger Alibaba Group. Established in 2010, it boasts over 200,000 suppliers and 200 million high-quality products in various categories.
If you are into dropshipping fashion items, there are women's fashion, men's fashion, kids' fashion, jewelry, and so on. AliExpress also has products in several categories, including electronics, home & living, toys, beauty & healthcare, mobile phones & accessories, automotive, etc.
Why AliExpress?
One advantage of AliExpress is that it is a dropshipping-friendly platform with no restrictions on the images, so you can freely use them. Besides, they don't label the orders, so you can grow your brand without fear of losing the customer.
Another reason to love AliExpress is that it has its free tool called AliExpress Dropshipping Center, which consists of two main tools; Product Research and Product Analysis for researching hottest selling items and analyzing the viability of products on the market, respectively. Check out our full guide on how to use AliExpress Dropshipping Center and where to find it.
Other SHEIN alternatives include; Temu, Alibaba, CJDropshipping, CHNGE, Afends, etc.
Frequently Asked Questions (FAQ)
1. Why is Temu suing Shein?
Shein and Temu are two big names in stiff competition for the American market. Temu has sued Shein for engaging in anticompetitive behavior by getting into unjust agreements with suppliers.
2. Does SHEIN have free return?
Shein is a trusted site that honors its return policy as long as the return is triggered within a certain period of purchase and all terms and conditions are met. Regarding the shipping fee, only the first return is free. Additional items attract a $7.99 return fee.
3. Should you use Shein.com for dropshipping?
Yes. Dropshipping with Shein is allowed. However, you will have to find your own photos, as using Shein's photos amounts to copyright infringement. This is the only reason you should think of a Shein alternative. However, it has reliable suppliers.
4. Where does Shein ship from, and how is it so cheap?
Shein has a vast network of designers and cloth manufacturers that manufacture clothes majorly in Guangzhou. The prices are low now that manufacturing is cheaper in China, and besides, the clothes are generic.
5. Should I trust Shein?
Yes. Shein is a trusted eCommerce site where dropshippers can find reliable suppliers of a whole load of apparel. The company has also ventured into other categories, including home & living, beauty & health, jewelry & watches, and electronics, among others.
Wrapping Up
That's the end of this SHEIN dropshipping guide for beginners. Indeed, dropshipping with Shein is a worthy venture.
The platform has plenty of products, and besides, the margins are high, considering most items are inexpensive. Shein is also a reliable supplier with high-quality products and a robust fulfillment infrastructure. It is easy to start dropshipping in 8 simple steps. Scaling the business is also pretty straightforward.
So what are you waiting for? Start your Shein dropshipping business today and create that extra source of income!