We've compiled a list of the most popular dropshipping kitchen products in this article. When starting a dropshipping business, one can be lost in thought about what niche to choose and which products will sell the best. A new dropshipper will have a difficult choice: sell time-tested but ordinary goods or choose something unusual but popular at the moment. Kitchen products are always in demand. So why wouldn't you sell them in your dropshipping store?
You know that women are home keepers. They love to create coziness and warmth in the house. Therefore, focus on the predominance of a female audience when choosing dropshipping kitchen products for your store. Choose such items as dish coasters, shelves, trays, hangers decorated with delicious food images, various containers for tea and coffee, napkin holders, and towel holders. Various accessories for kitchen products are also popular: elegant glass rings, wine sets, party spice sets, and beverage dispensers.
Many people have a particular attitude to the kitchen - this is not just a room for cooking. The whole family gathers here for dinner, and the most sincere conversations occur here. Now it performs all the functions of the living room and the place where the guests are invited. Today, the living room for family gatherings is less common.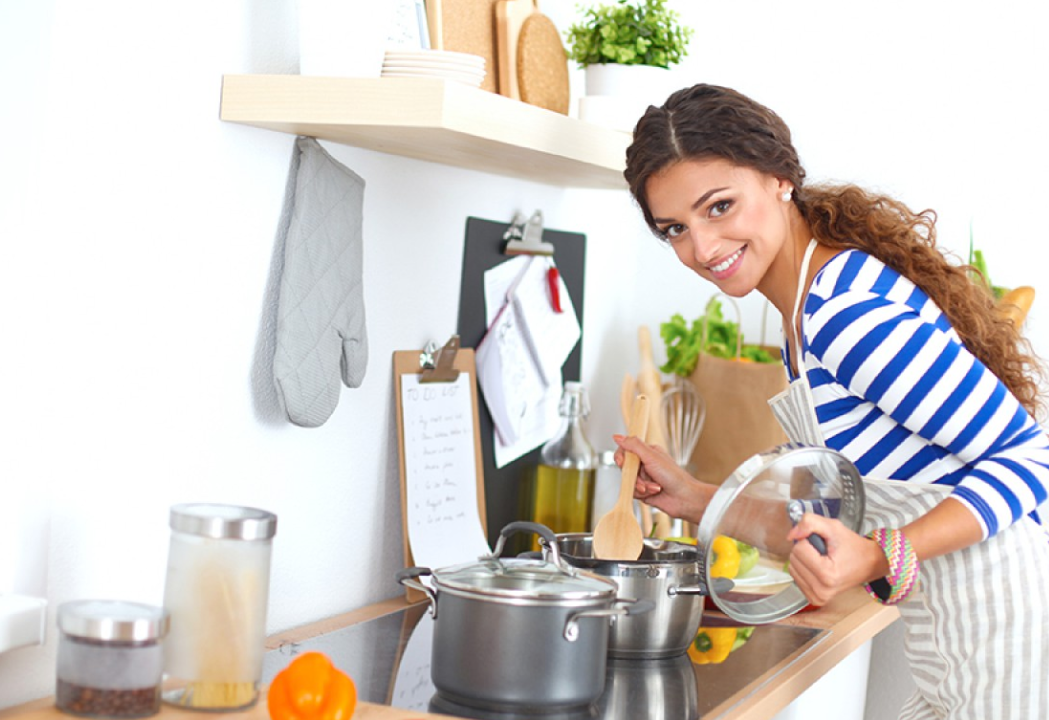 Over time, the purpose of the kitchen in the house has changed significantly. Earlier it was a place for cooking, and only servants used it. No one cared about the look and space organization of this room. But now this part of every house and people pay more attention to its organization. That's why kitchen products are a win-win option for dropshipping.
Every homemaker knows that the kitchen should have only the most necessary utensils and household appliances. But it's terrible when something is missing. Therefore, over time, an optimal set of kitchen utensils is formed. But what should inexperienced young homemakers do in such a situation? First, be guided by the minimum set of household appliances list. Then, for your customers, you can group kitchen products by purpose. For example, sell a pan with a silicone spatula and oven mitt. Or salad bowls with a particular large spoon. Be aimed to help your buyers to make cooking a fun and straightforward process.
These products form the backbone of the dropshipping kitchen products list, which will be in demand by customers at all times.
These include:
The hob. It is challenging to do without a good stove.
Refrigerator. Needed for storing cooked food and purchased food.
Multicooker. It can become a lifesaver because it dramatically simplifies the cooking process.
Food processor. It can chop vegetables and knead the dough, make minced meat, beat eggs, squeeze juice, and more.
Oven - especially valuable in a family of baking lovers.
Microwave. It will warm up the food and shorten the cooking time.
Coffee maker. An irreplaceable device for lovers of natural coffee.
Electric kettle or Thermo pot. Needed for boiling water.
What you can't do without at the stove.
You cannot cook your favorite dishes without utensils. Therefore, a novice or an expert hostess will need:
Frying pans. It is advisable to purchase several of them, of different sizes. You will need a large one for making omelets or fish. Smaller - for browning and roasting. Pancake lovers cannot do without a high-quality cast-iron frying pan.
Pans. You can purchase a ready-made set consisting of products of different sizes. You will also need saucepans, a spoon, and a large container for boiling compotes or preparing blanks for the winter.
The minimum required for baking.
Special tools are needed to cook the dessert or a cake. Of course, you can bake a sponge cake in a saucepan, but baking dishes will make the cooking process much easier and the dishes more accurate. To prepare them, you will need:
Forms. Add various dishes made of metal or silicone to your dropshipping store, which delight the eye with various shapes and sizes. Advise your customers to first purchase a detachable form with a non-stick coating for their convenience. There are different shapes for every wallet and every taste. It all depends on the buyers' preference: metal, silicone, glass, rectangles, circles, or ovals.
Sieve. It is necessary for sifting flour to grind the cottage cheese, to remove the formed lumps in the cream.
Rolling pin. It is needed to roll out the dough. It can be wooden, silicone, or plastic. There are even models in which the handles rotate separately from the central part.
Kitchen scales. Of course, the required amount of products can be taken "by eye". But sometimes, it is possible to get a delicious dish only if the exact recipe is observed.
Measuring cup for liquids. Convenient is a plastic or glass bowl that people can wash in the dishwasher or use in the freezer or microwave.
Measuring bowl for bulk products. There may be several of them. For example, people use some of them for sugar and flour. These bowls are made of plastic and metal and have graduated marks.
Bowls. When preparing a dish, a container to mix different ingredients is needed. Each hostess should have approximately three bowls. They should be high so that the whipped products cannot fly to the sides. The durability and cost of these bowls depend on the material they are made. It can be metal, ceramic, plastic, or glass.
Deep-bottomed ovenware. These utensils help cook vegetables, lasagna, casseroles, and more. Add the good-looking deep-bottomed ovenware to your dropshipping store. They are more practical for customers as they do not have to take out the dish and put it on another plate.
Baking tray. Indispensable for baking pies, pizzas, and cookies. It should not be too light. The bottom should not be too thin. It is better to let the color be light. Then the product will bake evenly and heat up more slowly. Also, the presence of sides will protect the oven. Finally, if the liquid filling of the pie spreads, then everything will remain on the baking sheet.
Small molds. Kids love tiny cupcakes and muffins. Add this item to your dropshipping store, and mommies will quickly sweep them all away for their children.
Assistive devices and inventory
Not only pots and pans are needed for cooking but also:
grater with various attachments;
colander;
two cutting boards;
ladle;
skimmer;
crush for mashed potatoes;
several bowls of different sizes;
two or three shoulder blades. It is advisable to purchase options with a rounded edge since flat products cut food;
knives. You should not purchase a large amount - let it be one universal product, but of excellent quality.
It is not always possible to buy everything at once, so you need to gradually acquire everything. Good quality kitchen utensils are expensive. But do not forget that dear ones do not mean the best. It will be good if the same item is used for different purposes. We will figure out what kitchen utensils every housewife should have in the kitchen from this article.
Useful kitchen utensils:
1. Whisk for beating. A whisk comes in very handy when mixing salad dressing, whipping pancake dough, omelet eggs, making pastry and cake-cream, and more. The whisk should have a plastic or wooden handle with sufficiently flexible rods and be metal so that particles can be collected from the bottom of the dish when whipping.

2. Cooking spatula. It can be made of various materials, but silicone is the softer and most comfortable spatula. It is easy to clean and maintain the Teflon coating and the look of your dishes

3. Silicone brush. It is indispensable for baking: grease baking dishes, pancakes, pies. Silicone villi do not spray oil and use it sparingly, and do not spoil the dish's appearance. This brush is durable, strong, and resilient like any silicone product and can withstand temperatures from -60º C to 280ºC. Everyone should have such a brush in the kitchen.

4. Silicone gloves. They are indispensable in modern kitchens and are very convenient. Gone are the fabric potholders. Gloves do not burn, do not slip, and fit comfortably to your hands, and most importantly, they protect your hands from burns.

5. Metal spatula. It is required for fish or meat.

6. Spoons. A metal slotted spoon will be enough for pickles, dumplings, and so on, and also a large wooden spoon is necessary for jam, sauces, and soups.

7. A set of knives. We can talk a lot about knife sets, but let's talk briefly. Forged knives deserve great respect. They can serve for many years. It is not their quantity that is important, but the quality.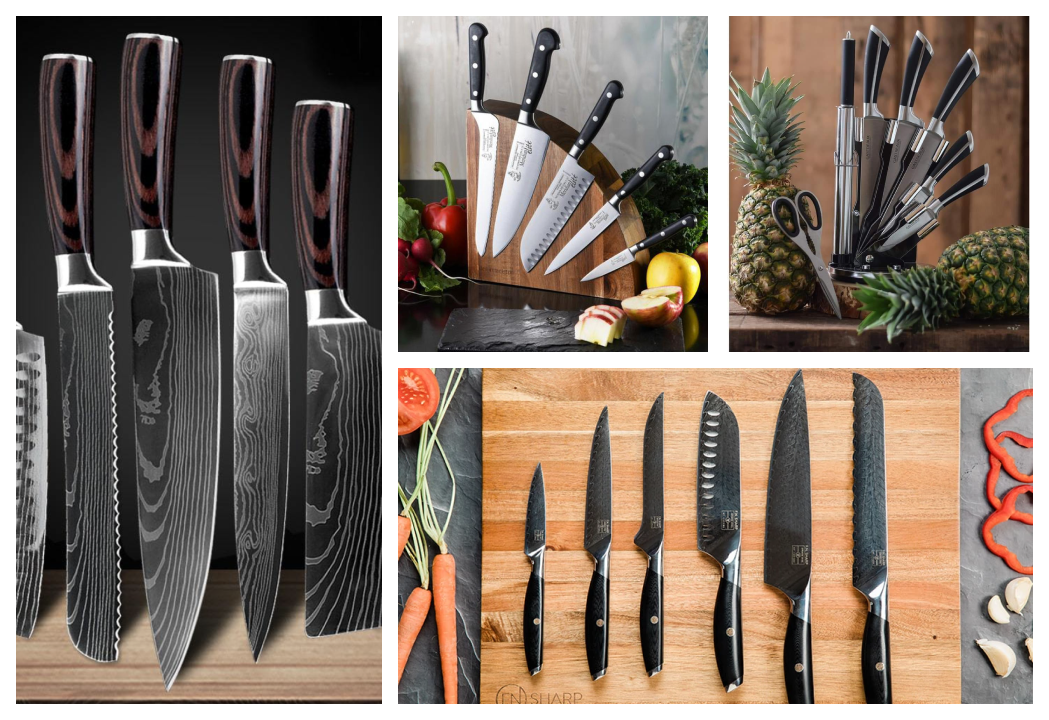 8. Kitchen tongs. Tongs are essential in the kitchen. To reach something, turn it over, and so on. It is more convenient for the tongs to have a silicone coating.

9. Ladle. Probably your buyers already have it in the kitchen, but it's better when there are two of them: a large one for soup, a small one for sauces, and a gravy.

10. Meat knife and fork. This set is used for butchering boiled chicken, duck, pork leg, and not raw meat. It is ideal for serving the whole meat. Let your customers carve the meat and demonstrate the skills beautifully.

11. Kitchen tongs. This thing is irreplaceable in cooking any meat dishes in the oven. It saves hands from burning. It is best to preference plastic tongs, as it heats up less than metal.

12. Foil, baking bags, parchment, cling film. They can cook meat dishes without the use of fat and oil. In addition, they will protect the baked goods from burning.

There are several factors to consider when choosing the right kitchen products. The amount of necessary dishes depends on the size of the family. A minimum set of kitchen utensils for a young family without children will be enough. It is also worth considering the material. It is advisable to buy pots made of stainless steel and pans made of cast iron and Teflon with a non-stick coating.
Thanks to our tips, you now know every homemaker's kitchen utensils. The kitchen should be convenient to use. Make your customers buy your products to enjoy cooking.
So based on those kitchen utensil lists, let's pick the top 10 most popular dropshipping kitchen products in the kitchen dropshipping store. When compiling this list, we focused on the priority need and cost of the product and, accordingly, the possibility of a more significant number of buyers to afford this product. Here's what we got
Multicooker. The current pace of life forces us to shorten the cooking time. A multicooker is a lifesaver for any housewife.
Electric kettle. It is an essential attribute of any cuisine. Spending time with a cup of hot tea or coffee is a daily ritual performed by almost every person.
Frying pan. It isn't easy to imagine a delicious dish without a pan. Undoubtedly it is one of the leaders on our dropshipping kitchen products list.
Pots. As well as a frying pan, pots are necessary for cooking daily meals. After all, soups or mashed potatoes are the basis of a healthy diet! In addition, most people now want to eat well, which means pots will be in high demand in your kitchen dropshipping store.
Cutting boards. High-quality cutting boards will make the cooking process easy, fast, and delicious for any housewife.
Sets of knives. There is no point in talking about the importance of quality sharp knives in the kitchen. Be sure to add this product to your store
The cutlery sets also need no explanation because we all use them all the time.
Baking dish. A good baking dish is a guarantee of delicious baked goods! But, of course, no one wants to ruin their pie or lasagne, so we recommend adding only high-quality and reliable baking dishes to your online store.
Salad bowls. Fans of fresh salads with abundant herbs and vegetables will appreciate the comfortable and beautiful salad bowls.
Detergents for the kitchen. A kitchen is a place that requires extraordinary cleanliness, so cleaning agents for kitchen furniture or hobs are always in demand.
We hope that our article will help you decide on your dropshipping kitchen products.